Buenos Aires is on most people's bucket list when traveling to Argentina – or South America, for that's sake! And for a good reason.
If you are a first-timer in the Argentine capital and only have a couple of days to explore the city, it might be hard to figure out what are the main spots.
The city is full of memories of long-lost glory from the time when European immigrants embarked and sparkled a glorious economic development. With them emerged the elegant dance of tango which Argentina is so well-known for nowadays. Flipping through your guidebook or researching online, you quickly find multiple spots and activities to add to your Buenos Aires bucket list. There are also plenty of new things to discover about Buenos Aires.
Therefore, I have collected these 10 spots of interest that every first-time visitor should have on their bucket list for Buenos Aires.
Many of the spots here are located in the same area. And for your ease, I have added small side notes on which ones to visit together. This should make it more manageable for you to organize your stay in Buenos Aires.
#1 Floralis Generica
Floralis Generica is a giant metal sculpture of a flower. This metallic flower opens and closes according to the time of the day. Pretty cool, right?
It also means that you will get different pictures of it depending on when you visit.
This is properly my favorite landmark in Buenos Aires (after ice cream… but again, ice cream is so hard to have as a landmark – especially in summer, right?). The entrance to the park is free. Read more about free activities in Buenos Aires here.
The sculpture is located in Recoleta. And it is not so far from another must-see bucket list attraction: Recoleta Cemetery.
#2 Recoleta Cemetery and Evita's grave
The Recoleta Cemetery is one of Buenos Aires most famous and popular tourist attractions. It just must be on your bucket list for Buenos Aires!
This complex little village of… well, of tombs and mausoleums, will take your breath away! While scrolling around the narrow aisle, you can't help to start thinking about all the eyes looking at you from underneath… Okay, now I'm beginning to freak you out, right?
The Recoleta Cemetery – or Cementerio de Recoleta, as the name is in Spanish – houses some of Argentina's most prominent and historically important personalities.
However, there is one which we are all looking to see; Evita Perón! Argentina's (in)famous former First Lady is buried at the cemetery. The grave is small, hidden a bit away, and easy to miss. So don't be ashamed to ask one of the guards for help to find her.
A visit to the Recoleta Cemetery isn't completed without getting lost! Even though the cemetery isn't that big, it is interconnected with a network of isles and paths crossing and connecting in a way that somewhere makes getting lost incredibly easy.
The entrance is free. Though, it is highly recommendable to check out some of the tours offered. The tours offer you some of the many juicy stories about the cemetery and its inhabitants.
Now we talk about Evita! A visit to Buenos Aires The entrance without a drop-by to Casa Rosada, the presidential Pink House! The balcony from which Evita famously spoke and waved at the crowds at Playa de Mayo; the square just in front of Casa Rosada.
If you are in a rush, drop by Plaza de Mayo for a quick photo of Casa Rosada and continue your stroll around the city.
However, if you have time, remember that on weekends and public holidays you can get inside Casa Rosada on a guided tour. You can read more about Casa Rosada and the tour here, or reserve tickets here.
Plaza de Mayo also houses the cathedral of Buenos Aires and the old Spanish imperial town hall, el Cabildo. The plaza is located just between what is called microcentro and the neighborhood of San Telmo where you on Sundays have a lovely street market… But more about that later on.
#4 El Congreso and Avenida de Mayo
On the other end of Plaza de Mayo, directly in front of Casa Rosada, you have Avenida de Mayo.
The wide avenue of Avenida de Mayo leads from the presidential offices at Casa Rosada to Congreso Nacional, the national parliament building.
The walk down Avenida de Mayo towards the Congres will make you come across classic coffee shops, enormous art novo-styled buildings and trees… Many trees covering the avenue (I have a special thing for the trees of Buenos Aires).
The walk from Plaza de Mayo to Congress will take you approximately 30 minutes. If you don't do too many stops and photos. However, there are plenty of reasons for doing so on your way!
It is possible to visit the inside of Congress through free tours every Monday, Tuesday, Thursday, and Friday at 12:30 am and 5 pm. You can read more about the free tours here (only in Spanish).
#5 Avenida 9 de Julio
On your way down Avenida de Mayo, you will cross a huge road… Actually, it is a very very huge road… So big that it is said to be the widest avenue in the world; Avenida 9 de Julio.
Stand still for a second to observe the traffic. The aggressive drivers using their horns every second, and buses in all the colors of the rainbow passing fast by your side. Life is hectic at 9 de Julio! You better just find the nearest pedestrian crossing!
El Obelisco
While standing on 9 de Julio, take a look to your right, and you will see El Obelisco, another main landmark of Buenos Aires.
The Obelisk is located on the intersection of Avenida 9 de Julio and Avenida Corrientes, two of the most important avenues in Buenos Aires.
Evita on Avenida 9 de Julio
Two blocks to your left from your position in the intersection of 9 de Julio and Avenida de Mayo, you'll have probably one of the most iconic buildings in Buenos Aires; the Ministry of Public Health.
This building is not famous for its gray concrete. It is famous for its huge Evita silhouette on either side of the building. One pretty-looking and one aggressively speaking on a microphone.
It is said that the nice-looking is watching toward the rich oligarchic Northern neighborhoods of Buenos Aires. While the one turning South, speaking aggressively, is speaking to empower the working class to protest. But that's a whole other story!
Teatro Colon
On Avenida 9 de Julio, you will also find Teatro Colon, Buenos Aires famous theater, which is known to be one of the very best in the region.
The theater offers guided tours. However, with a bit of flexibility, you can also catch a cheap ticket for a play or a concert, and experience the theater in action. You can see the upcoming events at Teatro Colon here.
Just behind Teatro Colon, you'll have a lovely little park, and behind there an enormous and very beautiful building. That's the home of one part of the Argentine courts, Tribunales.
Pro tip: You can easily spend half a day wandering from Casa Rosada down Avenida de Mayo towards the Congres, stop by Avenida 9 de Julio and take a walk down the avenue to watch Teatro Colon and the surrounding area.
#6 Puerto Madero and Puente de la Mujer
Puerto Madero is the only place in town where you actually realize that Buenos Aires is located by a river.
The area of Puerto Madero is a modernized, highly exclusive area of the city. Many international companies and high-end restaurants are located. Take a scroll on the alongside side these old modernized harbor buildings.
In the middle of Puerto Madero, you will find Puente de la Mujer, the woman's bridge. The bridge is a modern piece of architecture.
The story goes that the architect's inspiration is a woman dancing a tango. When the bridge opens for ships passing by it should be like a woman swing her legs in a tango… Well, up to you what you think of that when you see the bridge.
Pro tip: Even though the restaurant in Puerto Madero at night tend to be pretty pricey, you can be lucky to find cheaper menu options at lunchtime. So look out, these menu del dia.
I promised you something about the San Telmo street market, didn't I? Here we go!
Every Sunday, the street Defensa in the neighborhood of San Telmo turns into a huge street market. The market is called Feria de San Telmo in Spanish. Here you can find all kinds of handcraft and souvenirs.
This is the perfect spot to find a funny little something to take with you home to your loved ones. Or simply as a memory from your trip. Read more about how to get to Feria de San Telmo and other useful tips here.
Pro tip: Combine your visit at Feria de San Telmo with a visit to Casa Rosada! The market begins at the corner of Plaza de Mayo, and since the Casa Rosada is only open to the public on weekends this is the perfect combination.
#8 Bookshop Ateneo Gran Splendid
Ateneo Gran Splendid is a bookshop like you have never seen it before! The massive building on Avenida Santa Fe was built to be a theater.
After having been closed down several times, it was turned into a bookshop. However, the features and decorations from the time when it was a theater were kept. The result is absolutely impressive!
How about a cup of coffee on the stage? The entrance is free – thus, the coffee isn't!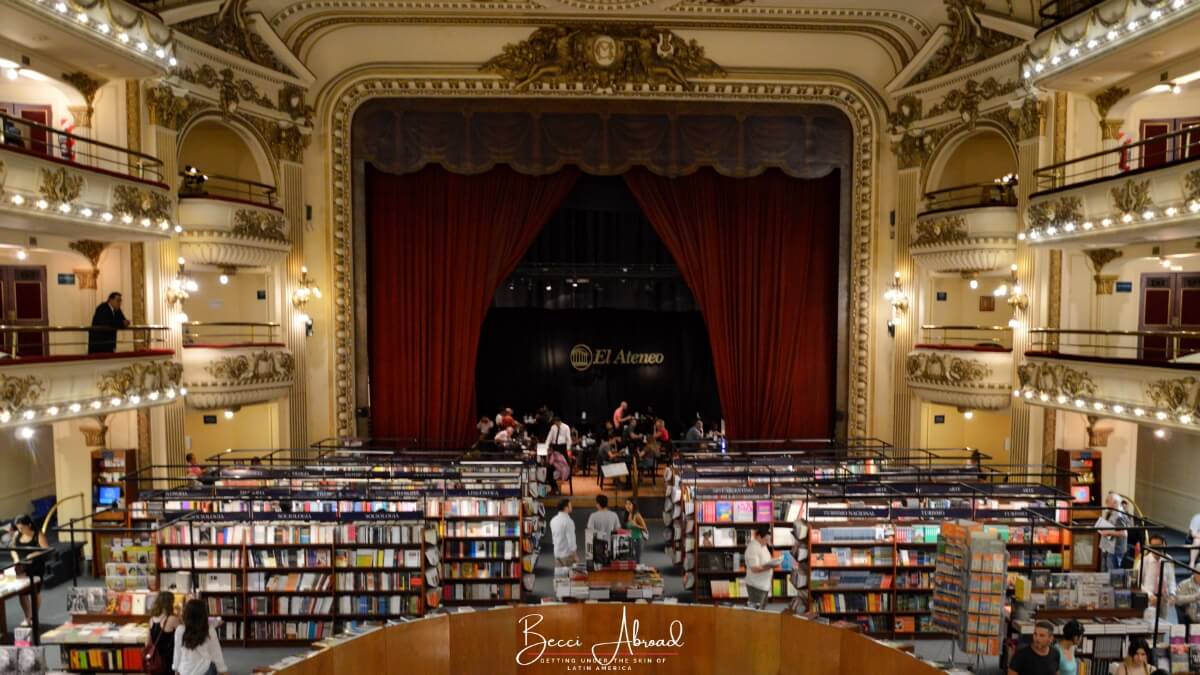 #9 Neighborhood of La Boca
La Boca is one of those bucket list actions in Buenos Aires that you might have thought would be on the top of the list…
However, La Boca was never really my thing. Actually, I have never tried to hide it… Well, maybe apart from the first week in Buenos Aires where I tried to convince myself to like it because everyone talks about la Boca.
The area around the famous Caminito is colorful and with an interesting history…. If you manage to get behind the crowds of tourists visiting every day all year around.
Many will properly say that you haven't been to Buenos Aires if you didn't make it to la Boca. So jump on a bus and head to this part of town – and send me a message afterward to let me know what you think!
Check out this more profound post about la Boca, its history and my opinion on it.
#10 City break in Tigre
Until now we have mostly been around downtown Buenos Aires. However, most of the classic bucket list places in Buenos Aires are located downtown.
I will properly disappoint you now by saying that I actually don't like that part of Buenos Aires so much (personally, I enjoy the most the green spots and chic boutiques in the neighborhood of Belgrano, so if you got time to jump on the subway and visit its more quiet but authentic part of Buenos Aires).
Nevertheless, as the last spot on the list, let's get out of town! The city of Tigre in the province of Buenos Aires is becoming a popular getaway for tourist and locals alike.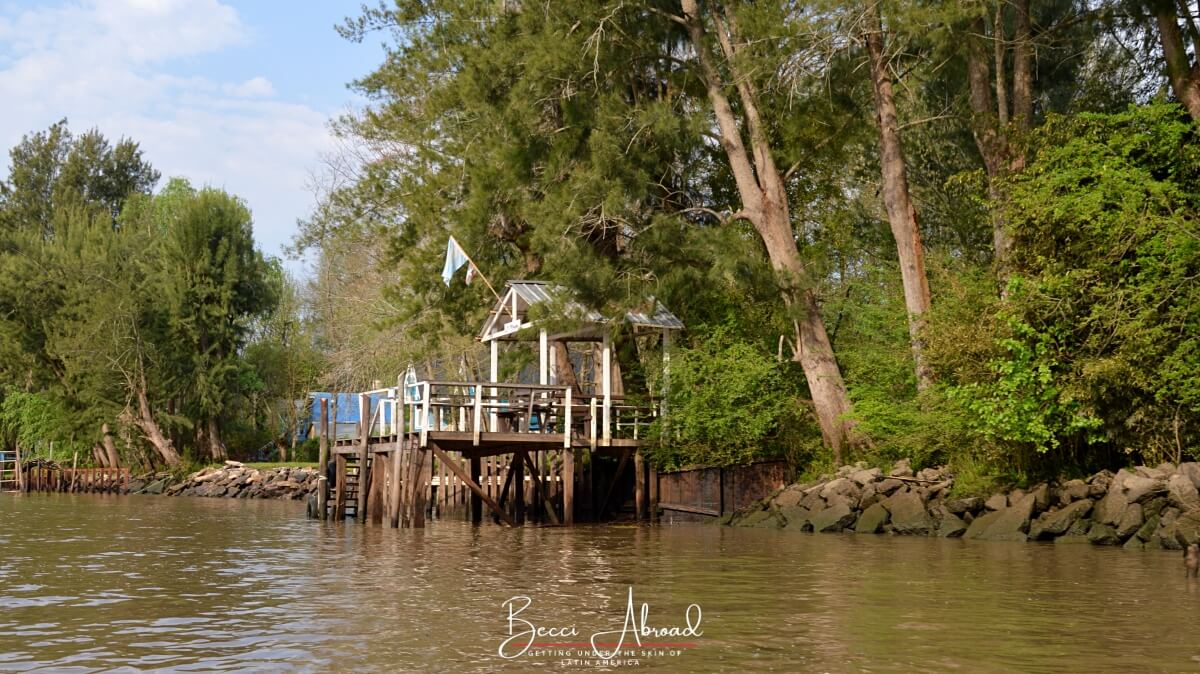 Tigre is located by a huge delta, which makes it perfect for a relaxing boat ride on the delta's many rivers. Along the riverside, people have built their houses, and boats are the residents preferred mean of transportation.
Tigre is the perfect place for a day trip away from Buenos Aires.And then, it is only a little hours ride by train away from downtown Buenos Aires. Read more about Tigre here.
Remember also to check out Tigre's creative corner with small cafes and great street art – because, who doesn't like street art?
There are plenty of other spots and activities to do, but these 10 spots mentioned here, you should be able to do within two-three days (three days if including a half day trip to Tigre).
I hope this helped you get a grip around planning your trip to Buenos Aires and figure what to see.
Have you ever been to Buenos Aires? Or are you planning on going? How did you like my tips? Please feel free to share your thoughts or questions in the comments below!
Enjoyed with reading? Share the love and pin me!