Hi!
Thank you for visiting Becci Abroad! You properly dropped over to the "about me"-part to figure out a bit more about me... Sooo, let's get you some of that information:
So, I used to have one of those jobs that is on all the list of the best jobs for travellers. That was long before I even started to think about making a travel blog. But well, after all it is not so glamorous to be a hostel receptionist, and have to clean up after drunk Australians... Nevertheless, I learn a lot, and definitely also had a good time. Apparently, so good a time that I ended up doing it for almost 4 years.
It bought me both to get to know my own city, Copenhagen, a lot better (I was that crazy receptionist with all the stories about the different places, maybe you met me during your visit to Copenhagen?). And then to Spain where I lived for almost two years in the beautiful yet small city of Granada.
In the end, I was quiet tired of Spainards asking whether I was German (no offense German but I'm NOT German - would you like to be called Danish? No, right?) or an Erasmus student... That "no, no I'm working" was usually followed by a "Working? How can you work when our country is in economic crisis?".
Anyway, when I went home to Denmark, one of my good friends' mother asked me if I would ever settle down in Denmark. "Yeah, maybe I will now", I remember laughing. I had to start university, and get clever a all that... That lasted 6 months, then I had rented my flat and was boarding a flight to Cuba.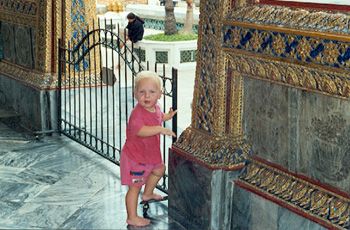 The whole travelbug-thing, probably all went "wrong" the day my mum boarded a flight to Thailand with me before I even had turned two years old... After that, it never really stopped.
She would take me places as a kid, and shortly after I turned 18, I started travelling on my own. Well, I don't complain!
But honestly, I'm not dreaming about a carreer in tourism or becoming a big travel blogger who travel the world non-stop. I like combining the peace and space of having a home and daily routines with travelling. Without doubt I prefer to travel long-term get under the skin of the places I visit.
I write and share my stories when I feel like I have something to share. If I don't feel like I have something special to share, I don't write. I don't like selfies, and even though I know they create the most likes, you will hardly find me taking them or sharing them.
Becci Abroad is solely focused on travels in Latin America, and of course, especially Argentina and life in Buenos Aires. Please, feel free to share your own experiences or leave me some good pieces of advice in the comments. Any comment will be high appreciated!
Bienvenido a Becci Abroad!! I hope you will enjoy your stay - and please, stay a little longer to leave a comment or connect on social media 🙂