The Best Travel Tips for Dog-Friendly Adventures in Buenos Aires
Are you traveling with your dog to Buenos Aires? Or are you maybe moving long-term to Buenos Aires with your dog?
Then you have come to the right place! This dog-friendly guide to Buenos Aires is for you and your dog!
Our featuring star writer and quality expert on this piece is Baloo. Baloo is my Border Collie Merle pup who grew up in Buenos Aires.
Baloo was born in a small town in the Tigre Delta. When he was a puppy, he came to live with my husband and me in our apartment in Palermo.
So, Baloo is a true expert on dog-friendly Buenos Aires!
Disclosure: Some of the links below are affiliate links. This means that at no additional cost to you, Becci Abroad will earn a commission if you purchase through one of those links. This helps to pay the bills and the maintenance of the site.
The Complete Guide to Explore Buenos Aires with Your Dog
Is Buenos Aires Dog Friendly?
You don't have to stay a long time in Buenos Aires before you realize that porteños love their dogs! Buenos Aires is a city filled with dogs.
Many dog owners in Buenos Aires have dog walkers to walk their dogs for a couple of hours a day. It can be a bit of a jungle to find a good dog walker.
Dog owners exchange contacts and feedback on their dog walkers when they meet in the parks or squares. So, if you are on a hunt for a dog walker in Buenos Aires, try to mingle and ask other dog owners in your area. You can also try to ask your local vet or pet shop if they can recommend someone.
Despite the porteños' love for dogs, the city itself is not always as dog-friendly as you might think.
Many restaurants, bars, and shops will not allow dogs inside. However, most restaurants and bars with outdoor seating will accept the dogs outside.
Public transportation in Buenos Aires has very strict limitations for dogs. You are only allowed to take the dog with you on the subway at specific times (more about that later). And it is not allowed at all to travel with your dog on the local buses in Buenos Aires.
So, is Buenos Aires dog-friendly? It depends. Porteños are usually friendly towards dogs. But the facilities and amenities in the city haven't really followed the dog-friendly development.
How to Get Around Buenos Aires with Your Dog?
The easiest way to get around Buenos Aires with your dog is by walking. Most of the areas of interest and landmarks in Buenos Aires are within walking distance.
However, if you wish to visit some of the neighborhoods away from the center, it might be a good idea to look into other forms of transportation.
Buenos Aires Subway with Dog
There is no additional charge for traveling with your dog in Buenos Aires' subway, el Subte. However, there are many restrictions on when you can travel on the subway with your doggo.
It is only allowed to travel with your dog (or cat) in Buenos Aires' subway, on Saturdays after 1 p.m. and all day on Sundays and Argentine public holidays.
The dog needs to be in a closed cage with proper ventilation. Pets should only travel in the latest train carriage.
The dog (or cat) needs to be in good health conditions and with the rabies vaccine up-to-date.
Read all the things to keep in mind when traveling with a dog in Buenos Aires' subway (link in Spanish).
Dogs are not allowed in the regional trains and city buses in Buenos Aires.
Based on the above, big boys like Baloo, who weigh above 30 kg (66 lbs) and have a cage the size of a small car, are not allowed in the Subway in Buenos Aires.
Pet-friendly Taxis in Buenos Aires
City cabs in Buenos Aires are not very likely to accept rides with dogs. However, there are some alternatives:
BA Taxi is an application developed by the City Government in Buenos Aires. If you download the app to your phone, you can filter for pet-friendly taxis before you book.

Taxi BA Pet-Friendly is a local company that offers pet-friendly taxi trips in Buenos Aires. You can book your trip with them via WhatsApp or the contact form on their website.
Pet Taxi Buenos Aires is another local taxi company offering transport of pets in Buenos Aires and to the airports in Buenos Aires.
Rent a Dog-friendly Car in Buenos Aires
The car rental companies Sixt and Alamo operate in Buenos Aires and will allow you to rent a car to travel with your furry friend.
For rental cars with Alamo, the dog needs to be transported inside the transportation carriage. Whereas, Sixt is a might more flexible.
Check the details with them before you book a car.
10 Dog-friendly Things to Do in Buenos Aires
There are plenty of interesting things to do in Buenos Aires, but here are some special dog-friendly ideas for adventures in Buenos Aires.
Another idea is to embark on a day trip to the countryside to explore with your dog. You can also check out some of the day trips from Buenos Aires to find something suitable for your dog.
#1 Take Pictures with the Pink House
The Pink House, also known as Casa Rosada in Spanish, is a mandatory stop for everyone visiting Buenos Aires.
The good thing is that it is outdoors and you can easily bring your pup!
Scroll the surrounding May Square and let your dog explore all the new smells. In the meantime, you can snap some photos – and maybe even a doggo selfie?
#2 Explore Downtown Buenos Aires
Sightseeing in downtown Buenos Aires can easily be done together with your dog!
From the May Square, walk down the historic avenue of Avenida de Mayo. On your way, you will pass beautiful old buildings, city landmarks like the Barolo Palace, the Avenue 9th of July, the Colon Theater, and finally Argentina's National Congress.
Make a stop for a photo shoot with your dog at these important landmarks in downtown Buenos Aires.
The Avenue 9th of July is extremely busy and noisy with cars and buses driving by fast. So, if your pup doesn't do well with loud noises, you might want to not spend too much time there.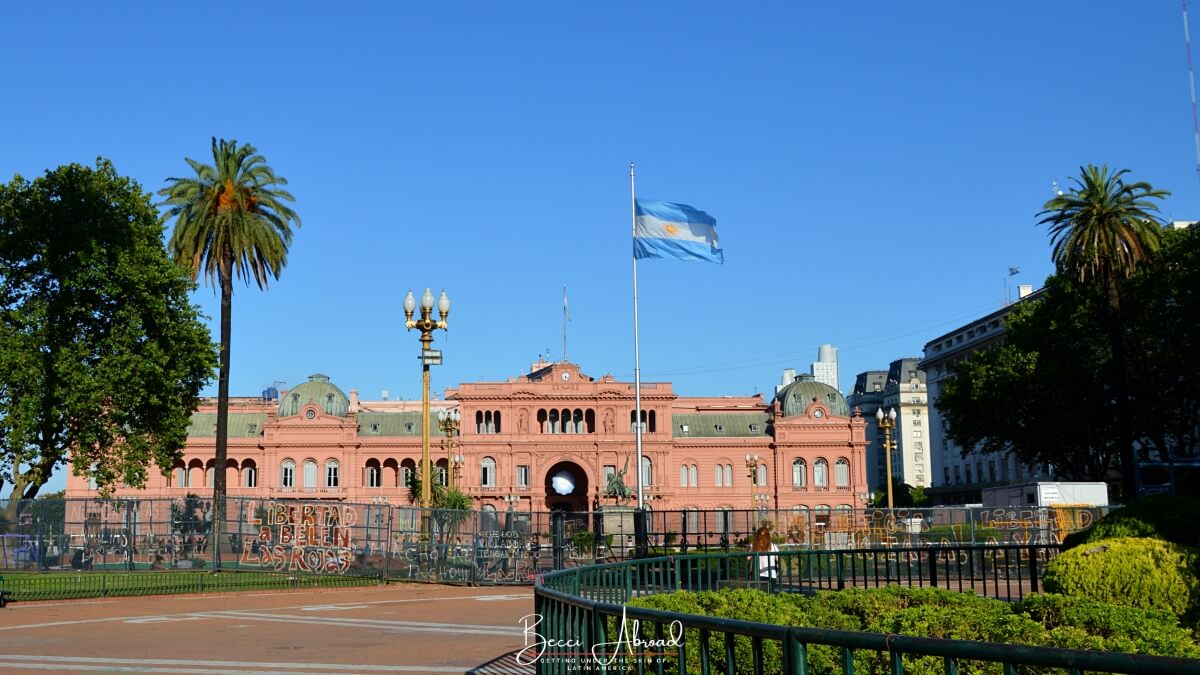 #3 Visit the Palermo Forests
The Palermo Forests is a perfect spot to visit in Buenos Aires with your dog.
This large park area is located centrally in the popular Palermo neighborhood. The park's size makes it perfect to visit with your furry friend.
During weekends, locals gather to enjoy the sun or ride in the paddle boats on the Palermo Lake, Lago de Palermo.
Many local dog owners will also use weekends to explore the park with their dogs. So, maybe your doggo will even make some local friends!
Throughout Buenos Aires, there are many great parks to visit with your dog. Read more about the best parks to visit in Buenos Aires.
#4 Explore Street Art
One of the best outdoor activities with your furry friend is to explore street art in Buenos Aires.
The popular Palermo neighborhood offers a great variety of street art. However, the streets can easily get crowded with the outdoor serving from the area's many bars and restaurants.
If your doggo easily gets stressed around many people, head out to the more residential areas of Villa Urquiza and Coghlan.
In these two areas, there is an impressive international street art scene. Both Villa Urquiza and Coghlan are perfect for your dog to walk calmly and explore on his/her own.
Check out the best places to visit street art in Coghlan and Villa Urquiza.
You can also sign up for a street art walking tour with BA Street Art (remember to double-check with them if you can bring your dog).
#5 Admire Buenos Aires' Architecture
Architecture in Buenos Aires is vibrant and fascinating. Through the city's different architectural styles, you learn about Argentina's mixed cultural heritage. French architecture mixes with Italian, Spanish, and British architecture.
The best part is, of course, that you can easily bring your dog along as you explore Buenos Aires' architecture.
There are plenty of beautiful hidden architectural gems to discover while your dog sniffs its way around Buenos Aires.
Below you have Baloo with The Round House or la Casa Redonda, the sibling to the famous Barolo Palace in downtown Buenos Aires.
#6 Visit Puerto Madero
Puerto Madero is a must-visit when in Buenos Aires, and it is also a place where you can easily bring your dog along.
The old modernized harbor area features the iconic Women's Bridge, Puente de la Mujer, and many high-end restaurants.
You can walk your dog along the docks of Puerto Madero or pass over Puente de la Mujer to explore the parks located behind the skyscrapers.
#7 Take a Walk on Costanera Sur y Norte
Costanera Sur y Norte is a long pedestrian path perfect for a long walk with your dog.
The pedestrian stretches from behind Puerto Madero by the side of Buenos Aires' largest green area, Reserva Ecológica, up by the side of the river banks of Rio de la Plata.
Unfortunately, dogs are not allowed in the natural reserve. But you can walk on the Costanera.
Along the Costanera, you will also have small stands selling different Argentine street foods such as choripan and empanadas.
#8 Exercise at the Dog Park at Parque Isla de la Paternal
In the neighborhood of La Paternal, you will find a special dog park with all the equipment for agility training, Parque Isla de la Paternal.
So, if you and your dog are looking to get some exercise done while in Buenos Aires Parque Isla de la Paternal is a good option.
Unfortunately, we never got to visit with Baloo. The dog park is a bit hard to get to if you don't have a car. However, you can also get a pet-friendly taxi to go there.
#9 Sniff Around Parque Centenario
Parque Centenario is a massive park located in the more residential neighborhood of Caballito.
Parque Centenario is the perfect place to visit if your four-legged friend needs a break from the hectic city life in Buenos Aires.
In the middle of Parque Centenario, there is also a huge lake. Sometimes, there are even some fun ducks to chase.
#10 Check Out the Dog Park in Your Local Park
Each neighborhood and park in Buenos Aires has its own dog park that you can freely visit.
In Argentine Spanish, a dog park is called canil. You can use this map of the dog parks in Buenos Aires to find the dog park closest to your accommodation in Buenos Aires.
Baloo's favorite dog park was the one in Parque las Heras in Palermo. Generally, Baloo loved Parque las Heras. He even found a playground for kids with water coming out of the ground (the picture below) which was a huge hit! And the kids loved having him chill there in the water with them.
Baloo recommends visiting the dog parks on the weekends or during the week in the afternoon. These are the times when most dog owners use the dog parks. And there are more doggo-friends to meet and play with.
During the weekdays in the morning and midday, many dog walkers use the dog parks for the big herds of dogs that they walk. And not all of those dogs are the most friendly ones – especially not if you are a single pup!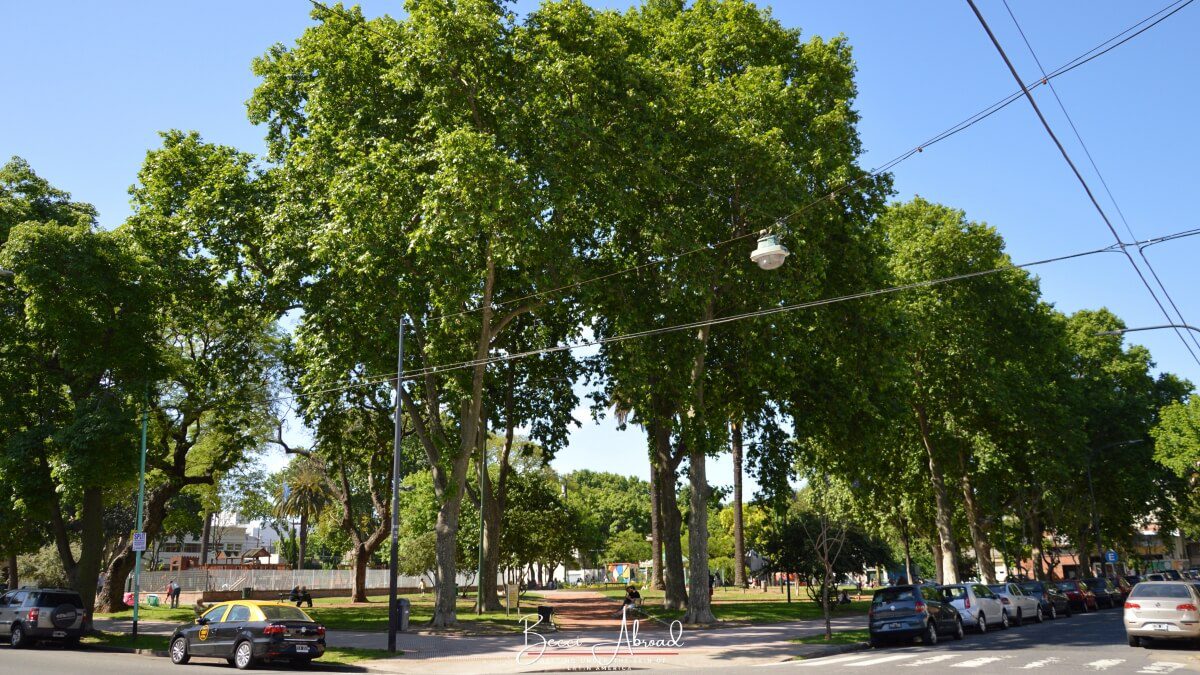 Dog-Friendly Cafes and Restaurants in Buenos Aires
Porteños love their dog, and more and more cafes and restaurants in Buenos Aires are beginning to understand this.
In some places, they have started to bring your dog a water bowl and some dog treats together with your own order.
Here is a list of some of the most dog-friendly places to eat in Buenos Aires.
For more recommendations, explore Dog-Friendly BA's complete map of dog-friendly places in Buenos Aires.
The Dog-Friendly Patio of the Evita Museum
The Eva Perón Museum in Palermo has a restaurant located in their lovely patio. The museum's restaurant is completely dog-friendly!
This is a very good option for both experiencing some Argentine history and eating out with your dog in Buenos Aires!
Location: The Eva Peron Musem, Lafinur 2988, Palermo
The Croque Madame Café at the National Museum of Decorative Art
The Croque Madame café located in the patio of the National Museum of Decorative Art in Palermo is a great dog-friendly place to eat in Buenos Aires.
The café is a perfect spot to enjoy an afternoon snack with your pup while admiring the gorgeous classic building that houses the museum.
The museum's building used to be the residence of a wealthy oligarch Argentine family. The museum still has some rooms showing how they used to live.
The entrance to the National Museum of Decorative Art is free of charge. However, dogs are not allowed at the museum.
Location: Croque Madame, Museo de Arte Decorativo, Avenida del Libertador 1902, Palermo.
Padre Coffee Roasters
Padre Coffee Roasters, also known by their Spanish name Padre Cafetería y Panadería, offers a pet-friendly place to grab breakfast and lunch in Buenos Aires.
At Padre Coffee Roasters, they offer many different options to eat alongside a large collection of specialty coffee.
The bakery is located in Palermo close to main attractions in the area such as Plaza Italia and Plaza Serrano. Its location is perfect as a starting point for exploring the vibrant neighborhood of Palermo.
Location: Honduras 4184, Palermo
Casa Oro
Casa Oro is another great pet-friendly place to eat in Buenos Aires. They offer a delicious brunch menu and various cakes in a beautiful setting in the heart of Palermo.
At Casa Oro, they treat your dog like your friend. Your pup can sit on the couch or chair next to you.
Location: Fray Justo Santamaria de Oro 1981, Palermo
Perro Café
Perro Café translates to dog café, and just by its name you get a hint that this must be one of Buenos Aires' top dog-friend café.
This cute pet-friendly café is located in Recoleta, inside the establishment Club de la Birra. Perro Café is just a stone's throw from the famous Recoleta Cemetery.
At Perro Café, they serve delicious sweets and specialty café for humans. They also have many veggie, vegan, and gluten-free options on their menu.
When you order something for yourself, they bring your dog water and dog-friendly treats.
Location: Roberto M. Ortiz 1871, Recoleta
Beba Gourmet Coffee Shop
Beba Cafetería Gourmet is all you need if you are looking for a dog-friendly place to eat in Buenos Aires!
This chic gourmet Coffee Shop is located in the neighborhood of Belgrano. At Beba, they offer yummy coffee and snacks for humans to enjoy alongside their four-legged friends.
The interior design of Beba unmistakably highlights the dog-friendly ambiance, with wall coverings and decor featuring charming pups.
Location: Ciudad de La Paz 1162, Belgrano
Mirtha Café
Mirtha Café is a dog-friendly café located in the residential area of Caballito.
This café is definitely one of the most pink dog-friendly cafés I have ever seen. Their menu offers many snacks for humans such as bagels, brownies, and the famous Argentine sweet, alfajor. Check out Mirtha Café's menu.
When you order something for yourself, they also bring snacks and water for your dog.
If you are planning on visiting the beaches by the Atlantic Coast, then you can also find Mirtha Café in Mar del Plata
Location: Pedro Goyena 665, Caballito
Cigaló Specialty Coffee
Cigaló Specialty Coffee is located in a new gastronomic hotspot DoHo in Villa Urquiza, and they are, of course, completely dog-friendly. The quieter neighborhood of Villa Urquiza makes it perfect for a relaxing afternoon in the sun.
At Cigaló, they offer different kinds of specialty coffee and snacks for humans.
They have both indoor and outdoor seating. The interior is modern and clean with a beautifully painted flower mural covering the end wall.
Cigaló is a perfect place to stop by if you want to explore street art in Villa Urquiza and Coghlan.
Location: Holmberg 2004, Villa Urquiza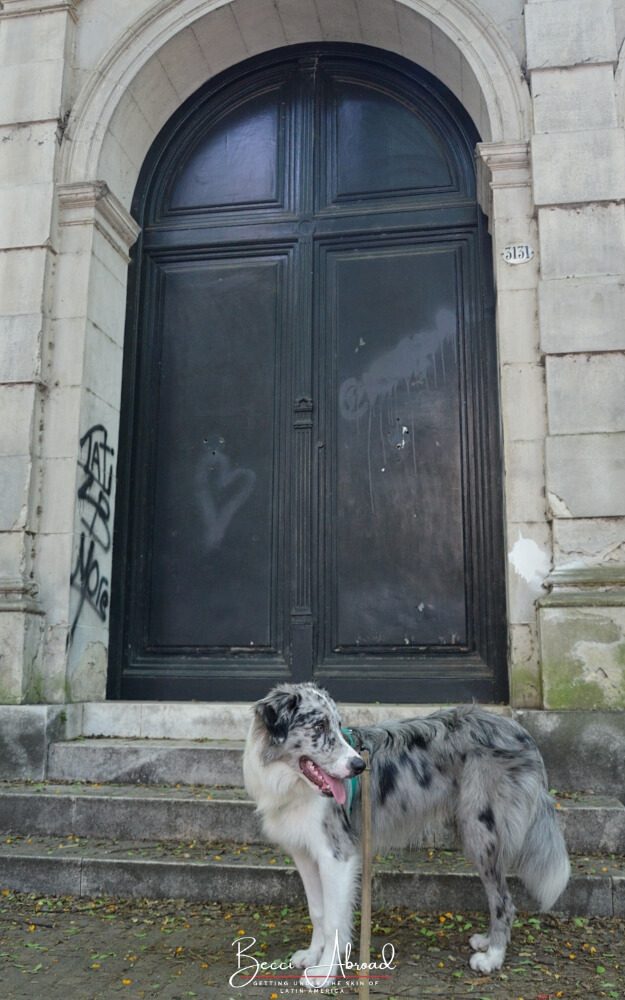 Dog-Friendly Hotels in Buenos Aires
Dog-friendly hotels are still not as common in Buenos Aires as in other cities. But there are a few hotels that accept staying with your dog.
Since we lived in a long-term apartment in Buenos Aires, we never actually had to stay in a hotel or Airbnb with Baloo in Buenos Aires (we have traveled with him in Spain, though).
So, these dog-friendly hotels are based on research and recommendations from others such as Dog-friendly Buenos Aires.
Check out more pet-friendly hotels in Buenos Aires.
1828 Smart Hotel Boutique
1828 Smart Hotel Boutique is a boutique hotel located in the heart of Palermo, which is 100% pet-friendly!
The hotel offers a special bed for your dog, food and water bowls, and pet-friendly guides. Well-behaved dogs are allowed to stay alone in the room.
According to BringFido, 1828 Smart Hotel only allows dogs under 15 kgs.
There is an additional charge of USD 25 per night for bringing your dog to 1828 Smart Hotel.
An up-to-date rabies vaccination certificate is required upon check-in. Read more about 1828 Smart Hotel's pet-friendly policy.
Location: Fray Justo Santa María de Oro 1828, Palermo
Hotel Hilton Buenos Aires
Hilton Buenos Aires is an excellent option for a dog-friendly hotel in Buenos Aires. The hotel is located in the high-end neighborhood of Puerto Madero, close to many of the main attractions in the city.
Hilton Buenos Aires offers a pet-friendly welcome kit and food and water bowls.
Dogs are allowed in all the public areas of the hotel including the bar, rooftop, and restaurant. However, Hilton Buenos Aires does not allow dogs to visit the hotel's pool and gym.
According to Dog-friendly Buenos Aires, Hilton Buenos Aires does not have any limitations on the size of the dog. However, only two pets (dogs or cats) are allowed per room.
BringFido mentions that Hilton Buenos Aires charges a fee of USD 75 per stay.
Read more about Hilton Buenos Aires' pet-friendly experience.
Location: Macacha Güemes 351, Puerto Madero
Ibis Buenos Aires Obelisco Hotel
Ibis Hotels in all of Latin America are pet-friendly and allow you to bring your four-legged friend along.
However, the Ibis Hotels only allow small dogs up to 15 kg to stay in their hotel. Read Ibis Hotels' pet-friendly policy.
The Ibis Buenos Aires Obelisco Hotel is located right in the center of Buenos Aires, close the Avenue 9th of July, Obelisco, and The Colon Theater. 
According to BringFido, Ibis Buenos Aires Obelisco charges a fee of USD 100 per night for your dog to stay.
Location: Avenida Corrientes 1344, Buenos Aires
Hotel Madero
Hotel Madero is a trendy pet-friendly hotel located in the popular Puerto Madero neighborhood close to both nature and the city.
In 2021, Hotel Madero announced on their Instagram page that they are now a pet-friendly hotel. However, their website doesn't mention anything about their pet-friendly policies.
According to Latitud 2000, Hotel Madero only accepts small dogs up to 8 kg with an additional charge.
Hotel Madero provides a bed for your dog and food and water bowls during your stay with them. Vaccines are required to be up-to-date, especially for the rabies vaccine.
You can contact Hotel Madero via email to confirm the details of staying with your dog.
Location: Dique 2, Rosario Vera Peñaloza 360, Puerto Madero
Dog-friendly Airbnb Apartments in Buenos Aires
If you didn't find any suitable dog-friendly hotels for staying with your dog, another option is to search for an Airbnb apartment that allows dogs.
There are plenty of dog-friendly apartments on Airbnb in Buenos Aires.
It is always a good idea to reach out to the owners on Airbnb before booking to tell them that you are traveling with a dog. This way you avoid any misunderstanding when you show up with your pup.
Dog-Friendly Spanish Words to Know in Buenos Aires
A couple of useful dog-friendly words in Spanish to help you get around in Buenos Aires, in case your Spanish is a bit rushy:
| | |
| --- | --- |
| Spanish | English Translation |
| Perro | Dog |
| Canil | Dog park |
| Admite perro | Accepts dogs |
| Veterinario | Vet |
| Golosina | Treats |
| Balanciado | Dry Food |
| Juguete | Toy |
| Pelota | Ball |
| Peluquería canina | Dog groomer |
| Paseador de perros | Dog walker |

Baloo's Personal Dog-Friendly Recommendations for Buenos Aires
There are many different pet shops and vets all around Buenos Aires. And sometimes, it can be a bit of a jungle.
So, to help you out we have gathered some of Baloo's own personal recommendations for you to get started with your dog-friendly adventures in Buenos Aires.
Centro Integral Veterinario del Alto
Centro Integral Veterinario del Alto was Baloo's vet since he was a puppy. Although they vaccinated him several times (which he didn't enjoy), he still loved coming there.
All the vets in the center are highly professional and very good with the animals.
At Centro Integral Veterinario del Alto, they can also help you with the paperwork if you are traveling internationally with your pet.
So, a highly recommendable place for anyone staying in Palermo!
Location: Guise 1870, Palermo.
Leonardo Tiscornia was Baloo's "personal trainer" since he was a puppy, and Baloo loved him!
Leonardo is super professional and knows his way around with the dogs.
If you are staying long-term in Buenos Aires and want to improve your dog's behavior, definitely reach out to Leonardo! We can't recommend him enough!
If your Spanish isn't too strong, Leonard also offers classes in English – both online and in-person in Buenos Aires.
You can see more about Leonardo's dog training on his Instagram and contact him.
PS Watch this video of Baloo with Leonardo from when he was 4 months old – cuteness overload, I promise!
Bepet Pet Shop
Bepet Argentina is a pet shop with different stores around Buenos Aires. The stores offer a good selection of dog toys, treats, and dog food.
Shortly before we left Argentina, a Bepet pet shop opened around the corner from our apartment in Palermo.
The service of the Bepet team was excellent! They were so sweet with Baloo, and the quality of the products that they have is really good.
So, a huge recommendation from here is to check out Bepet if you have one close to you.
Location: República Dominicana 3386, Palermo. Check the location of all the Bepet Pet Shops.
Puppis Pet Shop
Puppis is a pet shop located in different locations around Buenos Aires. They have a good selection of toys, treats, food, etc. for your doggo.
The service-mindedness of the staff is sometimes a bit questionable.
But if you are looking for anything for your dog while in Buenos Aires, it is worth checking out Puppis – they also do home delivery.
Location: Bulnes 2052, Palermo. Check the location of all the Puppis stores.
NatuPlus Dog Treats
NatuPlus is a local Argentine brand of dog treats. Baloo was crazy for the NatuPlus treats.
NatuPlus treats are made with the same freeze-drying technology as used for astronauts' food. So, the treats are pure meat just completely dried up. The NatuPlus dog treats come in different flavors such as chicken, beef, and liver.
You can find NatuPlus in most pet shops and vets in Buenos Aires.
---
Share the love and pin the post!