10 Beautiful Places to Visit in Argentina
Argentina is a popular destination for travelers wanting to explore South America, and there are many interesting places to visit in Argentina.
The country offers everything from cosmopolitan cities over raw wilderness in Patagonia and villages nested between colorful mountains.
When planning your trip to Argentina, it can be hard to decide where to go. And when you have decided where to, you, of course, also need to decide how long you need at each place.
I have been around and about in Argentina during my seven years of living in Buenos Aires. Argentina is a vast country with so many different locations and interesting things to see.
Where you decide to go, ultimately depends on what you would like to do during your trip. Because Argentina has something for every taste!
With this post, I hope to help you get a better idea about the different beautiful places to visit in Argentina. Hopefully, it will help you plan the Argentina itinerary that suits you!
Let's get started!
Disclosure: Some of the links below are affiliate links. This means that at no additional cost to you, Becci Abroad will earn a commission if you purchase through one of those links. This helps to pay the bills and the maintenance of the site.
Travel Guide to Argentina: The Best Places to Visit & How Long to Stay
Buenos Aires
Buenos Aires Querido… Argentina's capital city lies by the river banks of Rio de la Plata. And honestly, in my opinion, no visit to Argentina is complete without a visit to Buenos Aires.
Buenos Aires is among the best places to visit in Argentina if you want a city break. Buenos Aires plays a key part in the historical, economic, and cultural development of Argentina. By learning about the history of Buenos Aires, you will also learn about Argentina.
Buenos Aires was the hotspot for European immigration in the 1880s and early 1900s. The European migrants became a pillar in Argentina's economic and cultural development.
So, when you visit the colorful neighborhood of La Boca, explore the cobbled stone streets of San Telmo, admire the city's impressive European-inspired architecture, or attend a tango show, you are following in the footsteps of millions of immigrants who arrived to Argentina.
Buenos Aires is one of Argentina's most well-connected cities. There are two international airports, the International Airport Ezeiza and Aeroparque Jorge Newbery.
So chances are that you will be flying into Buenos Aires before embarking on your Argentina adventure. Check out my best travel tips for your visit to Buenos Aires.
What to Do in Buenos Aires?
Start out exploring Buenos Aires' city center. Here the iconic Plaza de Mayo welcomes visitors with its historic landmarks. Here you can admire the impressive Casa Rosada, or the Pink House, the pink-hued presidential palace, the city's cathedral, and the old town hall.
Head down Avenida de Mayo to the iconic Obelisco, an important landmark for Buenos Aires. Stroll down the bustling Avenida Corrientes, and take in its vibrant atmosphere with theaters, bookstores, and cafes.
Another neighborhood worth exploring is the trendy Puerto Madero, located just behind the Pink House. The Puerto Madero waterfront district offers a modern contrast to the city's historic areas. Take a stroll along the dock and enjoy the stunning views of the iconic Puente de la Mujer bridge.
Head to the neighborhood of Palermo to explore local street art, trendy bars, restaurants, and cafes. In Palermo, they are serving everything from international flavors to the traditional Argentine asado (barbecue) paired with a glass of Argentina's world-famous wine.
If you are traveling on a budget, remember there are also plenty of free things to do in Buenos Aires!
You can also add a day trip from Buenos Aires to your itinerary. Hop on the regional train and explore the Tigre Delta, where you can take boat tours on the Parana River. Or venture to the outskirts of Buenos Aires with a trip to San Isidro or La Plata.
How Long Do You Need to Visit Buenos Aires?
A minimum of three to four days is recommended to get a proper glimpse of Buenos Aires' main attractions. Explore how to spend three days in Buenos Aires.
While you can manage to see the main landmarks in one to two days, I would strongly recommend you spend a longer time in Buenos Aires.
Iguazu Falls
If you haven't already added the Iguazu Falls to your bucket list of places to visit in Argentina, then do it now!
The Iguazu National Park is one of the most popular tourist destinations in Argentina – and for a good reason! This UNESCO World Heritage Site is one of the most astounding and breathtaking places I have ever visited!
The Iguazu Falls are located in the Argentine northeastern province of Misiones on the border with Brazil. The Argentine side of the falls accounts for roughly 80% of the falls. Throughout the national park on the Argentine side, you have different hiking trails and paths to explore the falls from all sides. From the Brazilian National Park, you have a gorgeous panoramic overview of the Argentine side.
The falls are made up of more than 270 individual falls and are the largest water system in the world. Inside the Iguazu National Park in Argentina, you can find the largest part of the falls, the Devil's Throat.
There is an observation deck on top of the Devil's Throat from where you can overlook the massive volumes of water. It is truly fascinating and terrifying!
Overall, Iguazú Falls is a must-see destination in Argentina! It will leave you with an unforgettable experience. So, pack your camera, bring your sense of adventure, and get ready to be captivated by the spectacular Iguazú Falls
Read more about The Iguazu Falls.
How Long Do You Need to Visit the Iguazu Falls?
To visit the Iguazu Falls you should spend one to four days.
If you only have time to stay for one day, then spend the whole day in the Iguazu National Park in Argentina! By dedicating a full day to exploring the National Park in Argentina, you'll have time to walk along the well-maintained trails and lookout points.
If you have more time to spare, then add a day to go to the Brazilian side.
There are also plenty of interesting things to do in the area surrounding the Iguazu Falls. Consider visiting the nearby town of Puerto Iguazu or the San Ignacio Miní ruins.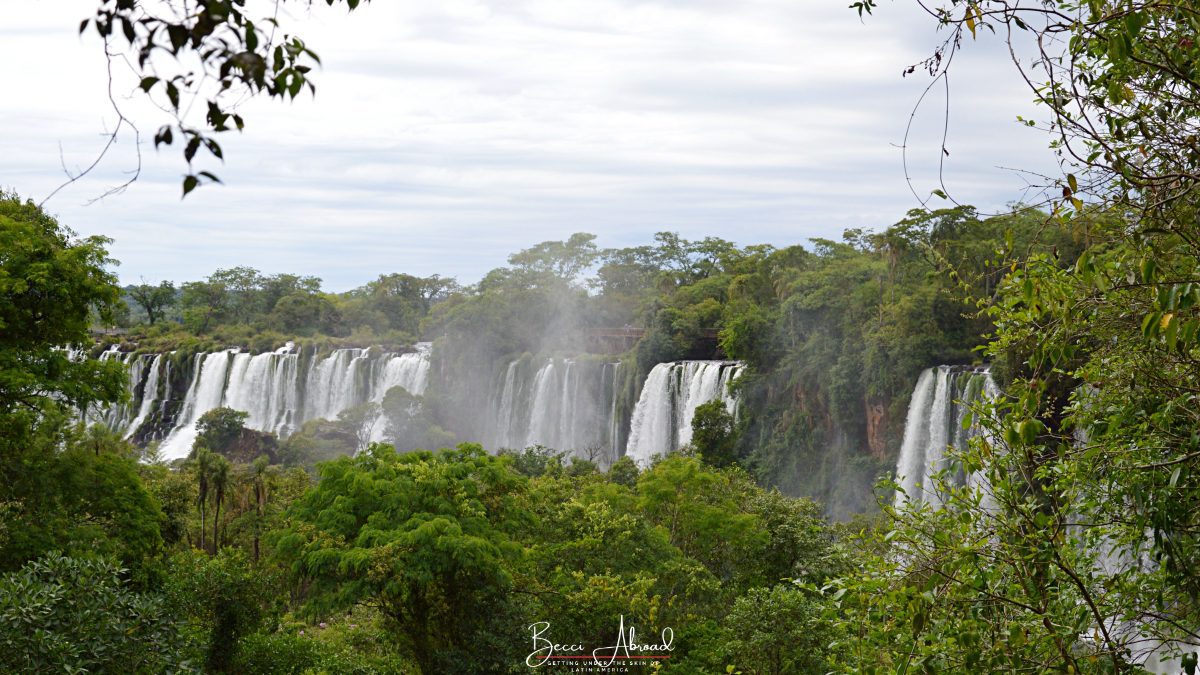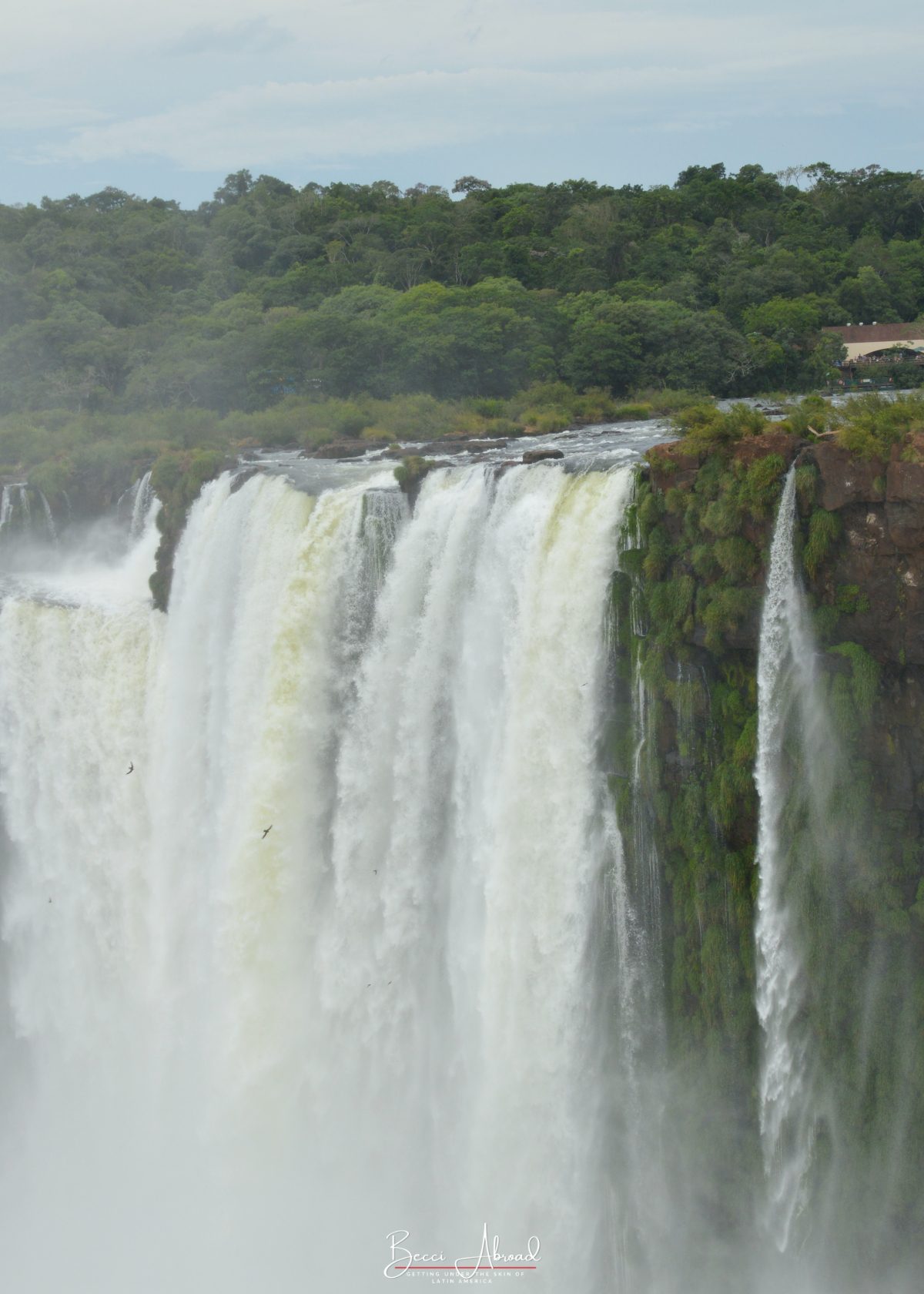 Mendoza
Mendoza is Argentina's wine capital and one of the must-visit places in Argentina for any wine-lover! Situated at the foothills of the Andes Mountains, Mendoza offers a unique blend of natural beauty and urban charm. 
One of the most popular activities in Mendoza is exploring the region's wineries. In the area surrounding Mendoza, you have over 1,500 wineries. There are several options for wine tours and wine tastings at the local wineries.
There are plenty of other activities to do around Mendoza. If you are interested in outdoor adventures, the Andes Mountains are perfect for trekking, horseback riding, and rafting. The nearby Potrerillos Dam provides opportunities for water sports such as kayaking, rafting, and fishing.
A popular hiking destination in the Andes Mountains is the breathtaking Aconcagua Mountain, the highest peak in the Americas. In the Andes Mountains, you can also find the Inca's Bridge (Puente del Inca), a unique rock formation. There are day trips from Mendoza to visit the main spots in the Andes mountains.
Whether you're a wine enthusiast or an outdoor adventurer, there is something to do and see in Mendoza for everybody.
If you are looking for a more unique off-the-beaten-track experience away from the crowds in Mendoza, then visit San Rafael! San Rafael is Mendoza's little bother located only a few kilometers away but with equally astonishing landscapes and wine.
Read more about Mendoza & San Rafael.
How Long Do You Need to Visit Mendoza?
You can easily spend three to five days in Mendoza!
For visiting the wine areas, you should spend at least one to two days. I recommend doing a guided tour to not be drinking and driving.
For visiting the Andes Mountains, you need at least 1 day. And if you also want to explore a bit of the city center, you need half a day to a day more.
However, depending on your schedule, you might be able to bring it down to two days and skip some activities.
Peninsula Valdés
Peninsula Valdes is renowned for its remarkable wildlife, and is one of the absolute must-visit places in Argentina if you are a nature lover!
The Valdes Peninsula is situated along Argentina's eastern coast in Northern Patagonia. From here you can experience penguin colonies, sea lions, seals, killer whales, and Southern Right Whales in their natural habitat.
This unique ecosystem and rich biodiversity are among the reasons why the area is a UNESCO World Heritage Site. Wildlife varies seasonally, so check the Valdes Peninsula wildlife calendar when planning your trip. The whale season at the Valdes Peninsula is, for example, only from June to December.
The Valdes Peninsula also offers opportunities for scuba diving and snorkeling – and best of all; snorkeling with sea lions. Read more about what to do on Peninsula Valdes.
On the Valdes Peninsula, there is only one town, Puerto Piramides, with a few hotels and restaurants. The town also serves as a launch point for whale-watching tours during the whale season.
Around an hour's drive from the Valdes Peninsula, you will find the nearest major city, Puerto Madryn. While Puerto Madryn doesn't have much to offer, many travelers choose to stay in here. From Puerto Madryn, you can do day trips to Peninsula Valdes and the largest colony of Magellanic Penguins at Punta Tombo National Reserve.
Península Valdés is a true gem in Argentina's natural landscape with its amazing wildlife and stunning landscapes.
How Long Do You Need to Visit Peninsula Valdes?
Spending two days on Peninsula Valdes is the ideal time to spend. Two days would allow you to spend a day exploring the peninsula and a day whale watching and exploring the area around Puerto Piramides.
Many travelers stay in the nearby city of Puerto Madryn and only visit Peninsula Valdes on a day trip. It is possible to cover the main attractions in a day trip to Peninsula Valdes.
However, I strongly recommend finding accommodation on Peninsula Valdes. This way you can get the most out of the wildlife experiences.
Read more about Peninsula Valdés.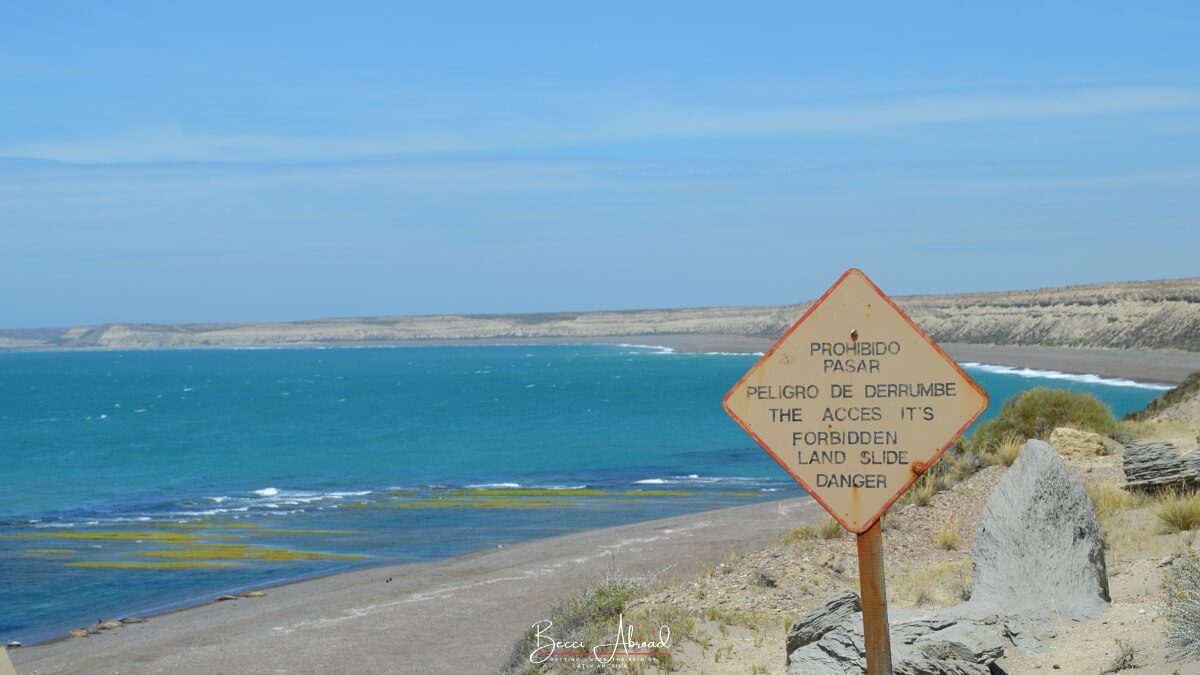 The Pampas: Traditional Argentine Estancias
The Pampas is a region with vast fertile grasslands that stretches across the central part of Argentina. A visit to the Pampas offers the opportunity to experience the authentic charm of rural Argentina.
One of the main attractions of the Pampas region is to visit its traditional estancia, or ranches. The ranches tell an important story about Argentina's agricultural heritage and the importance of the Argentine cowboy culture, the gauchos.
If you are interested in learning about Argentina's culture and history, then a visit to an estancia in the Pampas should be on your list of must-visit places in Argentina.
Visiting an estancia is a step into the bones of Argentine history and gaucho culture. During your visit, you can engage in local traditions such as horseback riding over the Pampas' vast grasslands, traditional folk dances, and traditional Argentine barbecues, called asados.
A popular town to visit in the Pampas is San Antonio de Areco, the oldest town in the area dating back to 1730. To walk through the streets of San Antonio de Areco is like taking a step back in time.
Surrounding the town, several estancias frequently open their doors to visitors on Día de Campo or Country Days. The Country Day is a day with traditional rural Argentine activities and asado. Read more about San Antonio de Areco.
How Long Do You Need to Visit the Pampas?
A visit to San Antonio de Areco can easily be done as a day trip or a two-day trip from Buenos Aires. However, you can also explore other more remote areas on the Pampas to immerse yourself in the life of rural Argentina.
Read more about San Antonio de Areco.
Bariloche
Bariloche is a small town located in Argentina's Patagonia region on the shore of the glacial lake Nahuel Huapi Lake. The town is situated within the enchanting landscape of Patagonia's Lake District, surrounded by towering mountains and beautiful lakes.
Bariloche is one of the best places to visit in Argentina if you love hiking, mountain climbing, and skiing.
One of the main reasons travelers flock to Bariloche is for its world-class skiing and snowboarding. The local ski resort, Cerro Catedral, is the largest ski resort in South America.
An activity that can't be missed when in Bariloche is the Circuito Chico Route. This is a scenic circular route that takes you through some of the region's most breathtaking views. Among locals, it is known as a traditional Bariloche must-do route.
Located between the city center and Circuito Chico, you find the area's first Swiss Colony. A great place for tasting some of the local chocolate.
Another popular activity in Bariloche is to visit the mountaintops of Cerro Campanario and Cerro Otto, respectively, accessed by chairlift or cable cars. From there, you have some of the best views over snow-capped mountains, Bariloche, and Nahuel Huapi Lake. Get more inspiration about what to do in Bariloche!
From Bariloche, you can also start the journey along the Road of Seven Lakes. The Road of Seven Lakes is a section of Argentina's Route 40. The road gets its name from the breathtaking Patagonian landscapes that you meet on your way.
How Long Do You Need to Visit Bariloche?
To cover the main attractions, you should count on spending two to three days in Bariloche. The city center can be covered in less than a day. The Circuito Chico Route and the Swiss Colony can be visited in one day too.
However, how long you need in Bariloche, depends greatly on what you want to do. If you are planning on doing multi-day hikes in the Nahuel Huapi National Park or skiing at Cerro Catedral, you should stay longer.
Read more about Bariloche.
Northwest Argentina: The Province of Jujuy
The province of Jujuy in Northwest Argentina is a hidden gem waiting to be discovered. Here you will find vibrant and colorful landscapes with rich indigenous heritage.
A short drive from San Salvador de Jujuy, the capital city of the province, you will find the beginning of the breathtaking Quebrada de Humahuaca. This UNESCO World Heritage Site is a deep gorge surrounded by towering mountains and adorned with vibrant rock formations.
Nested in between the mountains of the Quebrada de Humahuaca, you will find the charming town of Purmamarca. Purmamarca is especially famous for its multi-colored mountain, Cerro de los Siete Colores translated as the Hill of Seven Colors. Also don't miss out on a visit to the stunning salt flats, Salinas Grandes, the second largest in the region.
Continuing along the Quebrada de Humahuaca, you'll reach the town of Humahuaca. This historic town features a monument of the Independence Heroes, a small town hall, and several small shops with local handcrafted goods.
The Fourteen Colors Mountain
Around an hour's drive outside Humahuaca, you have Cerro de Catroce Colores or the Fourteen Colors Mountain.
As the name indicates this mountain features fourteen different color tones within the same rock formation. The Fourteen Colors Mountain is located in the middle of nowhere at 4,300 meters above sea level. It is impossible to explain how incredible views you have over this impressive natural wonder.
If you only have a short amount of time to explore Northwest Argentina, then I would highly recommend that you prioritize visiting the Fourteen Colors Mountain.
The Jujuy province in Northwest Argentina is one of the most beautiful places to visit in Argentina if you are seeking a more off-the-beaten-path adventure.
How Long Do You Need to Visit Northwest Argentina?
Spending at least three to five days in Northwest Argentina will ensure you have enough time to explore the beauty of the area.
Spend one day in Purmamarca admiring the natural wonder of Cerro de los Siete Colores and visiting the Salinas Grandes salt flats. Humahuaca can also be explored in a day or two with a day trip to the Fourteen-Colored Mountain.
Northwest Argentina also offers plenty of opportunities for horseback ride or llama trekking through the stunning colorful mountains.
Check out my itinerary to the best of Northwest Argentina.
Perito Moreno Glacier
The majestic Perito Moreno Glacier is a true top destination in Argentina! The impressive glacier is located in Argentina's Patagonia region within the UNESCO World Heritage Site, the Glacier National Park.
The Glacier National Park features multiple glaciers. Perito Moreno stands out as the largest and most impressive. Perito Moreno is one of the few glaciers in the world that is still growing.
The nearest town to the Perito Moreno Glacier is El Calafate. From here, you can arrange guided tours or rent a car to access the park's entrance. There are guided trekking tours available that allow you to walk on the glacier itself.
The drive from El Calafate takes approximately one hour, plus a 30-minute walk to reach the glacier's observation deck.
Whether you are an adventure seeker or looking for a unique travel experience, a visit to the Perito Moreno Glacier will leave you in awe.
How Long Do You Need to Visit Perito Moreno Glacier?
Allow yourself, at least, one full day to explore the Perito Moreno Glacier.
Try a boat ride to get a closer look at the towering ice walls. Listen to the echoing sounds of ice chunks breaking off and crashing into the water below.
El Chalten & Fitz Roy Mountain
El Chalten is renowned as Argentina's Hiking Capital and a paradise for any outdoor lover! The town provides a gateway to the untamed beauty of Patagonia.
From here, you can visit the famous Mount Fitz Roy and Cerro Torre. These towering mountains are an impressive sight with their jagged peaks and snow-capped summits.
El Chalten is located near the Chilean border within the borders of the Glacier National Park. From El Chaltén, numerous hiking expeditions into Patagonia's breathtaking landscapes start. The hikes are offered with various durations allowing you to choose the hiking trip that aligns best with your schedule.
Some hikes are several days while there also are single-day hikes. Most of the hikes cover Mount Fitz Roy and the picturesque Laguna de los Tres, a crystal-clear glacial lake nested between towering mountains.
El Chalten is one of the most beautiful places to visit in Argentina if you like outdoor adventures.
How Long Do You Need to Visit El Chalten?
How long time you need in El Chalten, depends on how long a hike you wish to sign up for.
For hiking enthusiasts who want to explore the many trails, it is recommended to spend at least three to four days in El Chalten.
For those who are more casual hikers or just want to enjoy the scenery at a more relaxed pace, two to three days in Chalten could be enough.
The Atlantic Coast of Argentina
The beaches along the Atlantic Coast of Argentina are some of the best places to visit in Argentina if you are looking for a beach holiday.
Due to the beaches' proximity to Buenos Aires, they are a popular destination for local porteños during the hot summer months (December to February).
One of the most popular destinations among locals is Mar del Plata. The city's beaches offer long stretches of golden sand and crystal-clear waters. You will most commonly see Mar del Plata referred to as Mardel among locals.
However, Mar del Plata easily gets crowded in the summer months. So, if you are looking to add a more relaxing beach break to your Argentina trip, consider exploring some of the many hidden gems on the Atlantic Coast.
Mar Azul is a personal favorite of mine. Mar Azul is a small beach town located inside a forest and features cute wooden cabins.
Another option is the coastal town of Pinamar. Pinamar is a bigger city than Mar Azul but still with more tranquil surroundings compared to Mar del Plata.
So pack your sunscreen, grab your beach towel, and get ready to enjoy the beaches near Buenos Aires.