Costa Argentina: The 8 Best Beaches Near Buenos Aires
When the summer approaches Buenos Aires, most residents in Buenos Aires start to plan their getaways to a beach near Buenos Aires.
In the summer, temperatures in Buenos Aires rise to around 30 degrees Celsius (86 Fahrenheit). Even if you live in an apartment with a nice terrace or a small swimming pool, it can be pretty unbearable. Therefore, many plans to spend their summer holidays or long weekends at the beach.
The city of Buenos Aires itself is located by the La Plata River. However, the city doesn't really have a proper beach. Instead, the porteños escape the heat to the many coastal towns located down south in the Buenos Aires Province.
If you are staying long-term in Buenos Aires, you might want to get inspired by this porteño habit. The beaches at the so-called Costa Argentina have something that fits every travel style. So, whether you are on for a quiet weekend away or a party trip with your friends, you will find a place here.
To help you plan the beach that fits you the best, I have put together this list with some of the coastal towns that I have visited over the years while living in Buenos Aires.
Let's dive into these 8 places to visit the beach near Buenos Aires:
Disclosure: Some of the links below are affiliate links. This means that at no additional cost to you, Becci Abroad will earn a commission if you make a purchase via one of those links. This helps to pay the bills and the maintenance of the site.
A Guide to the Best Beaches Near Buenos Aires
Mar Azul
My Personal Favorite Beach Near Buenos Aires
Mar Azul is by far one of my favorite coastal towns on the Argentine Coast. Actually, it is more of a tiny settlement than an actual town. Mar Azul is located in the middle of the forest which gives it a special cozy feel. And it's definitely one of the more quiet options for a beach getaway.
Right next to Mar Azul is another coastal settlement called Mar de las Pampas, which has a similar vibe to it. Mar de las Pampas, however, seems to be a bit bigger. In my option, Mar Azul has a more cozy feeling.
Most of the houses in Mar Azul are cottages – or cabañas as they are called in Argentina – and are located within walking distance from the beach.
Mar Azul has a small "city center" where they are several restaurants, bars, and smaller shops. If you run out of options, the neighboring Mar de las Pampas has a few more options.
However, there are no larger supermarkets in either Mar Azul or Mar de las Pampas. So, if you are planning to cook and not eat out every night, it might be a good idea to buy groceries beforehand.
Lastly, if you don't have a car, it can be a bit difficult to get to Mar Azul and Mar de las Pampas. The long-distance buses from Buenos Aires only arrive at Villa Gessel (see below), and from there you would have to change to a local bus to go all the last part to Mar Azul or Mar de las Pampas.
Distance: 390 km from Buenos Aires

Pinamar
Pinamar is a bigger coastal town than Mar Azul and Mar de las Pampas, and it is way easier to get to by long-distance bus from Buenos Aires.
There are more options for accommodation and eating out in Pinamar than in Mar Azul but it has a less cozy feeling to it. However, the town itself doesn't have a lot of activities to offer.
So, if the point of your getaway is to lay on the beach and have all the commodities of a smaller city within reach, Pinamar might be the perfect fit for you.
I visited Pinamar with my mum in December 2019. By coincidence, we discovered that the old pier, el Muelle de Pinamar as it is called in Spanish, was actually a restaurant. And the food and wine turned out to be surprisingly good.
However, it is unclear whether the restaurant survived COVID-19 or not. If you are heading to Pinamar, you might want to hit down the pier to check it out. At least, you can get some great pictures from there.
Distance: 355 km from Buenos Aires.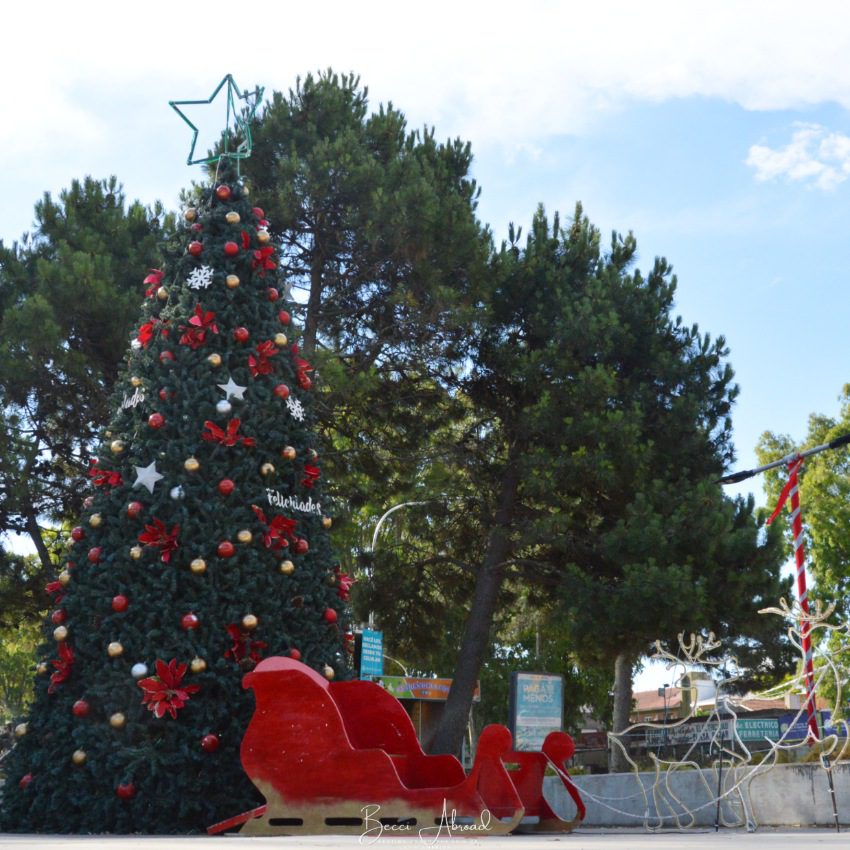 Villa Gessel
Villa Gessel is located just between Pinamar and Mar Azul, and it's commonly known by porteños to be one of the coast's big party towns. So, if it is in your plans to party all night long, Villa Gessel might be the place for you.
Villa Gessel is one of the larger towns on the coast with plenty of options for both accommodation, restaurants, and supermarkets.
However, if you are not on for the crazy party experience, you can also find quieter areas in the outskirts of Villa Gessel. Staying in one of those areas allows you to be close to the beach while also having the commodities of a larger city within close reach.
Distance: 375 km from Buenos Aires
Neocochea
Necochea is the coastal town on this list that is located the furthest away from Buenos Aires with a total of 510 km (317 miles) or approximately 6 hours by car.
Together with Villa Gissel and Mar del Plata (see below) it is one of the bigger towns on the Argentine coast, and there are plenty of options for accommodations close to the beach.
I visited Necochea once and was surprised by how nice and clean the city was. I'm normally not a big fan of bigger cities where everything seems to be connected to tourism (the feeling I got, for example, in Villa Gessel). However, Necochea seemed to have a nice mix of proper city and beach.
Apparently, at the far end of the beach in Necochea, there should even be a place where some wild sea lions go to rest. Unfortunately, I didn't get a chance to visit. But if you are heading to Necochea, check the point out in Google Maps.
Fun fact: Necochea is considered to be part of the "Danish Triangle" in the Province of Buenos Aires because of the strong Danish immigration in the 1880s to this area of Argentina. When visiting, I even saw Danish flags one day.
Distance: 510 km from Buenos Aires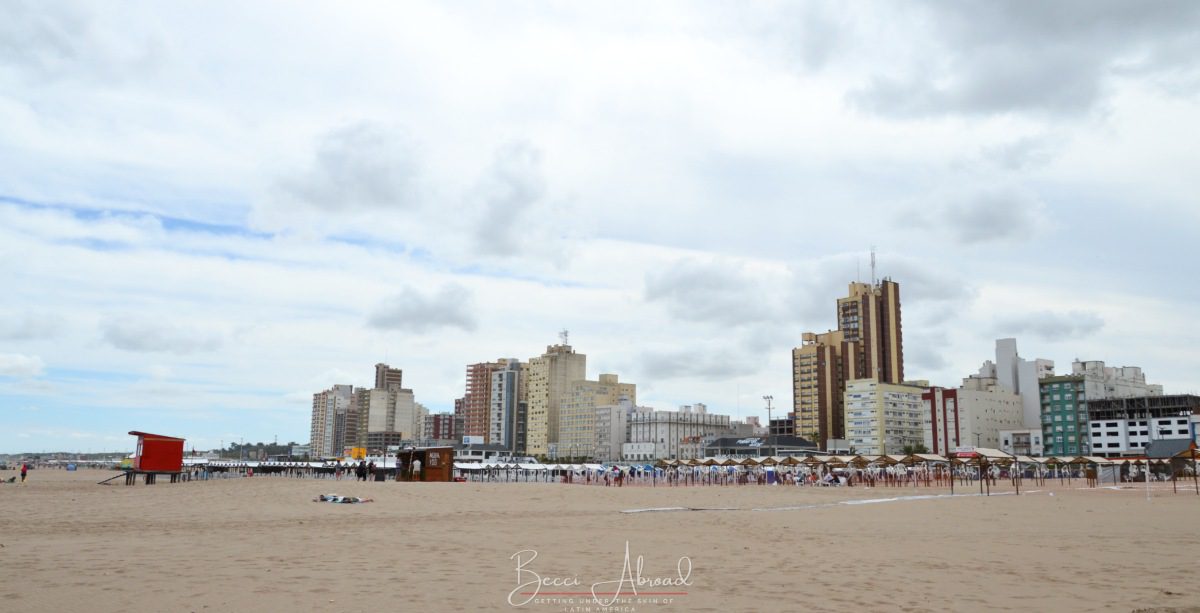 Las Toninas
Las Toninas is one of the beach towns closer to Buenos Aires. It should only take around 4 hours by car and a bit longer by bus from Buenos Aires.
Both Las Toninas and other coastal towns closer to Buenos Aires such as Santa Teresita and San Clemente del Tuyú (see below) seem a bit messier and worn down than most of the other beach towns on this list.
On the positive side, these towns are designed to be rectangular meaning that no matter where you stay you will always be close to the beach.
Distance: 360 km from Buenos Aires.

Santa Teresita
Santa Teresita and Las Toninas are located like pearls on a string on La Costa Argentina.
The main attraction in Santa Teresita seems to be the huge replica of the ship that Christopher Columbus arrived in the Americas. It is called La Carabela Santa María, and you can even visit the inside of it! You can find it here.
In both Las Toninas and Santa Teresita I had this feeling that the city only functions around the tourists coming in the summer. There are hotels and restaurants on almost every corner.
Distance: 370 km from Buenos Aires.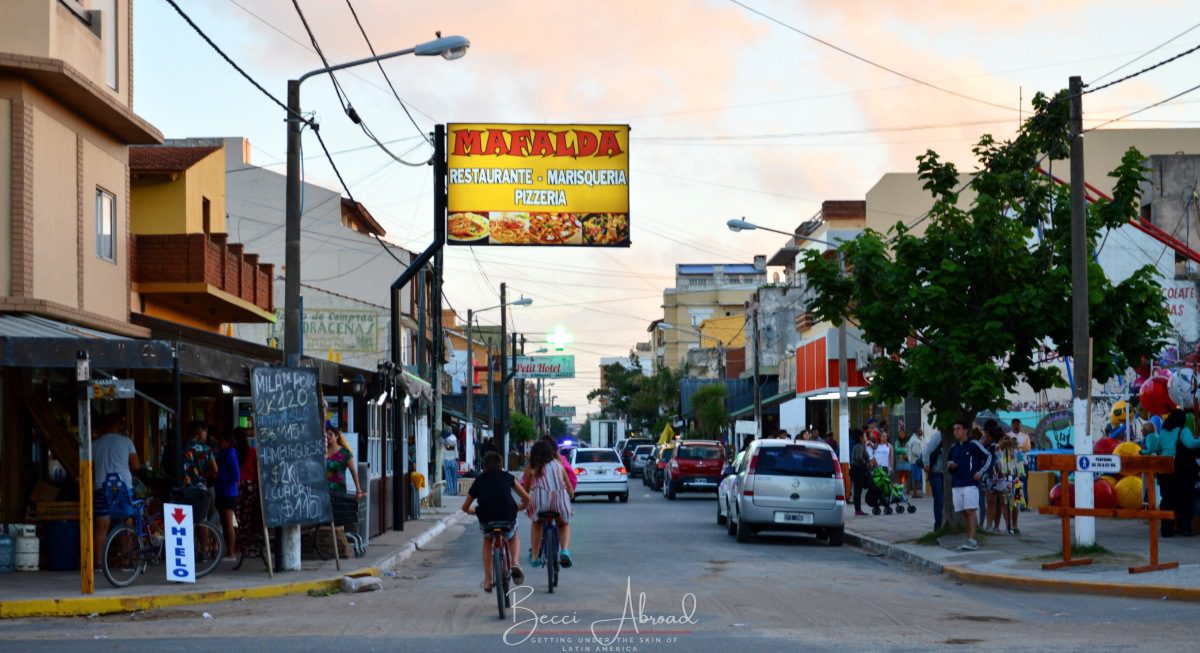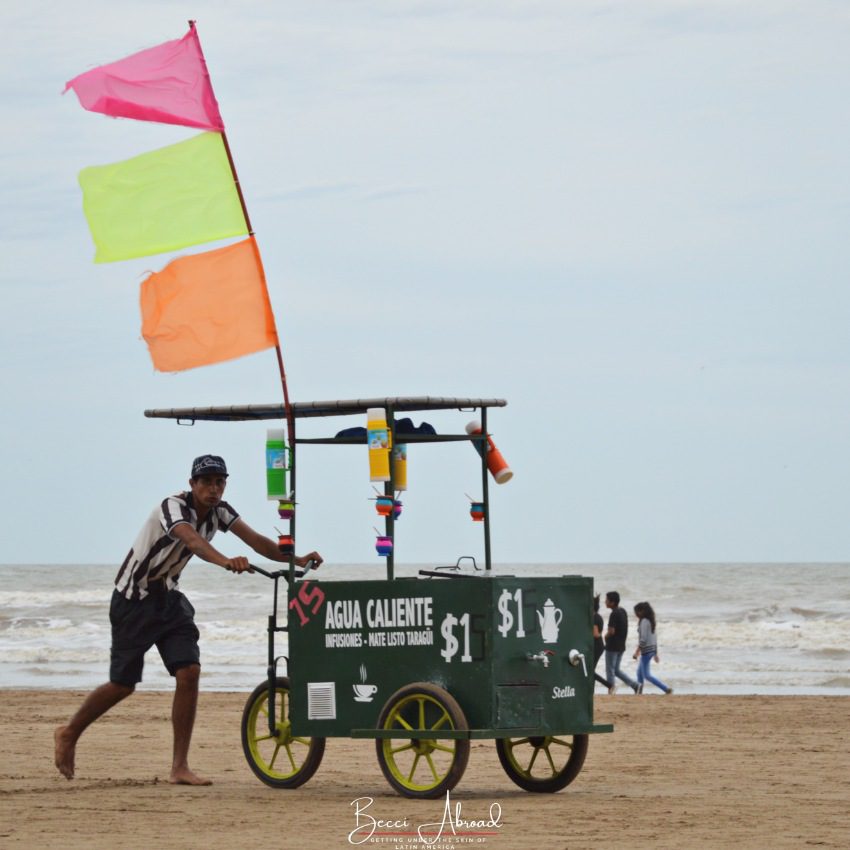 San Clemente del Tuyú
San Clemente del Tuyú is the coastal town closest to Buenos Aires with a direct long-distance bus line going there.
The town itself seems a bit worn down and poorly maintained. But if you want a quick getaway to the beach without spending too much time on transportation then San Clemente del Tuyú might be your best option.
The biggest attraction in San Clemente del Tuyú seems to be the Sea World-like attraction park, Mundo Marino.
Distance: 370 km from Buenos Aires.
Mar del Plata
The latest city on the coastline in the province of Buenos Aires is Mar del Plata. When you talk with porteños about going to the beach, you will most likely hear Mar del Plata mentioned quite a few times. It is a super popular destination.
Honestly, I have never been myself. Simply because super-crowded cities, beaches, and heat is not my favorite combination.
Distance: 415 km from Buenos Aires.
How did you like these 8 places to visit the beach near Buenos Aires? Have you ever been to one of them? Or would you consider visiting? Share your thoughts and knowledge below!
Enjoyed the post? Pin it!