San Rafael: The Most Popular Things to Do and See in Argentina's Hidden Gem
The city of San Rafael is located in Argentina's Andean region, just south of its busier and more well-known big brother, Mendoza. San Rafael offers almost all the same activities as Mendoza with beautiful landscapes and plenty of vineyards – but in more quiet surroundings.
This makes San Rafael a perfect stop-over if you are on a road trip from the Northern parts of Argentina to the South.
A short car ride outside the city of San Rafael, you can also find some very impressive nature for both trekking and other outdoor activities.
So, if you are into beautiful nature and tons of wineries to visit but also like a quieter destination, San Rafael might be worth adding to your Argentina itinerary.
Argentina Travel Guide to the Best of San Rafael, Mendoza
Disclosure: Some of the links below are affiliate links. This means that at no additional cost to you, Becci Abroad will earn a commission if you purchase through one of those links. This helps to pay the bills and the maintenance of the site.
Where is San Rafael?
San Rafael is located around 235 km south of Mendoza, down towards Patagonia.
Even though San Rafael is the second largest city in the province of Mendoza, it isn't that less known by international tourists.
However, it is popular among local tourists looking to taste some of the region's amazing wines or scenic landscapes.
What to Do in San Rafael?
There are many different things to do in San Rafael. The mountains invite trekking and outdoor activities and the wineries to taste many of the local wine productions.
Here are some of the best things to do in San Rafael!
The Local Wineries
The traditions of wine-making were brought to San Rafael by primarily French and Italian migrants in the late 1880s. The traditions were kept alive. Today you can find wineries all over San Rafael.
As with Mendoza, many of the wineries offer guided tours of their facilities. Here is a list with some recommendations but there are many more wineries to explore in San Rafael:
Winery Bodega la Abeja
Bodega La Abeja is the oldest winery in San Rafael. It dates back to 1883 and was established by a French immigrant. He chose this area for a new life with his family.
The guided tour was extremely well-organized and the guide was pleasant. The winery runs several times throughout the day.
If you want to be sure to get on a tour for a specific time slot or you prefer to do the tour in English, you will need to reserve beforehand.
We reserved with them via WhatsApp and they were super quick to answer.
Algodón Wine Estates
The guided tour and lunch at Algodón Wine Estates were the highlight of our trip to San Rafael!
Algodón Wine Estates is a winery, boutique hotel, and real estate project run by the Argentine-American Gaucho Group. It is located around 20 minutes by car from downtown San Rafael.

For the guided tour, they take you on a ride in a golf car through parts of the wine yards. During the tour, the guide tells about the different wines they produce and the history of the whole estate. Currently, they are remodeling the winery itself, so we only got to see it from the outside.
The tour takes around an hour and a half and runs once a day at 11 am.
After the tour, you get to taste four different wines from the winery. Included in the wine tasting was also a tabla de fiambre (gourmet cold meat and cheese).
You need to reserve the guided tour beforehand as it has a very limited number of seats available (there's only space for 4 persons on the golf car).
We had chosen to have lunch at Algodón too, which was an excellent decision! The food was delicious and the glasses of wine from the wine tasting were big.
You easily spent half a day at Algodón and the service was spotless from start to finish. You can reserve your tour by writing them at reservations@algodonwineestates.com
Winery Bodega Bianchi
The winery Bodega Bianchi is one of the biggest wineries in San Rafael, and its wines can be found in supermarkets and bars throughout Argentina.
The visit to the winery was highly streamlined and professional but very impersonal. Without a shadow of a doubt, their wines are worth a try. But the guided tour itself wasn't really good and was pretty rushed.
It winery is located near the airport but you might want to take a taxi there if you are not staying nearby.
Bodega Bianchi runs several tours during the day. You can reserve either via email turismo@bodegasbianchi.com.ar or WhatsApp +54 9 2604 81-6963.
They say that you have to reserve beforehand via WhatsApp or by calling but when we arrived it seemed like you didn't need to have the reservation. What also drove me crazy with the Bianchi experience, was that they were super slow to answer their reservations request via WhatsApp.
Other Popular Wineries in San Rafael
Bodega Suter
Bodega Suter is located on the way from the city center of San Rafael towards Bodega Bianchi (see above). The Suter winery is also one of the older wineries in the area. It was founded by a Swiss couple in 1897. Read more on the Suter winery's website.
Bodega Alto Limay
Bodega Alto Limay is located just around the corner from Bodega Suter and makes a perfect match for a 2-in-1 winery tour. You might even mix it up with a visit to Bodega Bianchi too. Visits take place Monday through Friday from 10 am to 5 pm. Read more on Bodega Alto Limay's website.
Bodega Alfredo Roca
Bodega Alfredo Roca is located around 15 km outside the city center of San Rafael. Visits take place throughout the day but previous reservation is necessary. Check the winery's website for more information.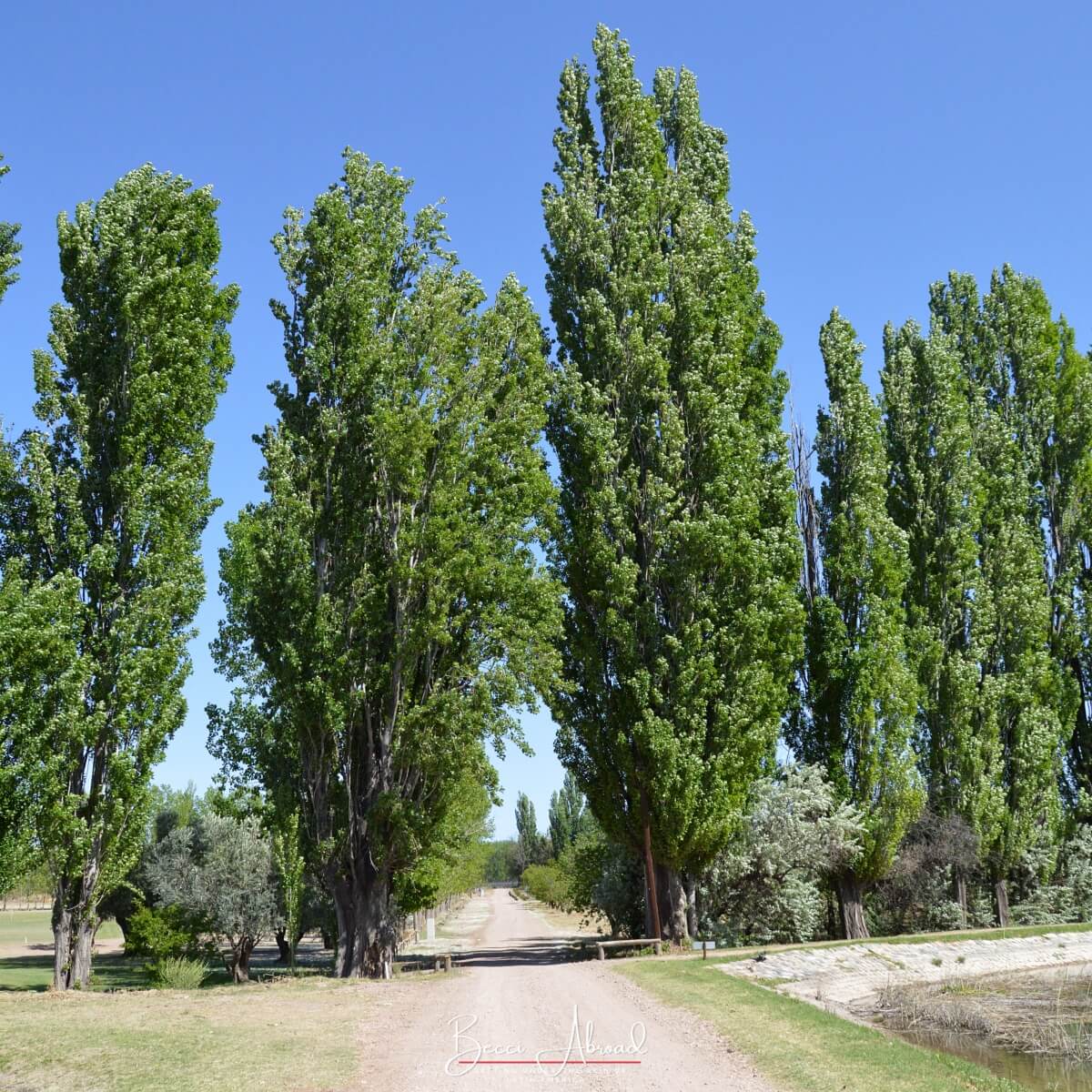 The Olive Oil Museum
The local olive oil producer Yancanelo has created an Olive Oil Museum where you can learn about the history and production of olive oil.
The Olive Oil Museum offers guided tours of its facilities. The museum is located close to some of the wineries mentioned above: Bodega Suter, Bodega Alto Limay, and Bodega Bianchi.
Read more about the Olive Oil Museum.
Cañón del Atuel and The Dique Valle Grande in San Rafael
Outside San Rafael, you will find Cañón del Atuel, an impressive canyon, and its surrounding breathtaking nature. 
The Dique Valle Grande is a huge dam of water reservoirs that creates lakes of beautiful crystal-clear water. The area is perfect for watersports and camping.
It's located around 24.8 miles (40 kilometers) west of the city, and can easily be reached by car.
For visiting you can either rent a car, order a taxi, or go on a guided tour from Mendoza. Read more about Cañón del Atuel on the Tourist Office's website.
Unfortunately, we didn't get time to visit when in San Rafael (too many wineries and family visits), but it's definitely on my list for the next time around.
Borges' Labyrinth
Spend an afternoon getting lost in Borges' Labyrinth and add a little challenge to your trip to San Rafael.
Borges' Labyrinth, or Laberinto de Borges as it is called in Spanish, is a giant labyrinth located on the outskirts of San Rafael.
It was created to honor the Argentine writer, Jorge Luis Borges, from whom it also gets its name. Read more here.
The park with the labyrinth is open every day from 10 a.m. to 7 p.m.
Downtown San Rafael
The downtown area of San Rafael is a pretty tranquil place. It has everything any medium-sized town needs; a main avenue with shops and cafés.
In San Rafael, this main avenue is called Avenida Hipólito Yrigoyen.
On Avenue Hipólito Yrigoyen, you will also find a huge park, called Parque Hipólito Yrigoyen, which is a great place for people-watching in the sun.
Where to Stay in San Rafael
There are plenty of cabins and small local hotels in San Rafael. Depending on what time of the year you are visiting it, you might not even need to reserve beforehand.
Here are some of the available options:
Algodón Wine Estate
Algodón Wine Estate offers a higher-end experience with their nine-room boutique hotel. The downside is that it is located on the outskirts of the city.
If your vacation goal for San Rafael is to spend more time relaxing by the pool and sipping local wine, Algodón is your place.
Book your stay at Algodón Wine Estate at Booking.com!
Hotel Petit Suter
Hotel Petit Suter is located a bit outside the city center itself but very close to many of the wineries mentioned above. The hotel itself also belongs to a winery which is located across the street.
Hotel Petit Suter has a cute garden with a small outdoor pool. For a couple of nights, it's a decent choice for accommodation.
Book your stay at Hotel Petit Suter at Booking.com!
Hotel Tower Inn & Suites
The Hotel Tower Inn & Suites is one of the most centric hotels in San Rafael located on the main avenue, Avenue Hipólito Yrigoyen.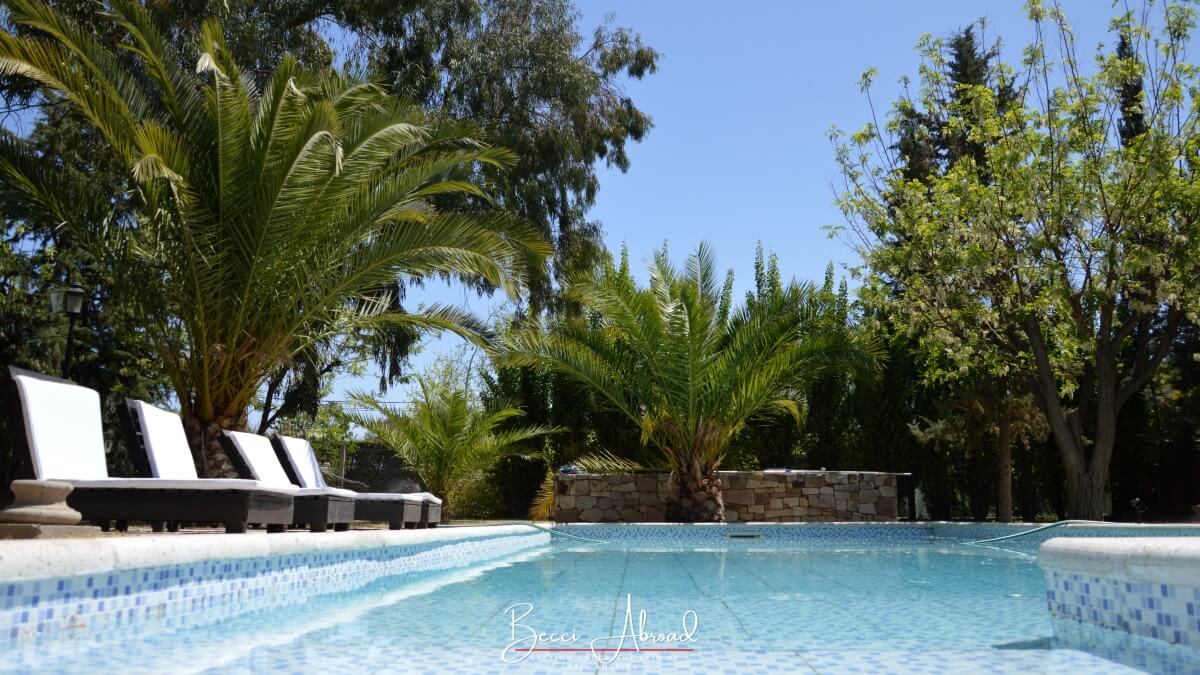 Where to Eat in San Rafael
To mention just a few of the places for eating out in San Rafael:
Algodón Wine Estate
I have already highlighted them above, but I can't highlight them enough: if you get a chance eat at Algodón Wine Estate!
The food was fresh, well-prepared, and yummy! And the scenery out at the winery is amazing.
La Ginga
This restaurant in downtown San Rafael doesn't look like much but did surprise me positively.
La Ginga offers lots of traditional Argentine food such as empanadas, asado, etc. Especially, their pasta and creeps are worth a try!
The Club
In a more modern part of San Rafael, close by the entrance to the city from the airport (on Avenida Hipólito Yrigoyen), you will find the restaurant The Club.
The restaurant has a beautiful interior design and great food.
Quinchos De Ortubia
Quinchos De Ortubia is located near the Bodega Suter and the Museum of Olive Oil and offers a true outdoor Argentine parrilla experience.
Unfortunately, we didn't get the time to visit but it was highly recommended to us. So, the recommendation is hereby brought on to you!
When to Visit San Rafael
Summers (December to March) are hot and dry, and temperatures easily reach 105 degrees Fahrenheit (40 degrees Celsius).
Winters (July to September) get pretty chilly with low temperatures at night.
So, the best time to visit San Rafael is in the spring (September to November) or autumn (March to June) when temperatures aren't too high during the day and too low at night.
In all of the wine regions in Argentina, March is harvest season with many activities going on in the wineries.
---
Have you visited San Rafael? Or would you like to visit? Or maybe you are already planning a trip here? Share your thoughts and knowledge below!
Enjoyed the post? Pin it!