Where to Find the Best Street Art in Buenos Aires
Do you want to check out some of the best street art in Buenos Aires? I have got you covered!
In this post, I'm going to show you the three best neighborhoods for exploring street art in Buenos Aires. You'll find some very popular murals in each spot, but don't be afraid to wander and discover your own hidden gems.
Street art is totally legit in Buenos Aires and the artist doesn't need to obtain authorization from the local authority, as long as the property owner gives it the green light.
So, local and international artists hit up owners of run-down buildings and shops, giving them a fresh and vibrant makeover. Cool, right?
Explore the three areas in this map and read more about them all and their street art in the post below:
Disclosure: Some of the links below are affiliate links. This means that at no additional cost to you, Becci Abroad will earn a commission if you make a purchase via one of those links. This helps to pay the bills and the maintenance of the site.
Street Art in Palermo
If you're planning a trip to Buenos Aires, chances are you've heard of Palermo. It's one of the city's most popular neighborhoods, and for good reason – there's so much to see and do here!
First things first: did you know that Palermo is actually the largest neighborhood in Buenos Aires? Within Palermo, you'll find a variety of smaller sub-neighborhoods, including Palermo Viejo, Palermo Soho, and Palermo Hollywood. However, each of these areas has its own unique vibe and plenty of attractions to explore.
But one thing that unites all of Palermo is the incredible street art. From political statements to commercial advertisements, the murals you'll find here are truly stunning.
In recent years, it's become increasingly popular for bars and shops to hire street artists to decorate their facades. It's a win-win situation – the artists get to showcase their work, while the businesses get a boost in visibility.
So, if you're a fan of street art, Palermo is definitely worth a visit!
Take a stroll through the neighborhoods and see what hidden gems you can find. You never know what incredible artwork might be just around the corner!
Kittens and Karl Marx
In Palermo, you'll find a truly unique mural that has become a social media sensation.
The mural features a group of adorable kittens, surrounded by trash, flowers, and a painting of none other than Karl Marx.
Created by Argentine street artist Ever Siempre, the mural is a comment on modern life's consumerist lifestyle. Particularly, the endless stream of cat videos on platforms like YouTube.
So if you're in the Palermo neighborhood, be sure to keep an eye out for this classic mural. You won't want to miss it!
You can read more about the kitten mural here and an interview with Ever Siempre here.
Location: Serrano 982, Palermo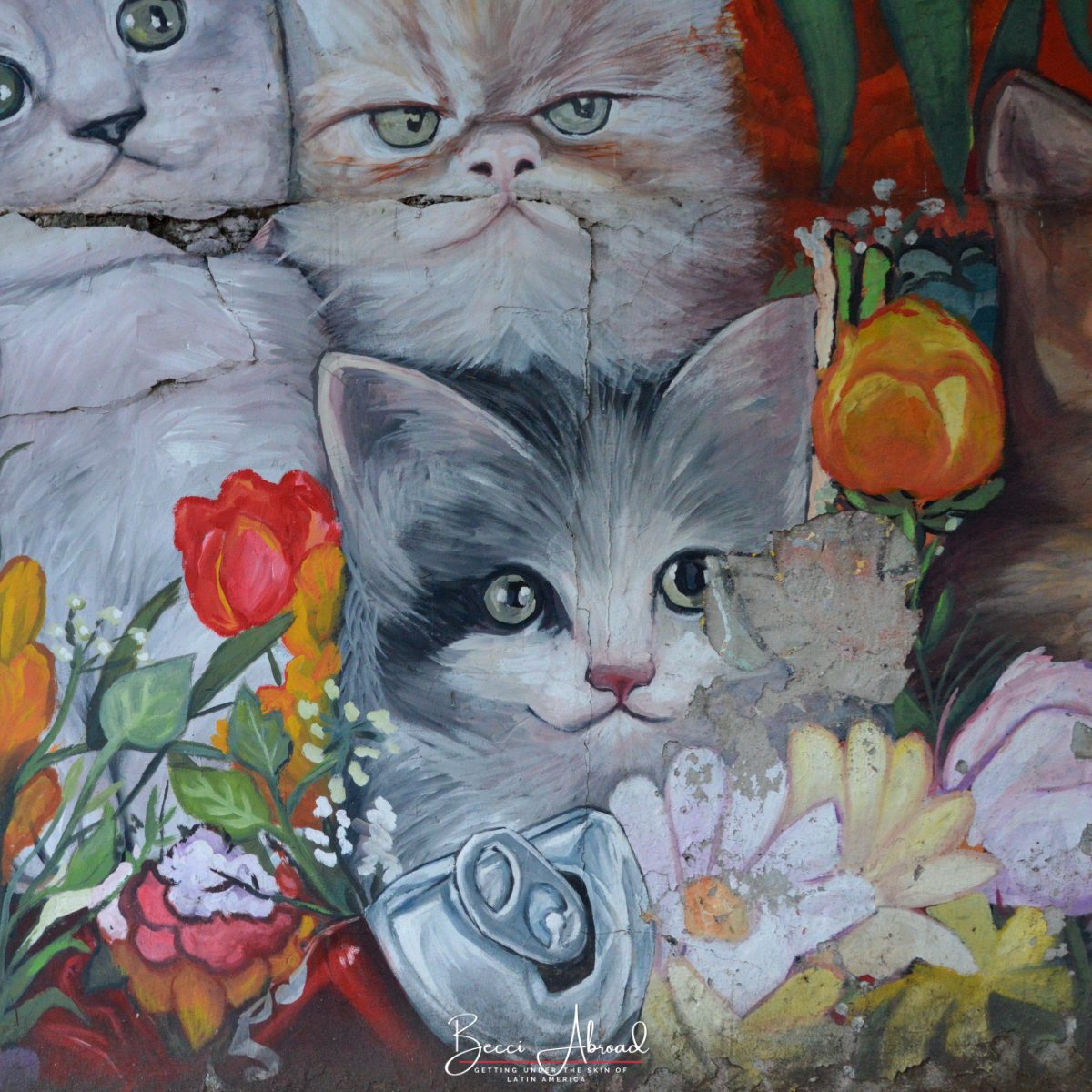 Amy Winehouse Mural
Created by the Argentine artist group Campos Jesses, this stunning piece is a great example of a more commercial mural.
The mural depicts the late British singer, Amy Winehouse, in all her glory. You'll find it on the first floor of La Birreria, a popular bar in Buenos Aires. It's a fitting tribute to a beloved artist who left us too soon.
Whether you're a fan of Amy Winehouse or just appreciate great street art, be sure to check out this mural when in Buenos Aires. You won't be disappointed!
Read more about the Amy Winehouse mural here.
Location: Honduras 5502, Palermo
Turista en Buenos Aires
Turista en Buenos Aires, or Tourist in Buenos Aires, is the name of an Argentine Instagram account and blog, primarily in Spanish. Over the last couple of years, it has become increasingly popular for tourists and locals for exploring Buenos Aires.
And now, there's even a mural dedicated to the account!
This mural is created by Argentine street artist Josefina Di Nucci. It was done in collaboration with the voice behind Turista en Buenos Aires, Cynthia Martinez Wagner.
The mural features some of Buenos Aires' most iconic landmarks, as well as a woman with a camera – the tourist in Buenos Aires.
You can see the development of the mural here.
Location: Malabia 1371, Palermo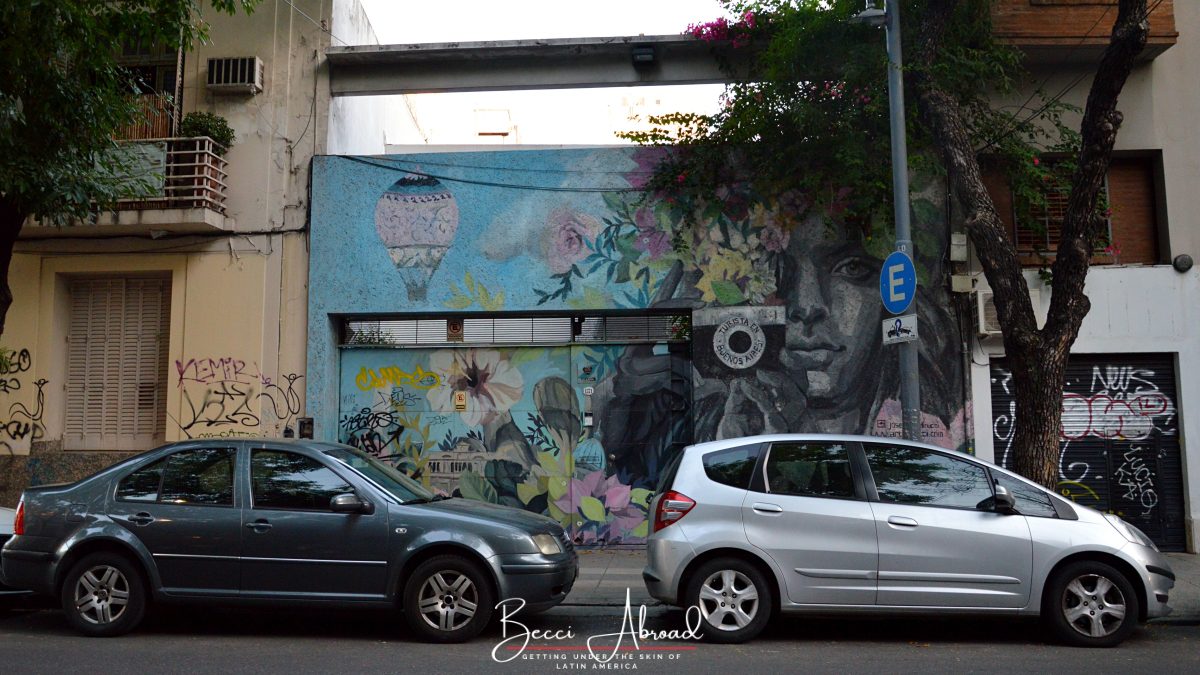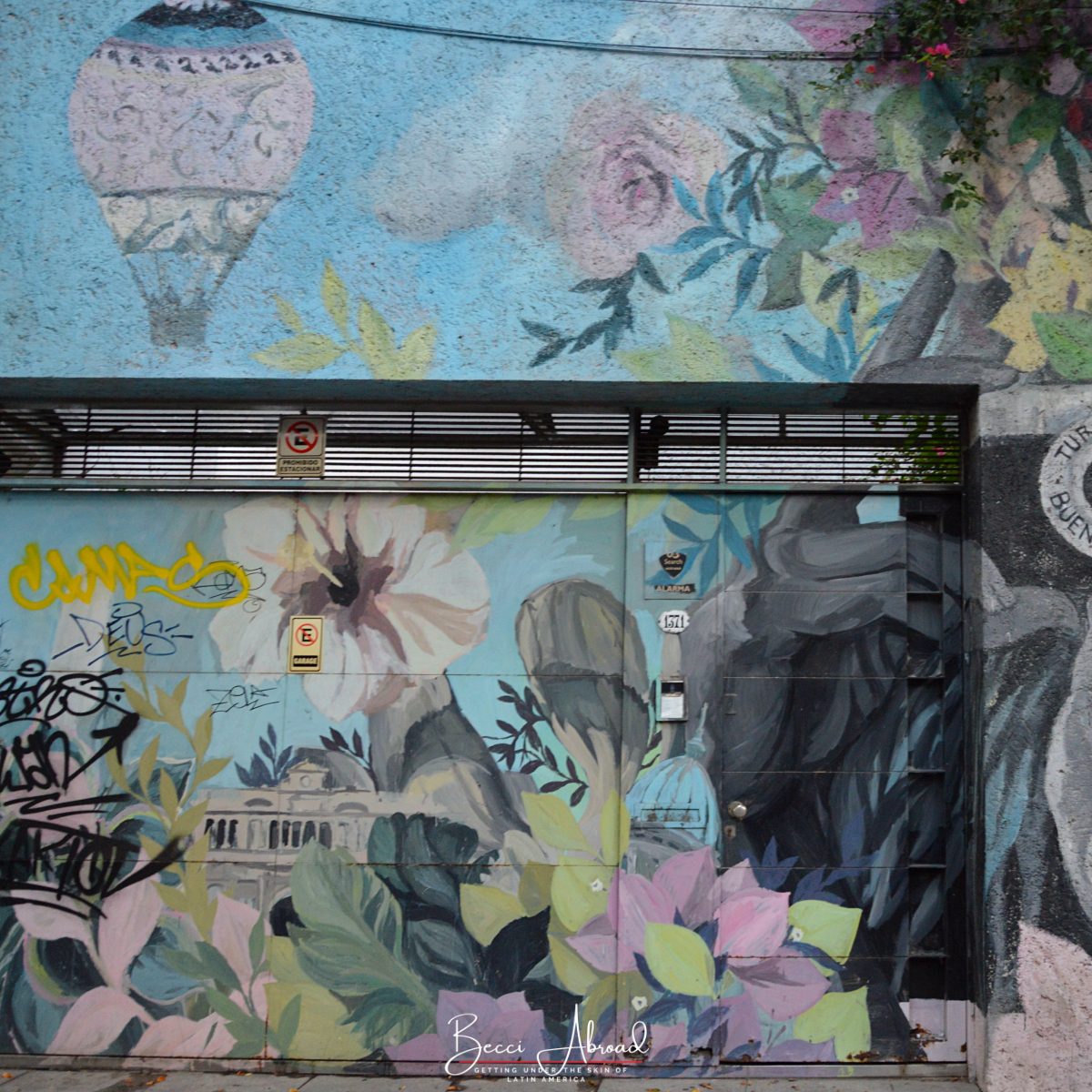 Messi and the World Cup
Football is more than just a game in Argentina – it's a way of life. When the national team won the World Cup in 2022, more and more murals sprung up celebrating the Argentine victory.
One mural that has garnered particular attention is this portrait of Lionel Messi holding the World Cup trophy.
Painted by Argentine street artist Maxi Bagnasco, the mural captures the excitement and pride that the victory brought to the country.
But this isn't the first time that Bagnasco has made waves in the world of street art. Just a few months prior, he completed another impressive mural of Argentine football player Diego Maradona.
Read more about the World Cup mural here.
Location: Gorriti 5516, Palermo
Art Studio Perlazone
If you're walking around Palermo and happen to stumble upon this incredible corner house covered in a mural, you've just found the art studio of Perlazone.
Perlazone is a graffiti and tattoo artist based in Buenos Aires.
But this mural is not just the work of Perlazone. In fact, more than 20 different street artists have contributed to covering the entire house with their own unique motives. The result is a stunning and eclectic mix of art that is sure to catch your eye.
Read more about the Perlazone street art mural here.
Location: Costa Rica 4302, Palermo
The Woman and Leopard
While I couldn't find any background information about this massive mural, I still wanted to give it a shout-out. Covering an entire house and garage, the mural features a woman with elf-like features and a leopard.
The mural is located just a few blocks away from the popular Kittens and Karl Marx mural mentioned earlier.
Despite the lack of information about its origins, the mural's size, and intricate details make it a standout piece in the neighborhood. So, be sure to add it to your list of must-visit spots in Palermo.
Location: Serrano 1126, Palermo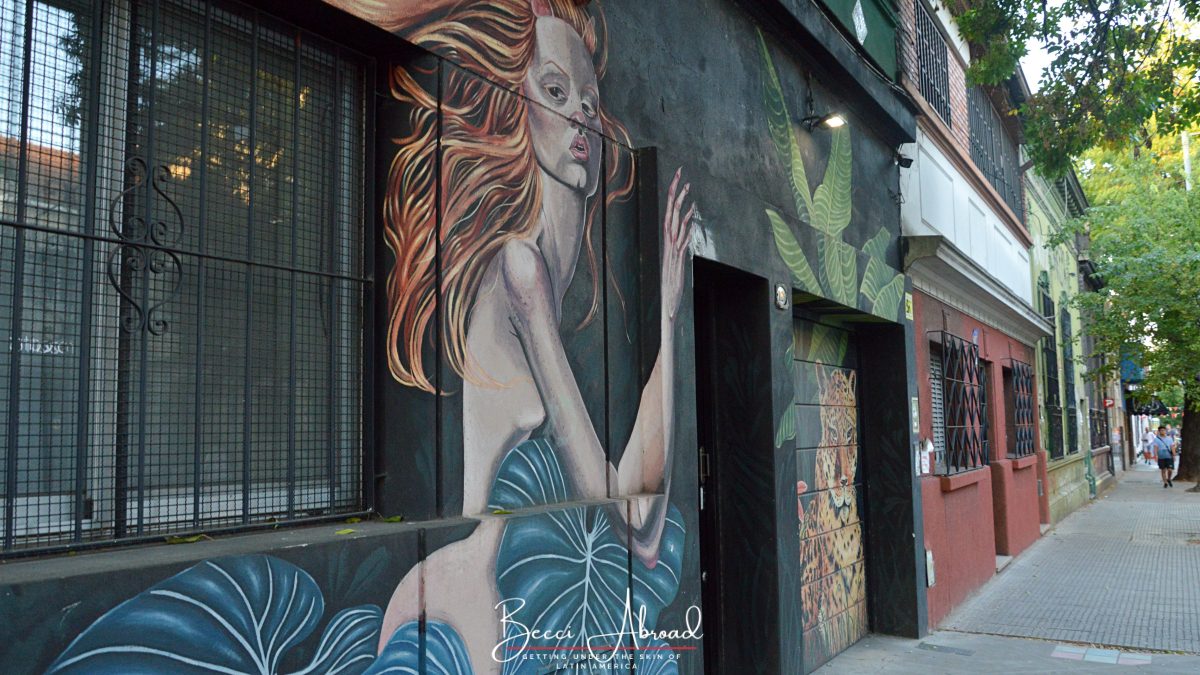 Pasaje Russel & Restaurant Cabernet
Pasaje Russel is a must-see destination for street art lovers in Buenos Aires. Located in Palermo, this small passage is filled with vibrant and colorful street art.
As you walk down the block, you'll be surrounded by an abundance of murals, graffiti, and street art installations. But one particular spot that stands out is the corner of Pasaje Russel and Jorge Luis Borges. Here, you'll find Cabernet, a restaurant whose entire facade has been covered with an array of colorful flowers and objects.
This stunning mural was created by Argentine street artist Josefina Di Nucci, who is known for her playful and colorful style. The mural features a mix of bright colors and intricate details that will make you want to snap a photo or two.
Get more inspiration on which pieces of street art to look for in Pasaje Russel here.
Location:
Pasaje Russel: Russel 4900-5000, Palermo
Cabernet: Jorge Luis Borges 1757, Palermo
Street Art in Colegiales
Colegiales is a quiet and residential neighborhood located to the northwestern of Palermo. The area offers a unique experience of Buenos Aires with its beautiful street art pieces and down-to-earth local vibe.
While it may not be as well-known as Palermo, Colegiales is easily accessible from its neighboring areas. If you're staying in Palermo, make sure not to miss out on the stunning street art in Colegiales.
Although there are too many murals to count, I've handpicked some of the most captivating ones. However, if you prefer to explore the area on your own, there are plenty more to discover.
Alternatively, if you're looking for a more guided experience, Graffiti Mundo offers street art tours of Colegiales in English.
I went on one of their tours back in 2016, and wasn't super impressed but the quality of it… But maybe things are changed since then?
Toy Factory Mural (Fábrica de juguetes)
As you stroll through the streets of Colegiales, it's hard to miss the vibrant yellow and orange house on a corner.
The entire facade of the house is covered in a stunning mural that combines an eclectic mix of shapes and objects, including animals, robots, and indigenous South American symbols.
This incredible work of street art was created by Argentine artist Gualicho.
Whether you're a fan of street art or simply appreciate bold and imaginative artwork, this mural is a must-see.
Location: Conde 391, Colegiales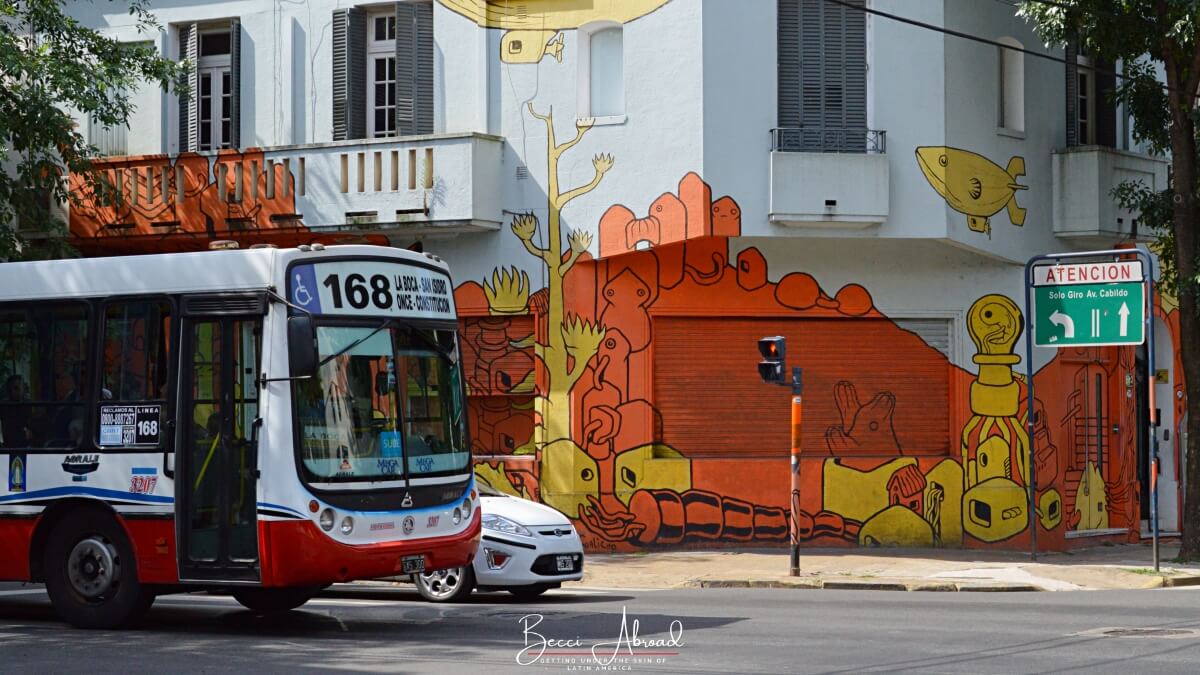 Alice and the Porteño Rabbit
If you're a fan of Lewis Carroll's classic tale, Alice in Wonderland, then you'll love this street art mural.
The mural, titled "Alice and the Porteño Rabbit," is the work of French street artist, Celine Hitier. The vibrant colors and playful imagery bring the beloved story to life on a wall in Buenos Aires.
The mural depicts Alice falling down the rabbit hole with the famous rabbit waiting. But what makes this mural unique is that the rabbit is said to be a porteño. Porteño is a term used to refer to a person from Buenos Aires.
You can read more about the Alice in Wonderland mural here.
Location: Conde 494, Colegiales
The Skin of Mirrors (la piel de los espejos)
Located on a tranquil corner in Colegiales, there is a mural that stands out for its unique and captivating design. This impressive artwork features dolls of traditional Argentine shepherd girls, guachas, alongside traditional Chinese creatures such as dogs or dragons.
What's interesting about this mural is the contrast between the delicate features of the shepherd girls and the presence of the Chinese dragons.
At the same time, the interplay of blue and grey shadows on the characters creates a mirroring effect on the wall.
You can read more about the ideas behind the mural here (link in Spanish).
Location: Conde 312, Colegiales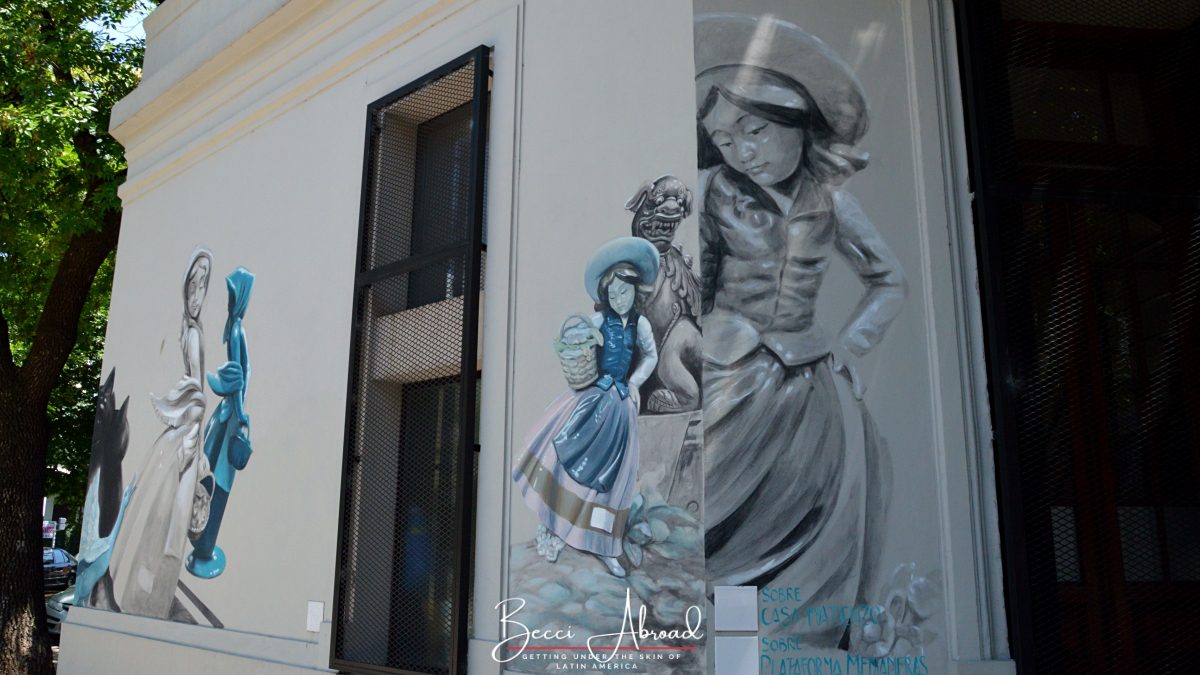 Cartoon House
This impressive street art mural is an impressive collaboration between six different street artists.
It's considered to be one of the oldest pieces in the area. And it continues to captivate locals and tourists alike.
The mural covers the entire façade of the house, featuring different cartoon-like characters in bright and vibrant colors. These whimsical characters add a pop of color to the surrounding area and bring joy to those who pass by.
Location: Conde 391, Colegiales
Frida Kahlo
If you're a fan of Frida Kahlo and street art, then you've probably heard about the famous mural in Buenos Aires.
Located on the border of Colegiales and Palermo, this mural is one of the most photographed pieces of street art in Buenos Aires.
The mural depicts Frida Kahlo in modern urban clothes, with flowers in her hair, and smoking a cigarette.
The mural was originally created in 2015 by the street art group Campos Jesses as a commercial project for the club Fridha.
But that's not all! In 2022, the mural got a new look. A gigantic heart was added to the Frida character, and butterflies were added around her. You can see photos of the updated mural here.
What makes this mural so unique is the style of Campos Jesses. They always make their artworks have more than one dimension. In the case of this mural, Frida's head and earrings are placed on top of the original wall, creating a 3D effect. You can see another of their brilliant work here.
Location: Avenida Dorrego 1735, Colegiales
Street Art in Coghlan & Villa Urquiza
If you're looking to explore some lesser-known neighborhoods in Buenos Aires and see some incredible street art, Coghlan and Villa Urquiza should be at the top of your list.
Although these areas may not have as much to offer tourists in terms of traditional attractions, they are home to some of the most stunning murals and graffiti in the city.
One of the most exciting things about street art here is the range of international artists who have contributed to the scene. For example, Mexican artist Quack Zean and American artist Stacey Williams-Ng have both left their mark on the area. And there are many more international artists to discover.
After exploring the street art in these neighborhoods, you may want to grab a bite to eat or a cup of coffee. If so, I highly recommend checking out Doho Villa Urquiza, a new gastronomic hotspot in the area.
If you want to explore Coghlan and Villa Urquiza with a guide, Buenos Aires Street Art also offers tours of the area. These tours are a great way to learn more about the artists and their work, as well as the history and culture of these unique neighborhoods. Buenos Aires Street Art is a local organization that supports and promotes street art in the city. Be sure to check their website for dates and availability.
Martin Ron's Mural
In Villa Urquiza, there's a mega mural that stands out from the rest. The mural, finished in 2013, was created by Argentine street artist Martin Ron in collaboration with other local street artists.
The massive mural was once the largest in Buenos Aires. Although it might have been overtaken by newer artworks since then. Nevertheless, it remains an impressive sight and a testament to the talent and creativity of the artists involved.
The project was initiated and organized by Buenos Aires Street Art in collaboration with the Buenos Aires City Government. Read more about the mural here.
The mural also serves as the starting point for the street art walking tours that Buenos Aires Street Art offers.
Location: Dr. Pedro Ignacio Rivera 4210, Villa Urquiza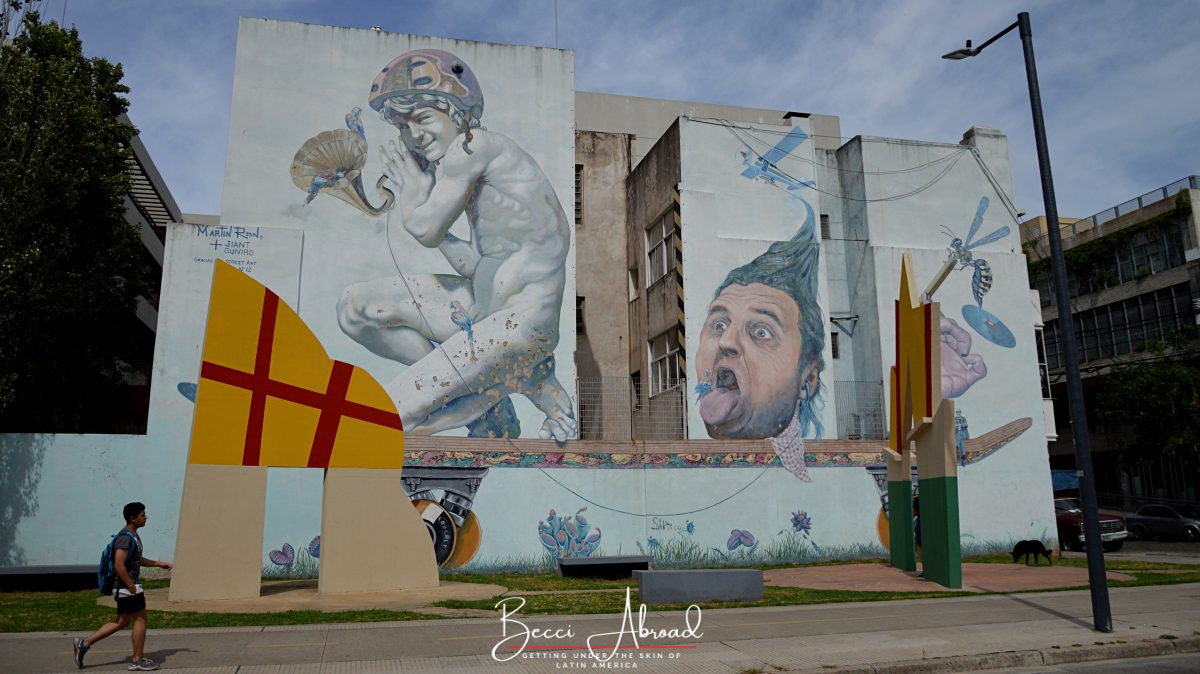 Ballerina Couple
In Coghlan, you come across a beautiful street art mural that features a ballerina couple. Created by Italian street artist Alice Pasquini, this mural captures the essence of romance and grace in a stunning way.
The mural depicts a female ballerina embracing a male ballerina, holding her arms around his neck.
What sets this mural apart is the decision of the artist to incorporate the raw features of the original wall into her artwork. Pasquini purposely left the plants on the wall intact. Today they have become an almost integrated part of the mural, covering part of the male dancer's face.
This mural was created in 2015, and it was organized and sponsored by Buenos Aires Street Art. Read more about Alice Pasquini's mural here.
Location: Valderrama 4023, Coghlan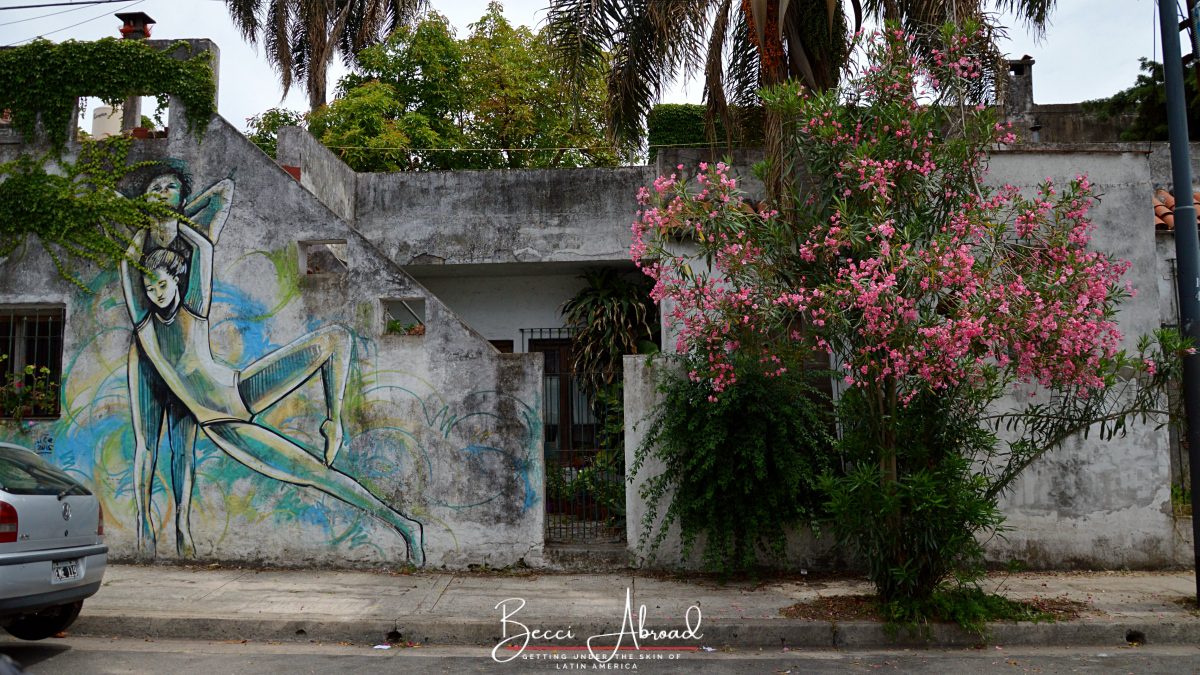 Cartoon Mural
Villa Urquiza is home to one of Buenos Aires' oldest murals, dating back to 2012.
The piece showcases a group of cartoonish characters with an urban flair. It is quite impressive to think about how well this mural has been preserved.
Location: Holmberg 2863, Villa Urquiza
The Owl Mural (Mural Búho)
Nestled in the neighborhood of Coghlan is a stunning mural featuring the head of an owl in black and white.
The owl, indigenous to the Americas, is the focal point of this impressive artwork. The mural is a sight to behold, with intricate details bringing the majestic bird to life on the wall.
It was created by American street artist Paul Mericle in 2017. Sponsored by Buenos Aires Street Art, the owl mural has quickly become a favorite among locals and visitors alike. Read more about the mural here.
Location: Quesada 3841, Coghlan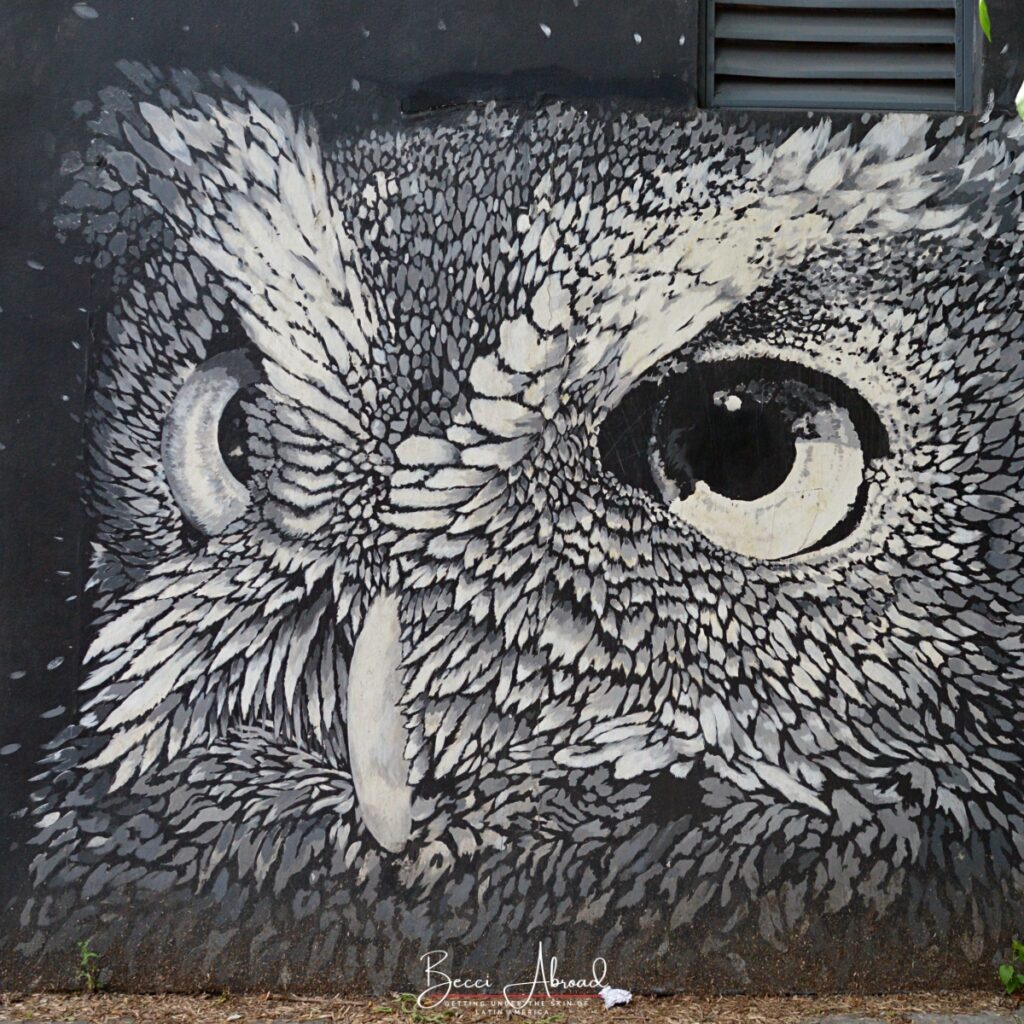 Mural the Snail (Caracol – Tiempo Parado)
The mural depicts a little boy perched atop a massive snail. His gaze is directed toward the horizon.
This captivating work of art, titled "The Snail – Time Stopped" in Spanish, is a true gem of the neighborhood.
Location: Tomás A. Le Bretón 4200, Coghlan
Mural Galactigaucho
In 2022, a new mural was added to Buenos Aires' already impressive collection of street art.
Created by Buenos Aires-born street artist Ramón Amorós, the mural is titled Galactigaucho or Galaxy Cowboy.
The mural features a traditional Argentine cowboy or gaucho. The gaucho is portrayed in a robotic style, playing a guitar shaped like a mate cup – a traditional Argentine drink. Furthermore, he is riding a hybrid between a dinosaur and a local bus line 42 in route to Coghlan.
Galactigaucho was organized by Buenos Aires Street Art. Read more about the mural here.
Location: Estomba 2986, Coghlan
Dragonfly Mural (Transformación Libélula)
In 2019, American street artist Stacey Williams-Ng left her mark in Buenos Aires with a stunning mural of a dragonfly.
The large-scale artwork features vibrant colors and intricate details that capture the beauty and grace of this magnificent insect.
Stacey Williams-Ng is known for her captivating murals and unique style. Her Dragonfly mural in Buenos Aires is no exception. Read more about Stacey and the Dragonfly mural here.
Location: Estomba 2925, Coghlan
The Watcher of Dreams (El Velador de Sueños)
This mural from 2018 is by Mexican street artist Quack Zean who has created several murals in the area. The mural has been sponsored by Buenos Aires Street Art. Read more about the mural here.
Rhino Mural
In 2015, a local family had a unique request for their property: they wanted a rhinoceros painted on their wall. And so, Argentine street artist Ice was brought in to make their wish come true.
The result is a stunning 3D work of art where the rhino appears to walk out of the wall.
Ice's attention to detail is remarkable, and the rhino looks incredibly realistic with its textured skin and imposing presence.
This project was sponsored by Buenos Aires Street Art. You can read more about the rhino mural and other projects on their website.
Location: Estomba 3184, Coghlan
African Woman
In front of the famous Rhino Mural by Ice, you'll find another impressive street art mural featuring the face of a young African Woman. It is created by the artist duo, Primo.
The mural is a stunning representation of a woman's face with intricate details and shading that brings it to life. The woman's features are striking, and her expression is captivating.
Location: Estomba 3193, Coghlan
Other Murals in Coghlan & Villa Urquiza
On the walls around a park in Coghlan, you can find many great pieces of street art from less-established and younger generations of street artists.
One example is the "Gato" mural, which features a stylized cat and is done in a graffiti style.
Political Street Art in Coghlan
Not all the murals in Coghlan are just about aesthetics. Many of them have political messages and references to Argentina's history.
Mothers of the Plaza de Mayo
For instance, you might come across murals referencing to Argentina's Military Dictatorship and Dirty War from 1976 to 1983. During this period, millions of left-wing activists were kidnapped by the dictatorship. Many of these individuals were never seen again, and their families were left with no information about their whereabouts.
In response to these "disappearances," a group of mothers formed the association of Madres de Plaza de Mayo (Mothers of the Plaza de Mayo). These women wore white scarves over their heads when they demonstrated on Plaza de Mayo.
Today, the white scarf has become a symbol of their fight for justice. And it can be found in many of the political murals around the city.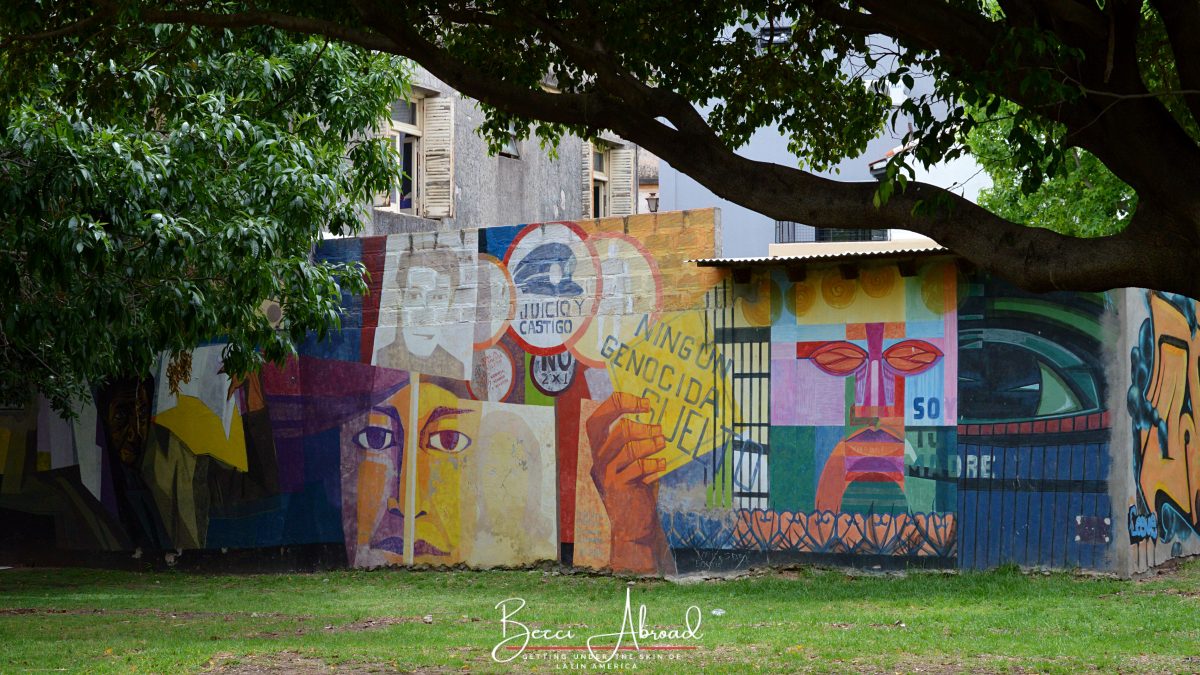 Missing Children
Other street art murals in Buenos Aires serve as a medium to raise awareness of pressing social issues. One such mural in Coghlan brings attention to the current problem of child abductions.
The mural is designed to appeal to a child's sense of wonder and playfulness. It is dedicated to Tania Merlo, a little girl who went missing in 2010.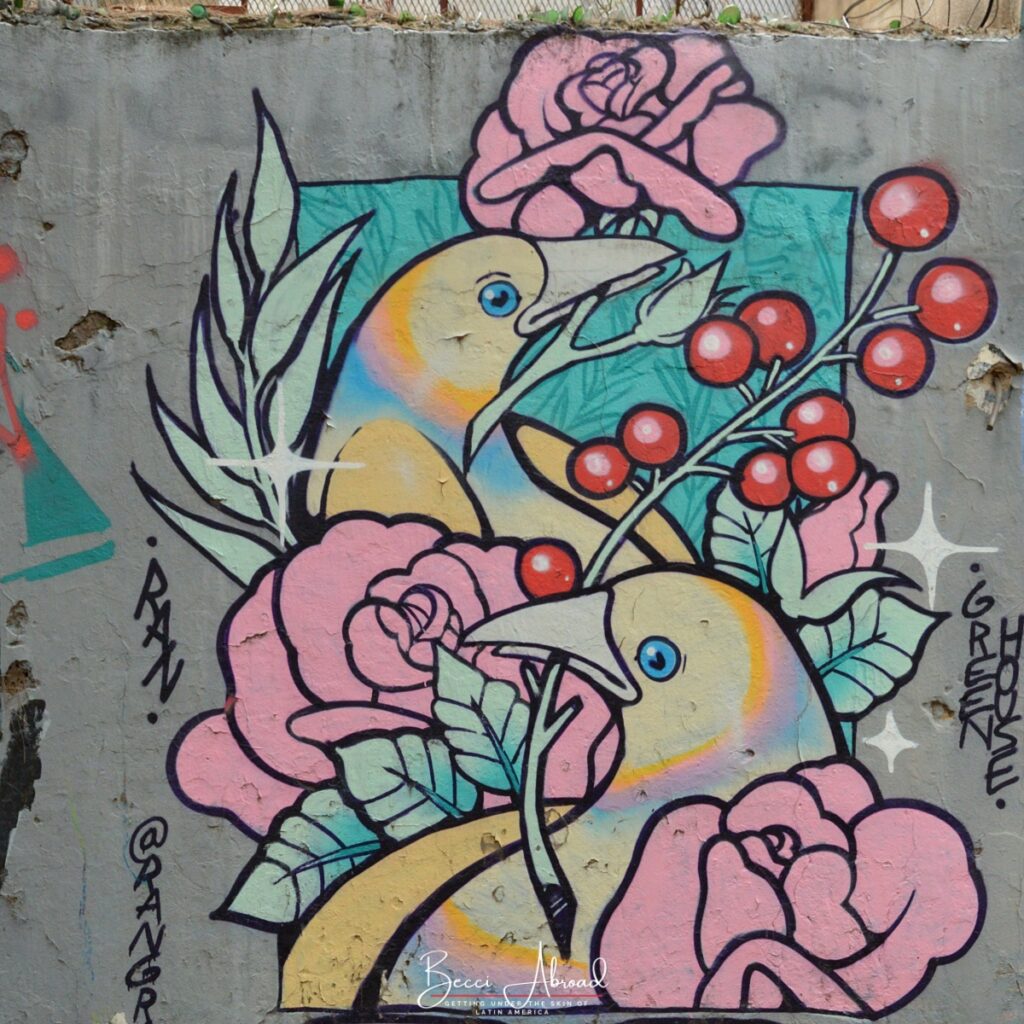 Even the walls under the bridges have been turned into canvases for colorful street art murals.
If you're interested in discovering more amazing street art in Buenos Aires, then you should definitely check out Buenos Aires Street Art's walking tours of Coghlan and Villa Urquiza. These tours provide a unique opportunity to learn about the street art scene in Buenos Aires.
Have you heard of any of these street art murals? Which ones did you like the best? Or which one do you know about that was not in this post? Share your thoughts and knowledge below!
Enjoyed the post? Pin it!