Exploring San Telmo, Buenos Aires: Best Things to Do and See
San Telmo is the oldest neighborhood in Buenos Aires. The neighborhood is brimming with history, mystery, colonial houses, and Sunday street markets.
The neighborhood is properly most famous for its iconic Feria de San Telmo, a street market on Sundays. But San Telmo is also renowned for its tango heritage.
The neighborhood counts numerous milongas (traditional tango dance halls) and tango shows. During the weekends, you can find people dancing on the local Dorrego Square.
Exploring San Telmo unveils the captivating sense of nostalgia that represent tango and the Argentine longing for past times glory.
A visit to Buenos Aires should include a visit to at least some of the many interesting things to do and see in San Telmo. No matter if you are looking for a foodie experience or for exploring the city's fascinating history, San Telmo has something for you!
Let's take a look at the Best Things to Do and See in San Telmo, Buenos Aires:
Disclosure: Some of the links below are affiliate links. This means that at no additional cost to you, Becci Abroad will earn a commission if you make a purchase via one of those links. This helps to pay the bills and the maintenance of the site.
Where is San Telmo?
San Telmo is a neighborhood located in the southern part of Buenos Aires. The neighborhood is located just off from Plaza de Mayo and the presidential office, Casa Rosada in the historic downtown of Buenos Aires.
San Telmo is the oldest and most iconic neighborhood in Buenos Aires, dating back to the 1880s. The neighborhood still features most of its original architecture with cobblestoned streets, old mansions, beautiful patios, and old traditional bars.
However, nowadays, San Telmo has gotten a bohemian feel to it because of its many antique shops, artists, and bars. Explore more with this private tour from Viator.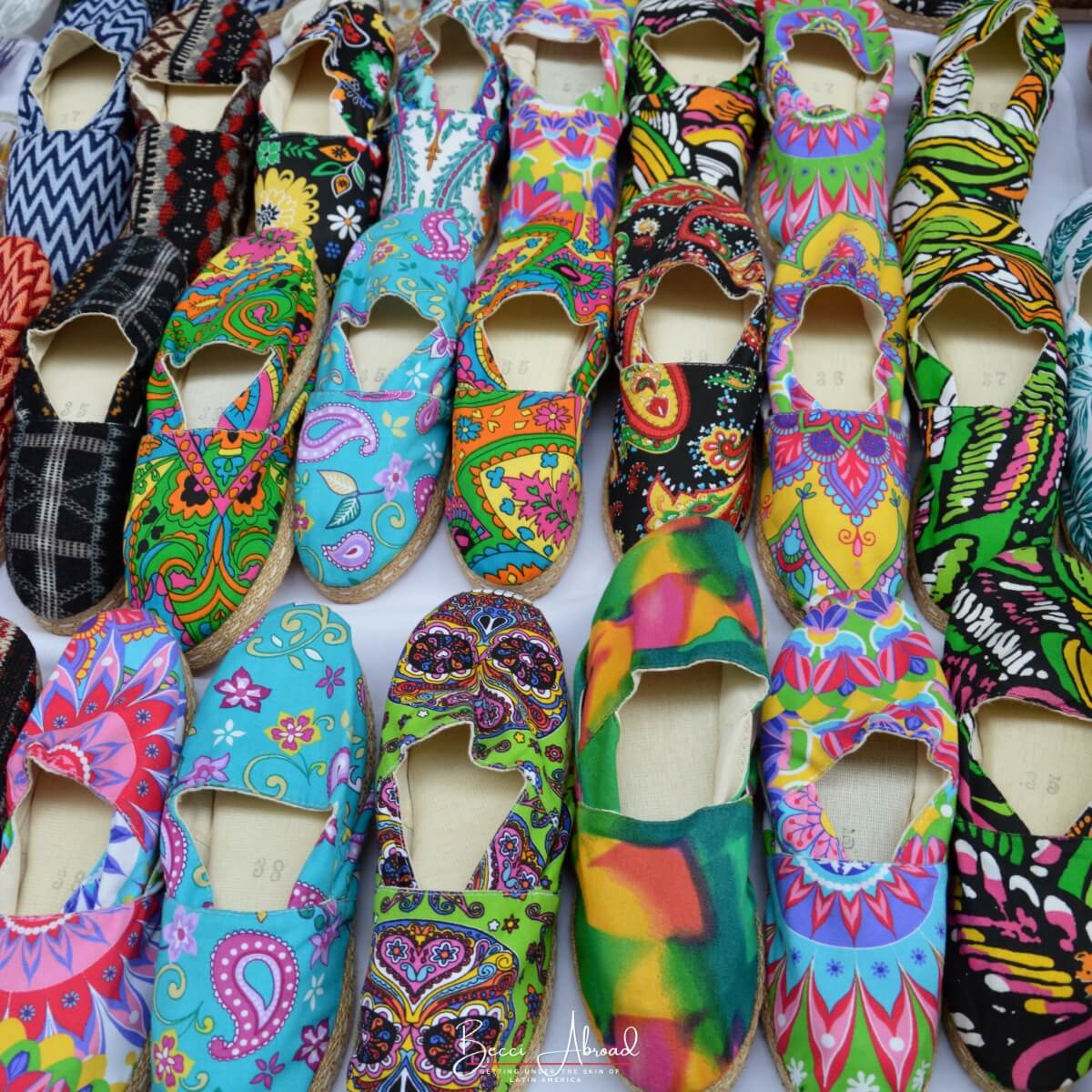 What to do in San Telmo?
The Sunday Market, Feria de San Telmo
Feria de San Telmo, or the San Telmo Market in English, is a Sunday market. The market is packed with handcrafts, antiques, second-hand… and everything in between.
The San Telmo Market is probably one of the most colorful markets that I have ever visited. No matter whether you are looking for a new pair of shoes, a souvenir to take with you home, or a piece of chic antique you will be able to find it here.
However, the quality of the products is in some cases questionable. I once bought some very cute shoes at the San Telmo Market, but within a couple of weeks of usage, they broke.
When to Visit the San Telmo Market?
The San Telmo Market takes place every Sunday from around 10 am until 6 pm.
The market runs all the way through the street Defensa, starting at Plaza de Mayo, and ending at the square, Plaza Dorrego. You can enter take subway lines, D, E, or A to Plaza de Mayo and walk.
Location: On the Defensa street from Plaza de Mayo to Plaza Dorrego.
Tango at Plaza Dorrego
Plaza Dorrego is a small local square, and on weekends, you can find couples swinging their legs in a tango on the square.
Tourists and locals gather for coffee or beers at the outdoor servings from the bars around the square. While street performers show off their tango skills.
If you are up for some more professional performances, San Telmo also offers tango shows at El Viejo Almacén.
Location: Plaza Dorrego, Humberto 1º 400.
Buenos Aires City Museum (BAM)
The Buenos Aires Museum, also known as Museo de Buenos Aires (BAM) in Spanish, serves as an exhibition space. The museum is dedicated to showcasing the interesting cultural and historical evolution of Buenos Aires.
If you have a curiosity about delving deeper into the history of Buenos Aires, this museum is undoubtedly an excellent point of embarkation.
The Buenos Aires Museum is located close to Plaza de Mayo, on Defensa-street.
The museum charges a small entrance fee for international visitors. But on Wednesdays, admission is entirely free of charge. Get more ideas to free things to do in Buenos Aires.
Location: Defensa 187.
The Indoor Food Market, Mercado de San Telmo
Mercado de San Telmo, translated as the San Telmo Market, is a large indoor market. The market offers coffee shops, restaurants, greengrocers, butchers, and many other odd small shops. Explore more about San Telmo's food scene with this complete foodie tour.
The building that houses the San Telmo Market was built in 1897. In 2022, a major renovation of the 100-year-old facade was finalized.
To visit the San Telmo Market Hall is a classic for a visit to San Telmo.
Location: Defensa 963.
The Secret Tunnels of El Zanjón de Granados
El Zanjón de Granados is one of the best places to experience the mysteries of San Telmo. Under the foundation of an old mansion in the heart of San Telmo, the owner discovered the remains of the old water tunnels. These tunnels date back to the foundation of Buenos Aires in 1536.
Back then, the tunnels were known as El Zanjón de Granados or El Tercero del Sur. Translated it becomes The Third of the South. The tunnels were part of a network of streams running beneath the city of Buenos Aires, leading toward the river, Rio de la Plata.
In 1830, a wealthy family decided to construct a large mansion on top of the tunnels, effectively covering the access points. Around 1890, the mansion turned into a tenement for immigrants arriving in Buenos Aires.
In 1985, the tunnels were discovered. The new owner of the mansion began the building's reconstruction. Since then, impressive archaeological work has been conducted on the building and the underlying tunnels.
Today, the building is a museum. Visitors can explore the old mansion and tunnels through guided tours while also learning about the history of Buenos Aires.
Guided tours in English of El Zanjón de Granados are available daily at 12 pm, 2 pm, and 4 pm. Read more about admission fees and tickets.
Location: Defensa 187.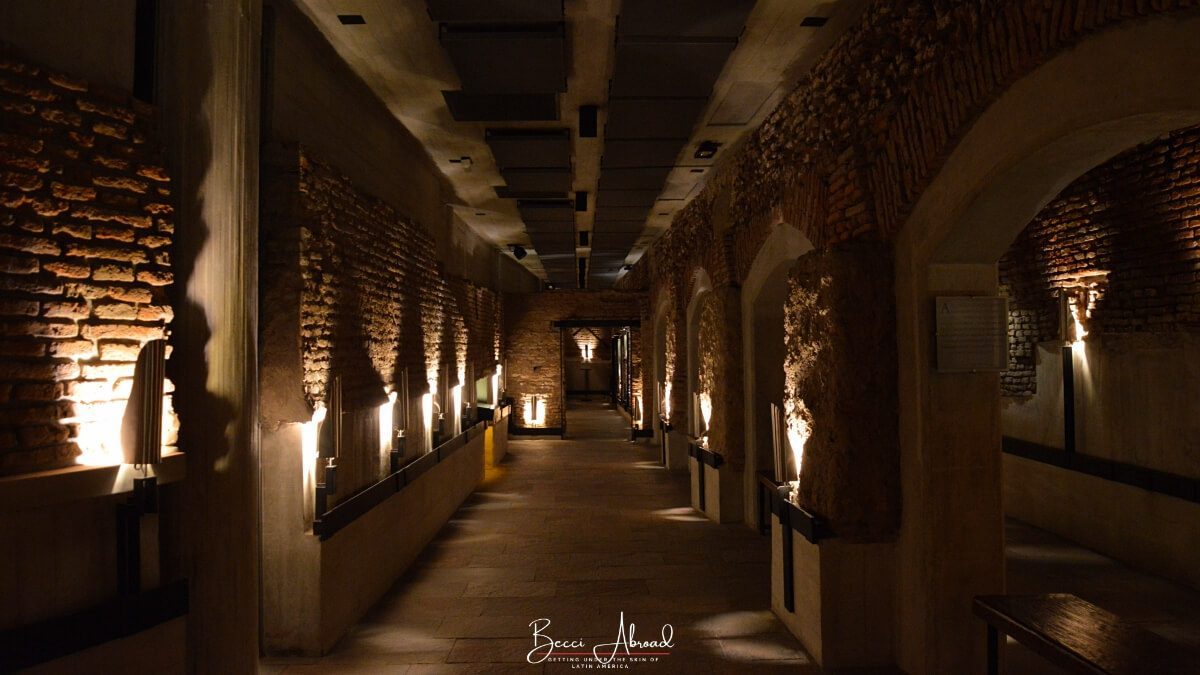 Buenos Aires Narrowest House, La Casa Mínima
In San Telmo, you can find one of the most intriguing buildings in Buenos Aires. La Casa Mínima is the narrowest house in Buenos Aires, measuring only 8.2 feet (2.5 meters).
The earliest records of a house at this address date back to 1580. It is believed to have been part of a larger house that encompassed the entire corner of Pasaje San Lorenzo and Defensa.
During the Yellow Fever outbreak in 1871, the owners of the house relocated from the neighborhood. Subsequently, the house was converted into a tenement. It was around this time that it is said to have been separated from the corner house. and transformed into the tiny house you can experience today.
La Casa Mínima is part of the historical complex of El Zanjón de Granados and is situated in the alleyway just across from the entrance to El Zanjón de Granados.
The museum offers a combo ticket that includes a guided tour of both the tunnels and the narrow house. Alternatively, you can choose to visit La Casa Mínima alone. There is one tour per day at 1 pm. Don't forget to check out further details regarding admission fees and tickets.
Location: Pasaje San Lorenzo 380.
The Mafalda Sculpture in San Telmo
Mafalda is an iconic cartoon character from Argentina's popular culture. The Argentine cartoonist Quino created the character Mafalda, and she made her first appearance in 1964.
In San Telmo, there is a sculpture of Mafalda sitting on a bench. The sculpture is a popular top for many tourists visiting the city. Normally, there is a crowd of people waiting to get their picture taken with the Mafalda sculpture.
Through humorous and thought-provoking comic strips, the character of six-year-old Mafalda tackles issues such as politics and society. Mafalda has become a timeless symbol of reflecting the hopes, dreams, and concerns of Argentine society.
The Mafalda comic strips might not be so well-known outside the Hispanic part of the world. However, among Spanish speakers, Mafalda is widely very popular. Learn more about Mafalda with this private tour of San Telmo from Viator.
Location: The corner of Defensa and Chile.
Atis Bar
Atis Bar is one of the most special and beautiful bars in San Telmo. The massive mansion has different levels and small terraces all covered in plants.
The Atis Bar is located inside what was originally a Jesuit convent, and the details of the building are just gorgeous.
If you are around, don't miss the chance to visit this place!
Location: Peru 1024.
Traditional Bars, Bares Notables
In Buenos Aires, you will find many historic bars and cafées. These are popularly referred to as Bares Notables or notable bars.
These bars have a special feeling to them. To step through their doors is like stepping into another time. The decorations from the 19th century are prevented, and their interior captures the mystery and glory of Buenos Aires' past. These are places that were frequently visited by important personalities throughout the history of Buenos Aires.
In San Telmo, you find some of these impressive historic bars in Buenos Aires:
If you are interested in learning more about Argentine food and traditions, check out this complete foodie tour of the neighborhood.
Locations: Around San Telmo
Parque Lezama
If you are looking for a break from walking and exploring San Telmo, then Lezama Park is a good option.
In the mid-19th century, a wealthy Argentine businessman, named Gregorio de Lezama, purchased a piece of land. He created a beautiful garden around the house he built there. After his death, his wife donated the area to the City of Buenos Aires with the condition that the name of the park kept her husband's name, Lezama.
Inside Lezama Park, you have several interesting places to visit:
Museo Histórico Nacional – The National History Museum is located in the buildings that the founder of the park built for himself. It is a beautiful Italian-style mansion. The museum is open Wednesday through Sunday from 11 am to 7 pm. On Saturdays, it is open until 9 pm.
La Iglesia Ortodoxa Rusa – The Russian Orthodox Church in Buenos Aires is located in front of Lezama Park. They offer guided tours one Sunday a month. If you would like an English-speaking guide, you need to contact them beforehand at info@iglesiarusa.org.ar.
Locations: Defensa and Avenida Brazil
Buenos Aires Museum of Modern Art
Buenos Aires Museum of Modern Art, or Museo Moderno de Buenos Aires in Spanish, is an art museum showcasing modern art from both Argentine and international artists.
The museum is located at the intersection of Defensa and Avenue San Juan, at the far end of Defensa Street from Plaza de Mayo.
The truth is that this is still on my list of things to try in Buenos Aires. However, it is differently worth keeping in mind if you are around and the portenño weather suddenly shows itself from its rainy side!
Location: Avenida San Juan 350, San Telmo.
Other Points of Interest Near San Telmo
Casa Rosada & Plaza de Mayo
A perfect fit for a same-day activity, if you are visiting Buenos Aires with a tight schedule, is to do San Telmo and the iconic Casa Rosada and Plaza de Mayo together.
Read more about what to do in Buenos Aires.
Puerto Madero
Puerto Madero is a high-end harbor area located right behind Casa Rosada. You can easily reach Puerto Madero from San Telmo by walking from Plaza Mayo behind Casa Rosada. How about dinner while watching the sunset over the iconic landmark Puente de la Mujer in Puerto Madero?
Read more about what to do in Buenos Aires.
La Boca & El Caminito
If you walk all the way through San Telmo, you will eventually end up in La Boca, the famous neighborhood with colorful houses.
The walk takes around an hour, and you pass by many of the points of interest mentioned in this post; Mercado de San Telmo, Plaza Dorrego, El Zanjón, Casa Minima, etc.
Read more about what to do in Buenos Aires.
How to get to San Telmo?
If you are staying in other neighborhoods of Buenos Aires, the easiest way to get to San Telmo is to take the subway, el Subte. The stations closest are:
Catedral (the green D-line)
Bolívar (the purple E-line)
Plaza de Mayo (the blue A-line)
Different local buses can also take you to San Telmo if you live far away from the subway.
I use Google Maps to find my way around Buenos Aires. However, the website Como llego (e.g. How do I arrive) can also be helpful for finding your way around the city.
---
Would you consider visiting San Telmo on a trip to Buenos Aires? Or have you maybe already visited? Is there anything to do and see in San Telmo that you missed on this list? Share your thoughts and experiences in the comments below! I would love to hear from you!