A Love Note to the Trees of Buenos Aires
After almost two years in town, a thing that still brings a smile to my face is the trees of Buenos Aires. They are located along the pavement of most streets in Buenos Aires. Take a look at the pictures below, and you will get what I mean.
As late as this Saturday, I was amazed by how I can sit in the middle of a big cosmopolitan city like Buenos Aires and be able to eat lunch with my boyfriend hidden behind high trees and huge plants. The trees of Buenos Aires won my heart from the first day, and it had made many thoughts pass through my head over these last two years.
I tried to write these thoughts down in a little bit more unconditional blog post way – I hope that you will enjoy it anyway! And that the pictures will help you imagine how Buenos Aires is with all its lovely trees!
A love note to the trees of Buenos Aires
You cover the streets high above my head.
You burned into my mind from my first scroll around this unknown territory
A territory that now has become my backyard
You make me forget that I'm in the middle of a cosmopolitan Southern American capital.
Here there are houses higher than you,
But still, you are the beauty of the city
What gives it its original touch
And made me fall in love with this city and moved here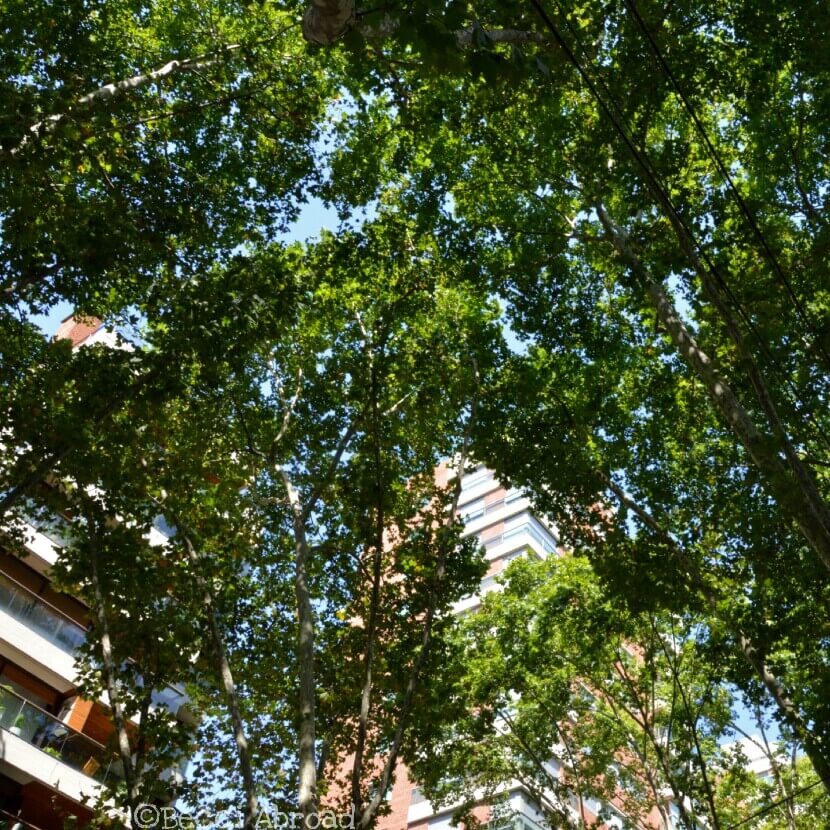 You give me shelter for the burning sun in summer,
From the Patagonian wind in winter.
And from the heavy showers all year round.
You color the city the green and paint it purple in spring
when the jacaranda flowers bloom.
What might you not have seen over the years
while standing there on the side of the roads?
How many first kisses, tearful good-byes,
and meaningless phone calls have you witnessed?
Were you there when Juan kissed his Evita?
Did you see where this would lead to?
That she would end up on the bills that everyone carries around in their pockets
While he is on paintings in the museums and pages in the history books.
Did you see where the disappeared of the Dirty War went to?
Will we ever know? Do you know?
Did you see them paint the Casa Rosada in pink?
Or the presidents who escaped from its roof in helicopters
while the crowds shouted at Plaza de Mayo?
What might you not be able to tell of stories
About small and big
If you could just speak
You could tell the stories of your nation
that nobody else knows
because you must have seen it all
up there through your leafs
Dearest trees of Buenos Aires,
Your green crowns add a special feature to the city of Buenos Aires
You made this place stand out in my mind and made me fall in love.
If you are still in doubt about why I love the trees of Buenos Aires so much then take at look this short video:

Loved the post? Pin me to the world!