5 places That Will Make You Doubt You Are in Havana
When you think and hear about Cuba, what first comes into your mind is pictures of classic mid-century cars and colonial-styled colorful houses. Am I right? However, there is blowing a changing wind over Cuba, and as the capital, Havana is the front-runner for change.
The neighborhood of Vedado seems to be a melting pot for the changes visible in Cuba. When I studied Spanish at the linguistic faculty at the University of Havana nearly three years ago, I spent a lot of time in Vedado, and now coming back last year, I could for sure see the changes. Here are just some of the new modernized initiatives blowing in over Havana, and almost making you forget that you are in Cuba: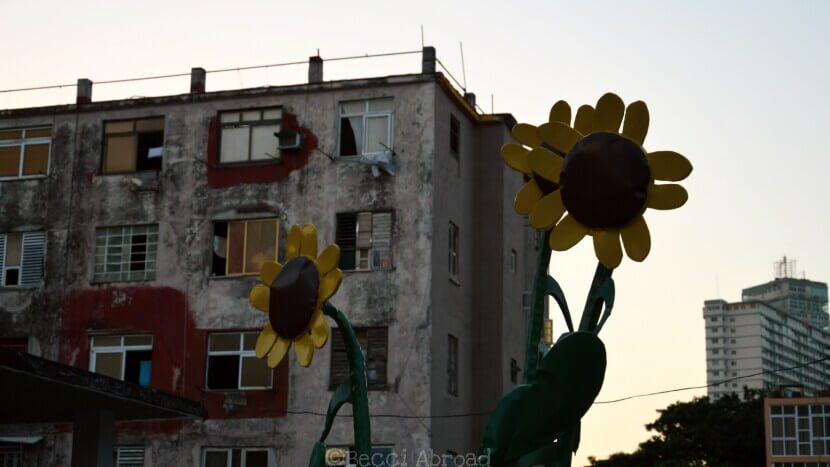 Fábrica de Arte Cubano
Fábrica de Arte Cubano, or simply just FAC, was a place I visited frequently when I studied in Havana three years ago. The by then newly opened museum-club-cultural center is located at the far end of Vedado by Calle 11, and it is best reached using a "maquina" aka a shared taxi (read more about how to use them here).
For me, FAC was my first encounter with this new modern non-governmental business movement in Cuba. As a friend of mine said back then: "It could be in Europe…". And yes, it certainly lives up to many of the standards that European culture melting pots offer.
Nowadays, FAC has expanded with several rooms for dancing, shows… well, basically anything. The private investment and alternative (for Cuba!) approach of combining culture and bars certain appears to have been a success. Make sure you make your way to FAC!
Location: Calle 26 on the corner of Calle 11, and Facebook here.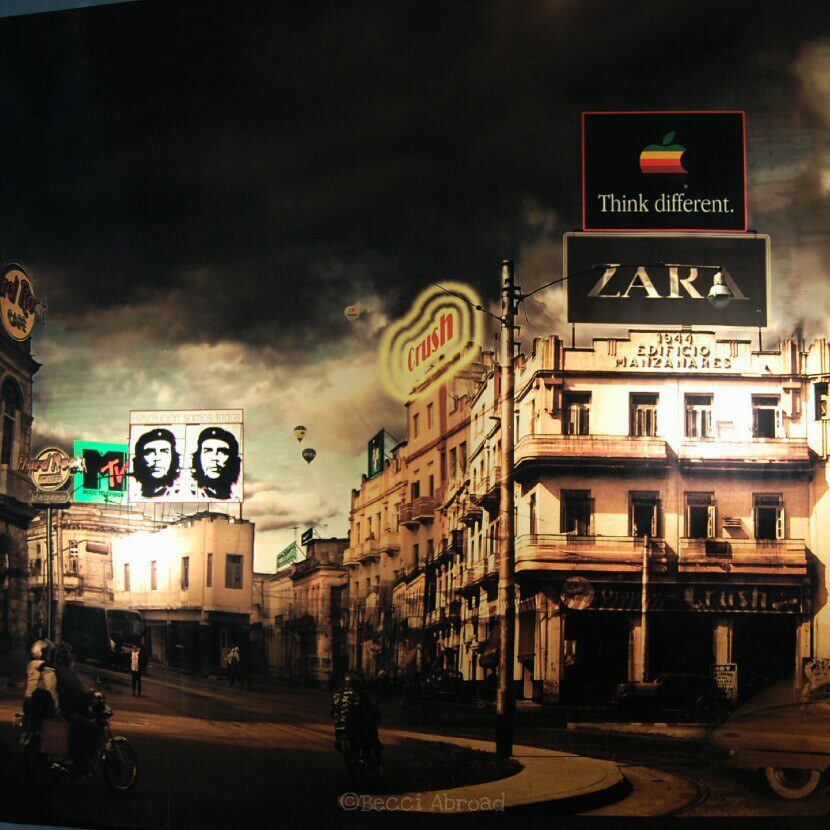 Plaza Vedado
It used to be an abandoned parking lot (I have passed by many times), but today Plaza Vedado is a lively meeting spot with a modern touch. The small square is filled with privately owned restaurants, shops, bares, and even a playing ground for children. The modern design and clean cuts in the architecture stand in clear contrast to the old houses in their surroundings.
The nice waiter in one of the restaurants explained that the Cuban state around a year ago chose to sell the abandoned parking lot to various private investors with the aim of creating a variety of shops and restaurants. He smiled shyly when he commented that it properly is not such a big deal with private investments where I come from but in Cuba, it is a big deal. Only a couple of years ago, it was almost impossible to think of a project like this becoming true through private investment (read more below).
Location: Behind Hotel Habana Libre, Calle 25 between Calle M and Calle N.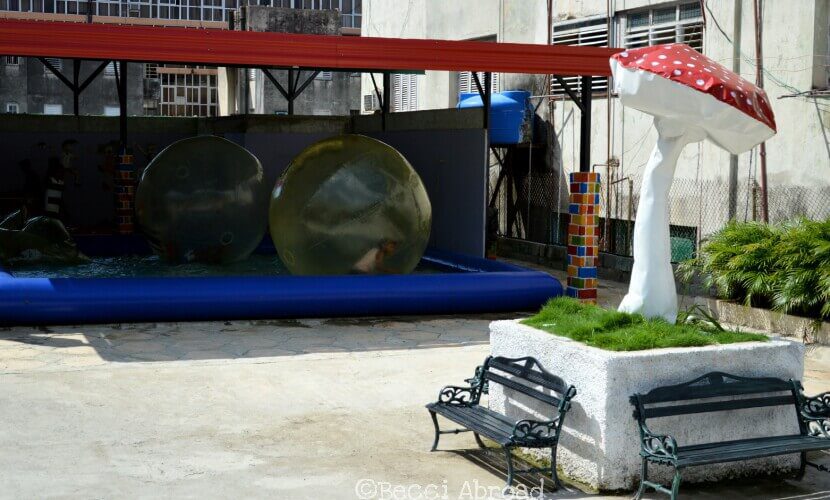 Restaurant La Paila
Across the street from Plaza Vedado, you can find another splendid example of these new private restaurants.
La Paila is located on the top of a little hill which gives it a pleasant view over the neighborhood and on hot days a pleasant breeze. They offer a great variety of food for a decent price.
Location: Behind Hotel Habana Libre, Calle 25 between Calle M and Calle N.
Cafe Mamaine
The first time, I went to Fabrica de Arte Cubano (see above), and went with some Cuban friends among those a young couple whom I talked a lot with that night. They told me many things about Cuba that I had no idea about.
Among the many things we talked about, they told me that some of their family were running a small café in Vedado, just on "L y 17" as Cubans tend to give directions.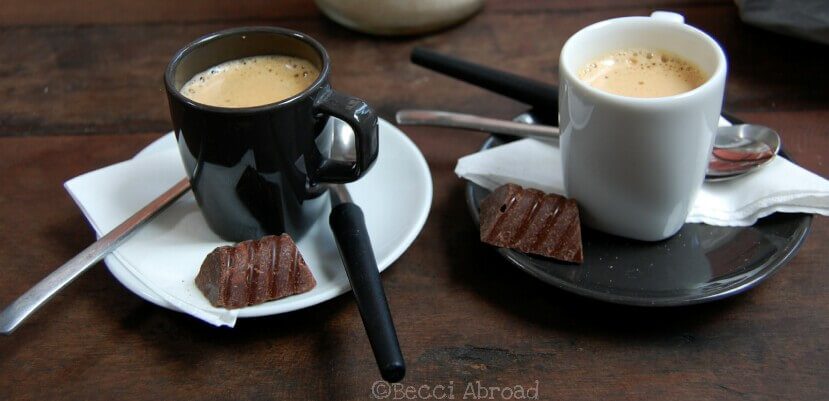 The following week, I just had to check out this café. And I was not disappointed!
Café Mamaine is located in a huge mansion (see me on the stairs in the picture below) facing Calle L. The indoor design is super cozy while still having a very modern touch which is not so common in Cuba. There is both a little outdoor terrace and plenty of tables inside. Drop by for a breakfast or coffee – or just a break? This place will make you wonder whether you are actually in Havana, and I adore this contrast.
Location: Calle L between Calle 17 and Calle 15. For more information, click here.
La Flauta Magica
Located just behind El Malecon, the huge seaside walk in Havana, you will find La Flauta Magica, a modern-looking club for the late hours, and your dancing shoes.
I went there one night (without my camera, therefore no pictures), and simply had the best reggaetón party! The drinks were expensive but the party great – and for sure, you will for a minute or two forget that you are actually in Havana. Only too late I found out that they have a rooftop terrace, so remember to check that out!
Location: Calzada between Calle K and Calle L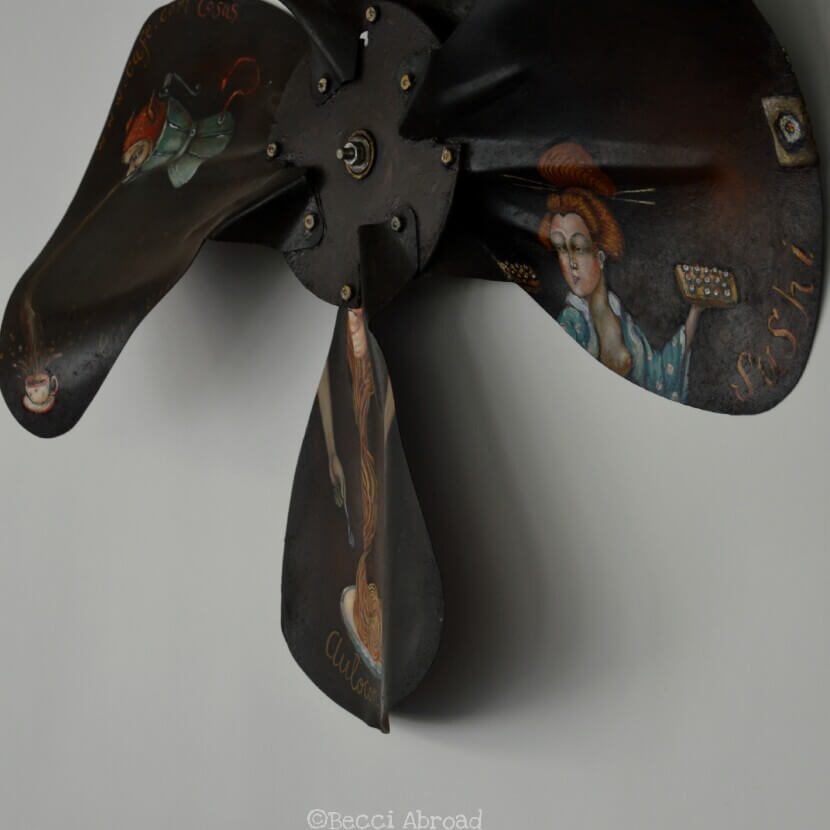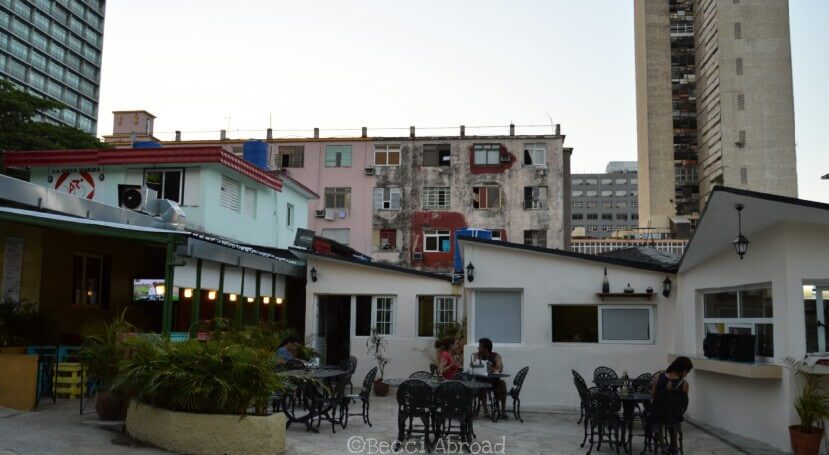 A note on private investments in Cuba…
The Cuban state sits heavily on most businesses around the island. However, a few years ago it opened up the possibility of establishing smaller private businesses. The private restaurants, or "las particulares" as the Cuban calls things not being state-owned, can highly compete with the poor standard in many of state-run restaurants. The waiters are nice and polite, and the food and drinks are on completely other levels. The Plaza Verdado is an excellent example of this.
However, do not overdo these changes. The state is still sitting heavily on most businesses and has the last say in many questions. Stories are floating about how offers from private businesses have been turned down in favor of a state-run business offer. Even though, the private offer was of the same quantity and a cheaper price.
Rumors claim it is because the state does not want people to get too much money between their hands. Thus, the truth is hard to know… But by eating at these private restaurants, you are at least helping some Cuban families make a living.

Have you visited Havana or are you may be planning to? Would you want to visit places like these? Or have you may be already visited them? Or do you know any other recommendations for alternative places to visit in Havana? Please, share your thoughts and experiences below! I would love to hear from you!
Enjoyed the post? Share the love!