How to Use a Local Taxi in Havana
Cuba's properly most well-known and popular asset is the old mid-century colorful cars scrolling the streets throughout the island. A classic tourist activity in Havana is to rent one of those iconic cars, and go for a drive on the seaside drive, el Malecón.
However, cars are not only for tourists. The old 50s cars are used all around the island like a local Cuban taxi or taxis colectivos, or las máquinas as the Cubans call them.
And you can easily jump on for a ride too!
In this post, I explain how to use las máquinas de la Habana. Ready? Let's go for a drive!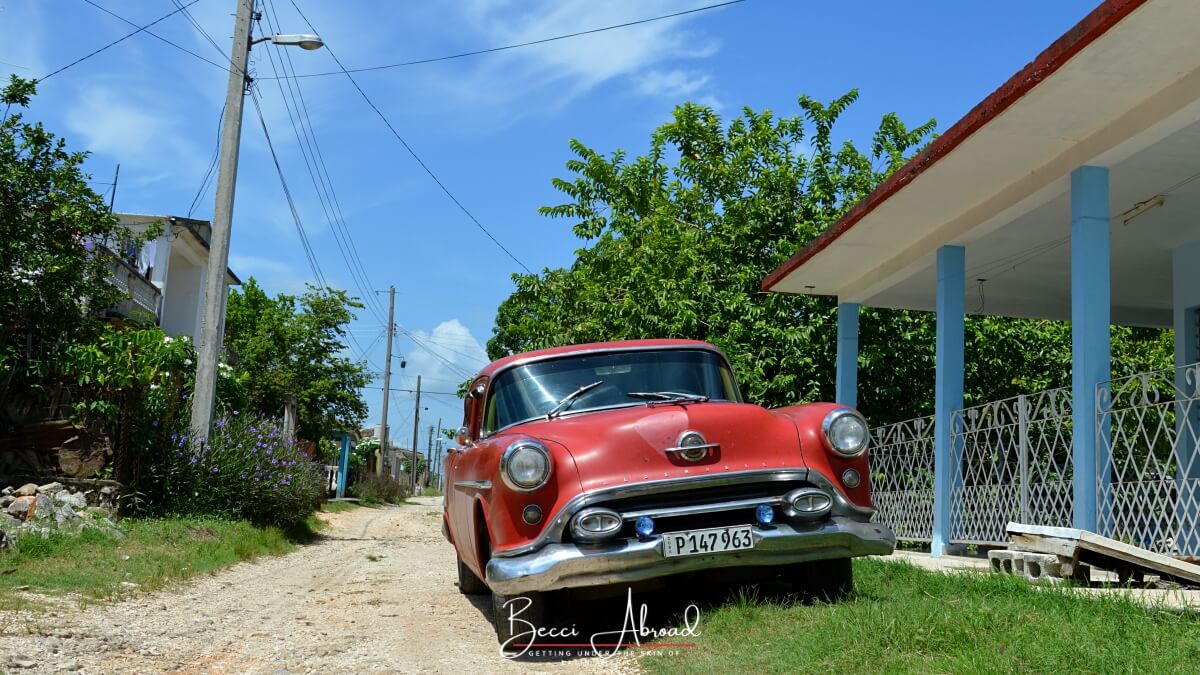 Basics about the local taxis in Havana
The function of the local taxis in Havana can best be compared with a small version bus. They run in a comprehensive net of routes all over Havana, where they drop off and pick up people along the way.
Using the máquinas, of course, requires a minimum of knowledge about the streets of Havana. However, as a rule of thumb, the máquinas usually drive on the bigger roads in the city.
Los taxis colectivos will not take you to a specific address. If the driver ask you for a specific address, quickly clarify with them that you don't want a "taxi privado" but "una máquina". On the other hand, if you request a specific address this implies that you want them to drive you in a private taxi, and the price will be completely other.
Also, don't start asking about the price, as the driver might take it as an indication for giving you a private tour.
A misconception of many visiting Cuban is that these máquinas are only for Cubans. I have never been denied to enter or anything, and you get a great authentic feeling for Cuba. If you are interested in more tips on how to get an authentic Cuban experience then check out my guide to authentic ways of experiencing Havana here.
You can read more about do's and don'ts for using the taxis colectivos here.
How much does it cost to use a local taxi in Havana?
The price of the local collective taxis is fixed at $10 pesos nacionales (CUP) per person within the city of Havana.
If you are crossing the tunnel, the price is $20 pesos nacionales. But you will most likely not need to worry about that. If in doubt check out this map.
If you don't have $10 pesos nacionales, you can alternatively give the drive a 1 CUC coin (25 CUP), and get the change in pesos nacionales. However, don't start to give him bigger bills in CUC or you might not be able to get your change!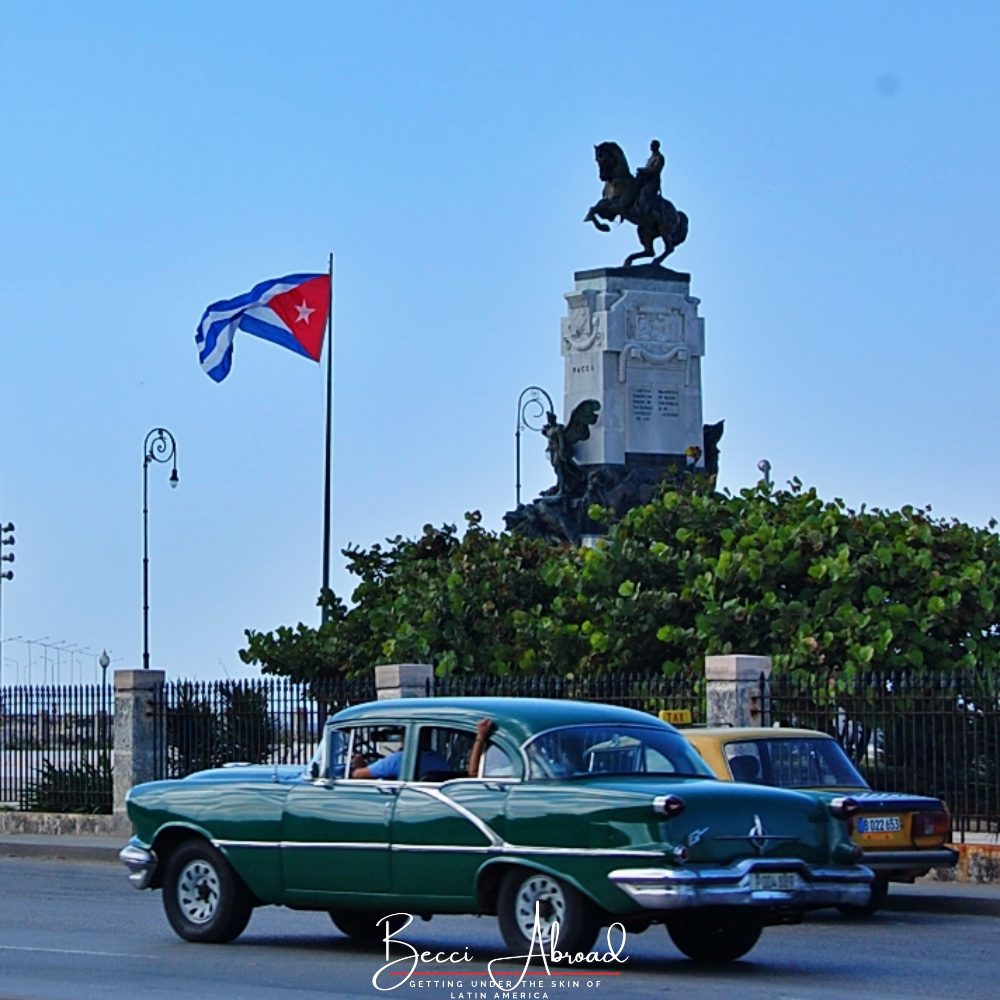 How to take your first local taxi in Havana
My advice is to start out catching a local taxi somewhere on calle Neptuno by Parque Central. This is towards the university or calle 23 where the hotel Habana Libre is located (the area around Habana Libre is, by the way, a very interesting place to explore – read more here).
Or the other way, going from the university down San Lazaro towards Parque Central. Since both the Parque Central and the university are landmarks easy to recognize from the backseat of a car as you will need to tell the driver when to get off.
Nevertheless, you should be very aware of not ending up with a private taxi if you take it from the beginning of calle Neptuno or Parque Central. These are touristic hotspots, and the taxi drivers are completely aware of the fact that tourists don't usually know the difference between "taxi privado" and "taxi colectivo" – but hey, now you do!
#1 Getting on a máquina
First of all, we need to get on one of those local taxis. For that, place yourself on the side of a street, by a crossroad or junctions in the direction you want to go, and wait.
When you see one of the old cars with a little taxi-sign in the window, you pull out your hand to signal that you would like to go with them.
If you are traveling more people together, you can indicate the number of people by showing that amount of fingers to the driver. I would highly recommend not traveling more than three people together as it might be hard to find a taxi with enough space.
Don't be offered if the car doesn't stop, it usually means that it is full. Sometimes, the driver pulls out his hand and shows you a half-open upright-facing hand (a bit like a cup). This means the car is already full. But mostly they will just drive past you without signaling.
If the car stops, quickly approach the driver by addressing him by the window or opening the door and ask: ¿Para dónde vas? or ¿Vas a/por…(place the name of the street your what to go to)?
If your Spanish is a bit rusty, go for the ¿Vas por…? as this only requires you to understand a sí or no. If you receive a sí quickly jump in on the backseat.
Now you are on your way in a local taxi in Havana!
#2 Getting off the taxi
You will need to tell the driver yourself when you want to get off.
When you approach the place you want to get off, kindly tell the driver to stop. If you are in the back of the car, you will properly need to shout for the driver to hear you. Approach him with a:
Déjame allá en la esquina, por favor or ¿Puedes dejarme en la próxima esquina?
Or the more simple version: Aquí, por favor or Déjame aquí, por favor.
Before he stops, give him the money. Sometimes this includes the other passengers helping out a bit with passing the money to the driver. Jump out, and end your trip with a Gracias!
If you are still not so used to the streets of Havana, I recommend that you use the offline version of your map on the phone or start out using the máquinas to a place you can recognize.
Spanish phrases you should know before using a local taxi in Havana
A standard dialog in Spanish for taking a local taxi in Havana would be something like this:
¿Vas para calle 23? (when you stand on calle Neptuno)
The dialog in Spanish (as mentioned above) for getting off the taxi again:
Déjame allá en la esquina, por favor
¿Puedes dejarme en la próxima esquina?
Or the more simple version:
Aquí, por favor, or
Déjame aquí, por favor.
And then, remember the difference between "taxi privado" and "taxi colectivo"!
Also, check out these 10 phrases of Cuban slang before you hit the street of Havana!
Enjoy, and have a great ride!