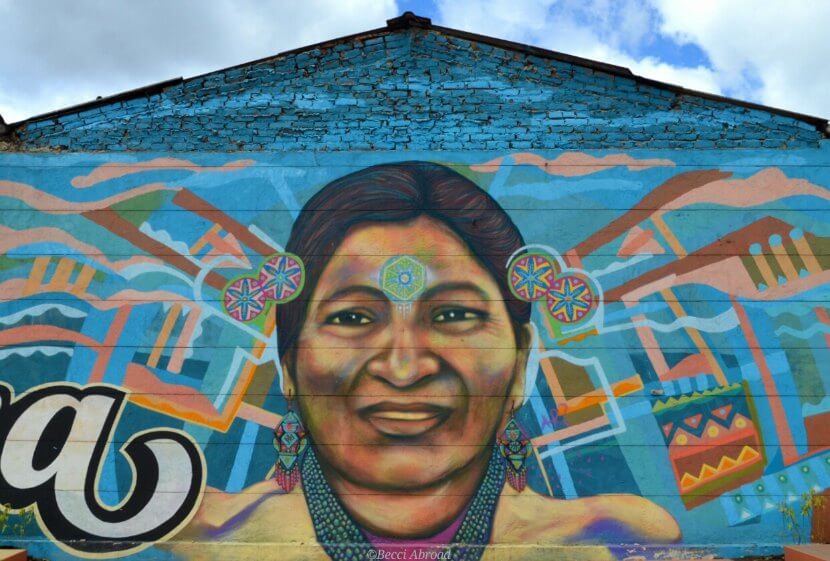 8 Things You Should Know About Street Art in Bogotá
Bogotá is without a doubt one of the most amazing places to enjoy street art that I have ever visited.
If you are planning a trip to the Colombian capital, and don't want to miss a thing (or maybe you just want to day-dream a bit and enjoy some amazing pieces of Colombian street art), then read on reading and check out these 8 things you should know about street art in Bogotá.
Disclosure: Some of the links below are affiliate links, meaning, at no additional cost to you, Becci Abroad will earn a commission if you click through and/or make a purchase. This helps to pay the bills and continue providing high-quality content. I only recommend products and services I trust, and the decision to purchase is completely yours.
#1 Street art is an integrated part of life in Bogotá
Street art is a naturally integrated part of urban life in the Colombian capital. The street art adds a unique and modern buzz to the old colonial buildings, boring grey walls, and commercial billboards.
It reminds us that the buildings are not just historical memories, but that they are an active part of modern life.
From my first encounter, Bogotá's street art completely stole my heart. How I wish that more cities would follow the example of Bogota, and integrate street art so actively in the urban space.
#2 It will leave you breathless and make you smile
When I just arrived in Bogotá, I had booked a hostel in the historic center of La Candelaria. On the first day, I left the hostel without any actual plan. I like doing that when I just arrive in a new place; just scroll around without purpose… But Bogotá took me by surprise!
At various times, I had to suppress an amazed "wow" and had to stop to take it all in. The colors were everywhere. Around any corner, on everything from an abandoned house to the façade of a small shop.
I think I must have had a silly smile on my face because two police officers kindly smiled mumbling Buenos días to me. Didn't they notice all these amazing pieces of art?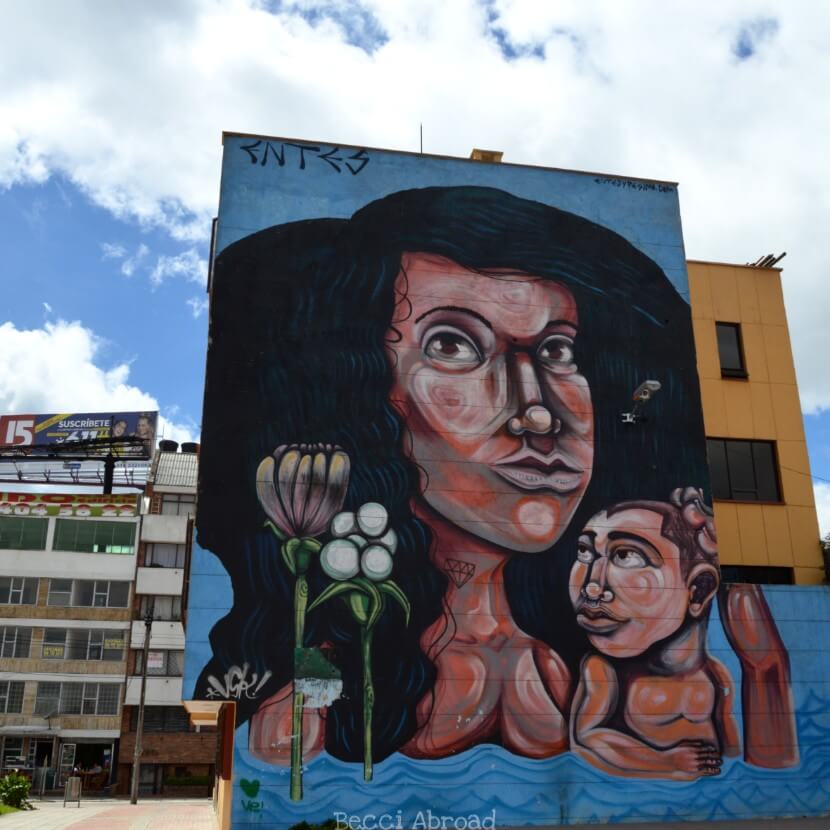 #3 Street art in Bogota is high-quality art pieces
The street art in Bogota is not the kind of crappy stuff that I know from back home (maybe you are luckier with the street art where you come from?). Bogotá's street art was high-quality art!
I had not excepted to find something like this. Well, I actually don't know what I had excepted of Bogotá.
Colombia was my first stop in Latin America. Before arriving I had only been to Cuba. And in Cuba, you can not expect to find street art like this.
For sure, I had not excepted to find this color heaven of street art. Later, I was to find out that high-quality street art is not that rare in Latin America, and there are, for example, also plenty of great pieces in Buenos Aires.
This has all kinds of beautiful small details, plenty of colors, and messages for its viewers to reflect upon… And then finally; some of the works are just small comments that make you smile…
#4 The historical La Candelaria is a colorful epicenter
La Candelaria seems to be the epicenter of street art in Bogotá. Even though, the buildings in Candelaria actually don't really need that much color-adding.
Street art adds a lot more life and personality to the old colonial buildings.
#5 Street art is a political statement
Most of the paintings are not just beautiful art, they are also comments on relevant debates in Colombian society.
They center around themes such as the country's violent past, indigenous communities' rights, and modern society's relationship with nature.
For example, like these ones: Memoria… Memory for the victims of the years-long internal armed conflict
… Or this one as a comment on modern society's abuse of natural resources…
… Or Esperanza… Hope… For a better future…?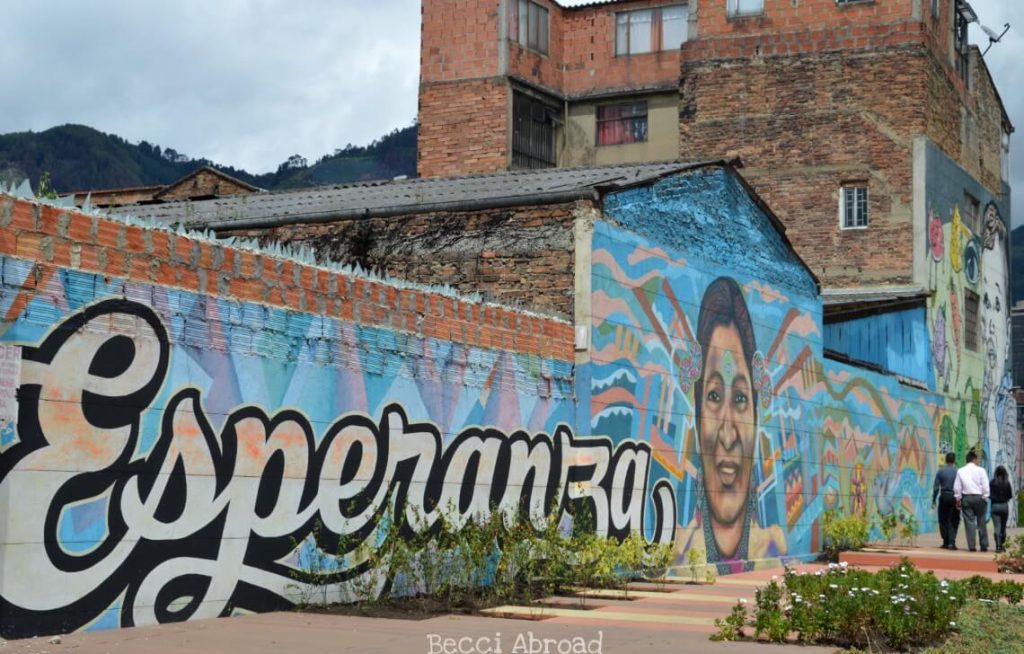 #6 Along Calle 26 you can find even more street art
When I returned to Bogotá after 3 weeks around Colombia, I discovered a whole new collection of street art away from Candelaria's touristic buzz.
On Calle 26 there is a lot of political-orientated street art. Actually, most of the pictures above are from there.
The massive Calle 26 leads from the airport toward the city center, and you will properly notice some of the street art with you pay attention upon arriving at the airport.
There are walls upon walls covered in amazing pieces of art. I stayed at a private home through AirBnB just on Calle 26, and one day just took my camera and walked toward the center enjoying all the great art.
#7 Street art has been legalized in Bogotá
After doing a bit of research, I found out that the huge amount of impressive street art is due to the governmental legalization for painting in the public space.
The artists do not have to be afraid of police or governmental fees, they can just freely paint in daylight.
Or freely, freely… Apparently, they need authorization from the property owner before they can paint. In some way fair.
… How would you feel if you suddenly woke up with a huge painting at your house?
Okay, I would not mind!
#8 You can get on specialized street art tours in Bogotá
A thing that I really regret not doing while in Bogotá, is joining one of the many street art tours available. So! Don't be like me and be prepared and join one of the tours.
Check out some of the options at GetYourGuide here:
Did you enjoy the post? Pin it!