The village of Purmamarca is located between multicolored mountains and meter high cactus in the North-West region of Argentina, and will make you doubt whether you have actually crossed the border to another country. But no, you are still in Argentina!
Here are some tips on how to spend your time in Purmamarca, which is usually the first stop for travelers heading to explore this mountain- and llama-filled corner of Argentina.
Okay, let me admit from a start… maybe not that llama-filled after all! At least, I was extremely discontent with the number of real-life llamas that I saw during my time there. However, there are plenty of options for buying a llama souvenir with you home or trying local llama cuisine… Thus, back on track!
Let's talk about what there is to do in Purmamarca:
Take pictures of Cerro de Siete Colores
This is an obligatory activity when in Purmamarca! Cerro de Siete Colores or "the mountain of seven colors" is properly the most famous part in Purmamarca. This piece of the mountain is said to have up to seven distinct color tones in it. However, it does depend on how the sun lights on the mountain how many of them you will be able to see.
I want to be frank with you, and say that I was not that impressed with this seven-colored darling – and even less after seen its big brother of 14 colors in Humahuaca more north (but more about that next time). However, they did do their marketing course with excellence and have managed to promote the seven-colored mountain amazingly well.
The local handcraft market of Purmamarca
By the main square of Purmamarca, Plaza 9 de Julio, there is every day a market with all kinds of local handcraft. My favorite one was, without a doubt, these llamas!
The Cemetery of Purmamarca
The cemetery is located in the outskirts of Purmamarca and is properly not a place you would normally find on a list of activities to do. However, the cemetery was spectacularly beautiful and well-decorated (see for yourself below).
Thus, if you head there remember to show respect to the people there – both alive and dead! Be silent and respectful.
Did you know that a similar looking cemetery can be found on your way to Cerro de 14 Colors a bit further north in Jujuy? Check out for yourself here.
Paseo de los Colorados
Behind the cemetery, the street turns into a path called Paseo de los Colorados which is a spectacular walk through the mountains surrounding Purmamarca.
Follow the path until the end, and you will be back in "downtown" Purmamarca.
Viewpoint over Purmamarca and Cerro de Siete Colores
Where Paseo de los Colorados ends and just before some small stone stairs lead down to Florida-street and further on to the handcraft market, there is a little grumpy-looking elderly woman blocking the way to a gate. The path behind the gate leads to a small mountain-hill which has an amazing view over Purmamarca.
The lady was fortunate to have a mountain in her backyard, and made it a viewpoint… At least, it seems so. She will charge you 5 pesos argentinos at (the moment of writing) for "climbing" her backyard-mountain – thus, the effort (not hardcore climbing at all) and the money is worth it! From the viewpoint, you can see over the roofs of Purmamarca, and the surrounding mountains; most importantly, of course, the Cerro de Siete Colores.
Visit the salt flats of Salinas Grandes
Lastly, Purmamarca is known for being the starting point for visits to the salt flats, Salinas Grandes, of the Jujuy province. The salt flats are located around an-hour-and-a-half drive through Ruta Regional 52's crazy mountain roads. However, the scenery through the mountains (including llamas – if you are lucky) and the salt flats are worth the effort.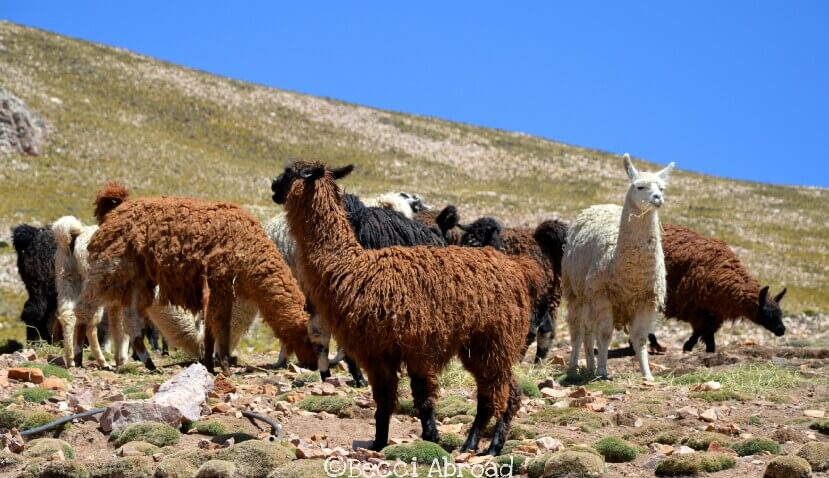 A group of aboriginal runs tours on the salt flats from the parking lot by the edge of the salt flats. The tour costs between 200 and 300 pesos (in the moment of writing) and takes around 40 minutes to an hour. You can read more about them here.
Are you heading to Purmamarca and the Northern part of Argentina? Or have you maybe already been there? Please feel free to share your thoughts and experiences in the comments below!
Liked the post? Share the love by pinning me!