If you are new to Buenos Aires but also a little bit confused about how to get around in the public transportation, look no further!
Here's your complete guide to SUBE, Subte, collectivos and trains in Buenos Aires!
Get your SUBE card to the public transportation!
First thing first! You will need a SUBE card to use public transportation in Buenos Aires. SUBE stands for Sistema Único Boleto Electrónico. Translated it becomes: Single Electronic Ticketing System.
The SUBE card it is a blue magnetic plastic card, which you load with pesos, and use it as your ticket! The greatest thing of them all is that the SUBE card works for all types of public transportation (buses, subway, trains) in the city!
However, keep in mind that the SUBE card now is the only way to pay for transportation – no coins or notes are accepted.
Where to get a SUBE card in Buenos Aires?
The SUBE card can be bought and re-charged at the kioscos around Buenos Aires and at boletería (e.g. ticket office) at the subway stations, and costs around 90 pesos (as of 2019).
Some subway stations have also got self-services machines for loading the SUBE. You place your SUBE card in a little holder, press cargar saldo (e.g. load balance), and give the machine the amount of pesos you want to load.
Get help to figure out the public transportation in Buenos Aires
There are several apps that can help you plan your journey in public transportation.
Google Maps
Google Maps works quite well for public transportation in Buenos Aires. It might be easiest for you if you are already used to it.
Cómo Llego
The local government of Buenos Aires has developed an app and an online map for public transportation called "Cómo llego" (e.g. how do I arrive).
You simply enter the addresses of where you are and where you want to go (just like Google Maps), and the system will tell you what to do.
Check your Google Play or iStore for downloading it or use this map here. I honestly never became a big fan of this map. I find it lacks user-friendliness. But maybe that's just me…?
Moovit
Recently, I found out about Moovit App which seems to be a good middle thing between Google Maps and Cómo Llego.
I found Moovit more user-friendly than Cómo Llego. Unfortunately, both of them are only in Spanish. So, if you are not so strong in Spanish, you might opt for using Google Maps.
The subway: el Subte
The easiest ways to get around to the main attractions in Buenos Aires is with the city's subway system – or el Subte as it is called in Buenos Aires (not to confuse with the SUBE – see above).
Throughout the city, there are six subway lines. The H-line even has a tango history (making you a bit curious? Read more here).
If you are familiar with subway systems elsewhere in the world, the subway in Buenos Aires is no big mystery. Find your nearest subway station on the map, head there, scan your SUBE card, and you are ready to go!
Read more specifics and tips about the subway in Buenos Aires here (link to come).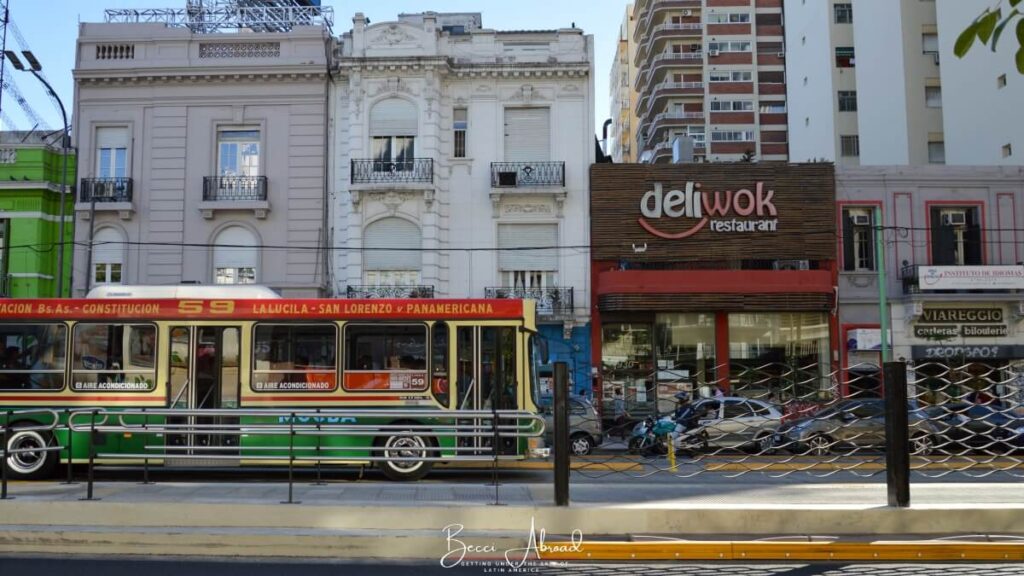 The busses can be a little bit more challenging to use than the subte. However, they reach almost anywhere in the city. In Buenos Aires, the slang for 'bus' is collectivo or bondi, so these two are good words to know before visiting Buenos Aires!
Some times, it can be a bit difficult to figure out where the bus stop is. A good rule of thumb is to look for a line of people waiting by the side of the road. Since the porteños have the habit of waiting for the bus in line, it is a good way to spot a bus stop when it is not probably marked.
If you are doubt whether you have found the right bus stop for your journey, don't be afraid to ask the people which bus they are waiting for.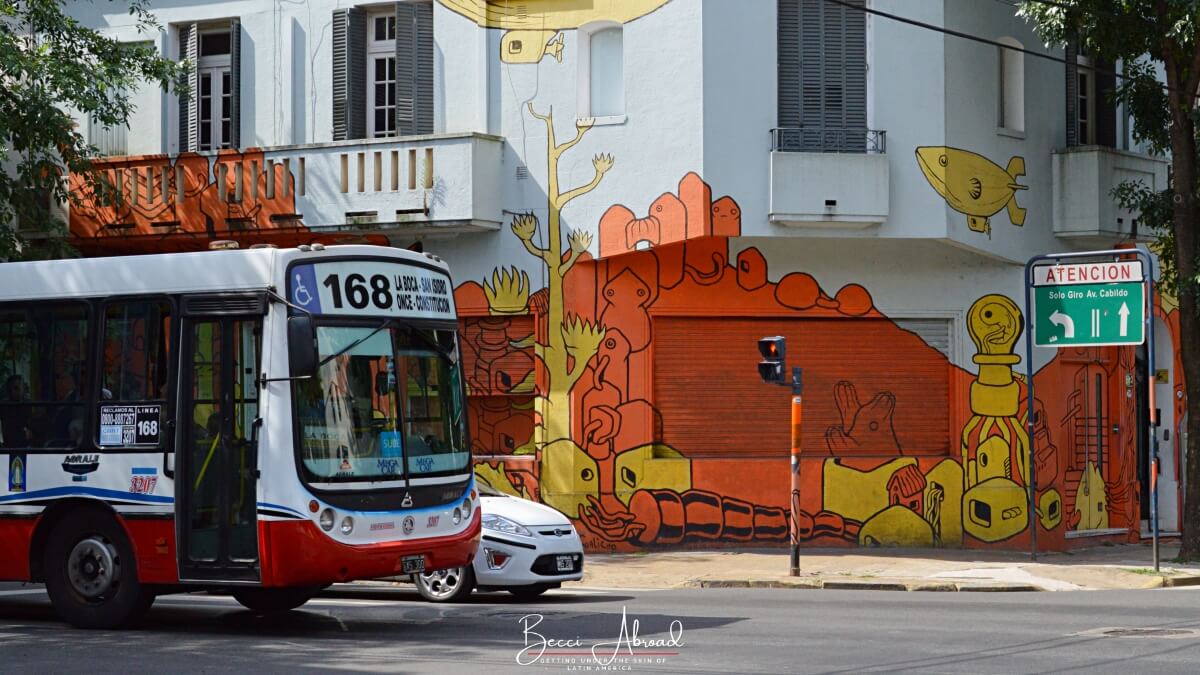 When the bus that you want to take is approaching, it is very important that you stick out the arm to indicate that you want to get on. Otherwise, the bus will not stop!
When entering the bus, you need to tell the bus driver on which street you want to get off. He will indicate the price to pay on the electronic SUBE system inside the bus.
Read more about how to use the buses in Buenos Aires here – and get all my insider tips!
The trains in Buenos Aires
In Buenos Aires, you will also encounter a net of blue trains crossing through the city at different points.
The trains connect the city of Buenos Aires with parts of the province of Buenos Aires (remember not to confuse these two, right!?). Most of these train lines end at the Retiro station in the northern end of Avenida 9 de Julio.
For downtown activities, the trains are not of your interest. However, if you are interested in going to Tigre for a day trip, you will need to make yourself familiar with the train.
Depending on where you are staying, you can either make your way directly to Retiro by bus or Subte, and take the train to Tigre from there.
Otherwise, it is worth using one of the above-mentioned apps, and check whether you might be living near a train station which connects with Tigre.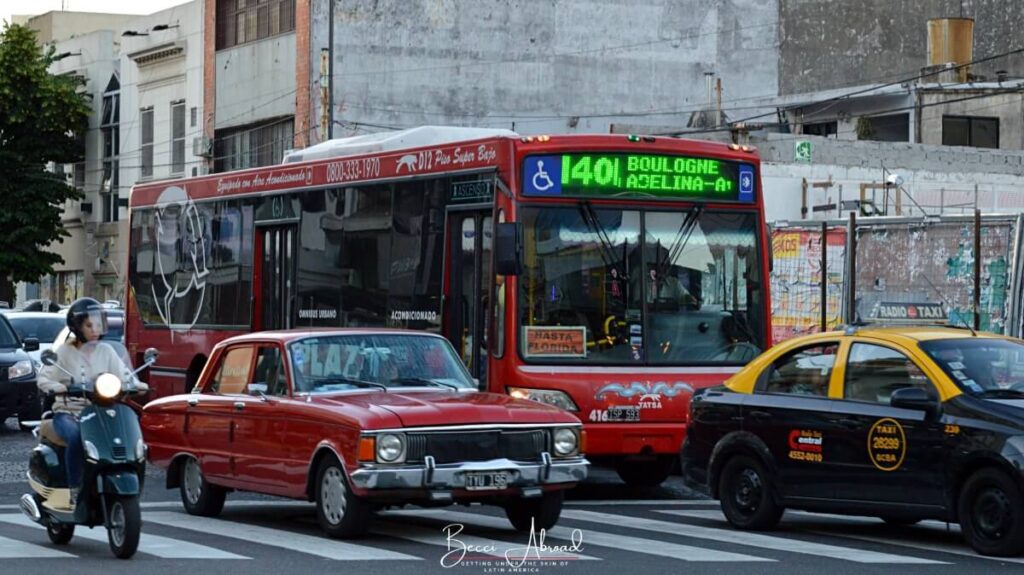 The price of public transportation in Buenos Aires
The prices of public transportation have changed a lot over the last couple of years.
At the moment (2019), the price for a subway ticket is 19 pesos. The bus ticket is between 18 pesos and 21 pesos (depending on the distance you are going).
Did you find this guide useful? Are you still left with questions about how to use the public transportation in Buenos Aires? Or did I miss something important? Please share your thoughts and tips on getting around in Buenos Aires below!
Share the tip, pin the post!