Fernando Botero is without doubt one of Colombia's most famous artists and sculpturists. His iconic sculptures and paintings of over-sized men and women are famous all over the world. His home country is, of course, the best place to enjoy some of his amazing art.
If you haven't yet had a chance to check out his works, this post is a good place to start. I even have my own little love story about how I first got to know about Fernando Botero's work!
Keep on reading to get both my love story about Botero, a bit of history about him, and the best places in Colombia for enjoying his sculptures and art.
My love story about Fernando Botero
I was 15 years old the first time I met him, and it was love at first sight!
It was autumn in Berlin, and the sun shinned from a clear sky. I was in my teenage hippie period where everything had to be crazy. The more colorful, the stranger; the better. And there he was in a park in the center of Berlin. He fitted into all of that.
I was immediately in love!
Fernando Botero's art fitted perfectly into my mind set of seeking to challenge the existing society. Be provoking and thinking differently than the rest – and most importantly, telling them so!
His big deform sculptures of overweighed people and animals challenge our perception of the body. What is a beautiful body?
My fascination for Fernando Botero's art has never stopped. His art made an inevitable mark in my mind.
Today, here close than a decade after from my first encounter (ha ha, THAT made me sound old! I'm not!), my clothing has become more conservative than that sunny autumn day in Berlin. However, my inner-hippie with a love for strange things is still alive, and with that my fascination for Botero and his art.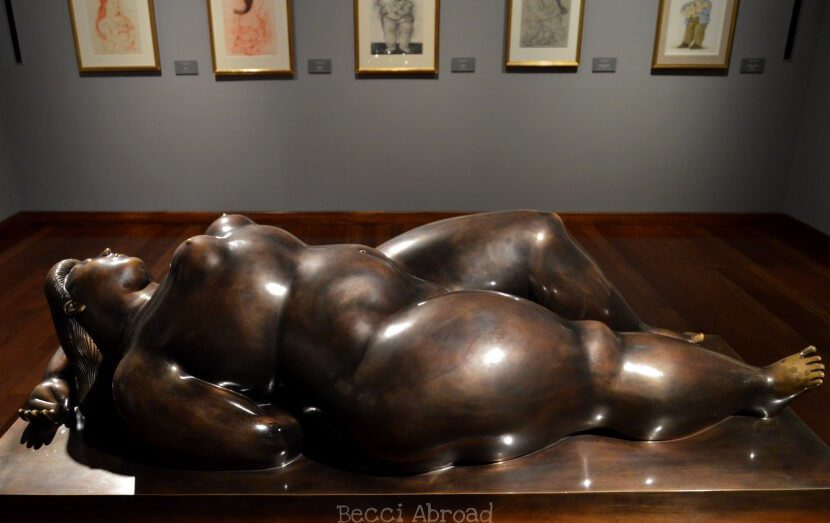 Colombia is the perfect choice for Fernando Botero art
When I planned my visit to Colombia, I had completely forgot that Fernando Botero is Colombian citizen, and Colombia therefore (of course!) is the perfect choice for seeing his art!
After I had arrived safety to my hostel in Bogotá on my very first day in Colombia, I received a text from my mum (equally a Botero-admire). She knew I had been way too busy with exams to do any significant research on Bogotá, so she just wanted to point out to me there is a whole Botero museum in Bogotá!
I quickly found out that this was not the only place to explore the Colombian artist's work! So, keep on reading to get to know the main points for enjoying Botero's art!
But…
Who is this Fernando Botero, you might ask?
Okay, let me face the fact that everybody might not be as passionate about sculptures of overweighed men and women as me… So, here a quick introduction to artist Fernando Botero:
He was born in 1932 in Medellín, Colombia. When he was only 16 years old, his paintings were for the first time exhibited. Today, he is a world-famous artist. His art has been exhibited all around the world, and he has won prizes for his work. He has lived and studied in places like Madrid, New York, and Paris.
Botero's art is know for is bloated, round and oversized humans and animals which he both uses in paintings and in his sculptures. In some way, you can say that it has become his artistic trademark.
Main spots in Colombia for Fernando Botero's art:
Museo Botero, Bogotá
The Botero museum is in an old beautiful colonial-style house in the historic neighborhood Candelaria in Bogotá. Everything from paintings to sculptures over more paintings of Botero is decorating the old house.
In the middle of the house, there is a huge patio with benches where you can sit down and relax from the hustle and bustle of Bogotá. Take a break and take in this atmosphere which stands in scrap contrast to the life just outside the heavy entrance's doors.
TIP! The museum is closed on Tuesdays! Just so you don't end up like me standing outside knocking on the door when there is nobody.
The museum is opened Monday, Wednesday-Sunday from 9 am to 7 pm, except Sundays (10 am to 5 pm). Closed Tuesdays. Admission is free.
Location: Calle 11, N° 4-41, Bogotá
For more information click here
Plaza de Botero, Medellín
In Medellin, they are so proud of their local superstar artist that they have named a whole square after him. Plaza de Botero is located in the center of Medellín, and it is decorated with some of Botero's massive sculptures.
The sculptures on the square are amazing! But the square itself has turned into a tourist trap.
It is far too crowded with tourists and sellers – not my cup of tea! To avoid the crowdedness my best recommendation is not to do like me, but get up and go there early!
Location: between calle 52 and Avendia Carabobo in the center of Medellín
On the corner of Plaza de Botero you have the Museo de Antioquia which has a large Botero collection. I really enjoyed getting away from the chaos on the square, and just scroll around the exhibition halls with the peace and quietness to enjoy the art.
Apart from Botero pieces, the museum also offers pieces of art from other Colombian artists.
I would have been disappointed with my visit to Plaza de Botero if Museo de Antioquia hasn't been there. So, I high recommend that you spent some time visiting the museum. Additionally, the museum has a nice café where you can sit and observer the square at a nice distance.
Admission charged. Open daily from 10 am to 5.30 pm (except Sunday to 4.30 pm)
Location: Calle 52, no. 52-43, Medellín
For more information about Museo de Antioquia click here
In 2004, Botero created a series of paintings and drawings focusing on the violence in Colombia stemming from drug cartels. His natal city, Medellín, was for many years considered one of the most dangerous cities in the world because of these activities.
The death of the infamous Pablo Escobar who had managed most of the drug tracking around Medellín inspired Botero to this painting:
What do you think of Fernando Botero's art? Or what is your favorite Botero spot? Share your points and tips about Fernando Boero in a comment below!
Liked the post? Why not pin it?