DoHo – Villa Urquiza: Buenos Aires' new gastronomic and architectural hotspot
Are you looking for a different and less touristic experience in Buenos Aires? Then hop on a bus or a Subte, and head out to Villa Urquiza to discover the new hotspot DoHo.
DoHo is short for Donado and Holmberg, which are the two streets crossing through this area. DoHo has been turning into a buzzing melting pot of modern architecture, cafes, and lovely green spots.
Most people visiting Buenos Aires have heard about Palermo Soho; the fancier part of the neighborhood Palermo filled with bars and places to go out. However, few know about DoHo. But that shouldn't stop you from getting off-the-beaten-path and visit this modern and stylish upcoming area in Buenos Aires.
Buenos Aires' Hidden Gem
If you are staying in Buenos Aires for a longer period of time, maybe as a digital nomad or due to work, DoHo is also a highly recommendable place to look for long-term accommodation. It is quieter and more relaxed than many parts of Palermo. But it still has plenty of places to go out either for a drink or a meal. I even recommended staying at an Airbnb in DoHo in this collaborative post by Elizabeth from The Fearless Foreigner! 
Until recently, I lived within walking distance of DoHo, and it was one of my favorite places to meet up with friends for lunch or a cup of coffee.
In this post, I'm going to show you a little bit of what DoHo in Villa Urquiza is like, and why I definitely think that you should add this less-known place to your Buenos Aires' itinerary.
The story behind DoHo in Villa Urquiza
There is an interesting story behind the emergence of DoHo as this modern area in Villa Urquiza.
During the last military dictatorship (1976-1982), the then-Mayor of the City of Buenos Aires (a military general, of course) started the planning of nine new highways to run through the city. The project was not a success. Ultimately, only two of the nine highways were actually built.
One of the failed highways was supposed to run through Villa Urquiza. Before the Mayor recognized that his mega-project was not going to complete, people had already been dislodged from the area around Donado and Holmberg.
The sudden stopping of the highway project left the area devastated with abandoned houses that were semi-destroyed and some now illegally occupied. I have heard many stories from neighbors in the area, who lived there during those years, and they told me that the Donado-Holmberg area was not one that you would like to walk through – especially, not at night.
However, in 2009, change came to Villa Urquiza. The now-former president of Argentina and by then-Mayor of the City of Buenos Aires, Mauricio Macri​, initiated a project to renew and modernize the area. The result of this political project is why we have the DoHo worth visiting today! The name DoHo was, of course, first invented when it became a chic and modern area.
DoHo: Buenos Aires' new gastronomic hotspot
The local Argentine newspaper Clarín (among others) highlighted DoHo as Buenos Aires' upcoming gastronomic hotspot, and if that isn't enough reason for you to visit DoHo, I don't know what is!
Especially, the area of DoHo located on the street Donado between the streets Echeverría and La Pampa is filled with bars, restaurants, and cafés. Below you have some of my favorites:
Gallo Negro
Gallo Negro is a local cervecaría (i.e. draft beer place) which is always, always super filled! It was one of the first draft beer places that opened in DoHo, and it has become a massive success.
They have most of their tables and chairs outside. Even, during weekdays, it can be hard to find a place to sit – not to speak of how is it during the weekend! Many people will end up handing around chatting on the open space in front of Gallo Negro due to the lack of chairs.
Their draft beer is great and food is (usually) decent. You can check out their opening hours and more info on their Instagram here.
Address: Donado 1851 (between Sucre and La Pampa)
Café Urbano
For a long time, Café Urbano was my absolute favorite coffee shop in Buenos Aires! However, after I have tried more or less everything on the menu, I started to try out other places.
Café Urbano is beautiful with a modern look that fits so well into the rest of the DoHo-area. It is a great place to stop for a coffee and a piece of delicious cake (just see below from their Instagram). They even have some lunch options too – thus, they tend to vary a bit in quality.
You can check out more about Café Urbano on their TripAdvisor here or on their Instagram.
Address: Donado 1901 (corner of Sucre)
El Bohemio
El Bohemio is a cute bohemian-styled (surprise!) restaurant located on the corner of the streets Donado and La Pampa. Their food is pretty good and usually has a more healthy touch than most of the food you will find in Buenos Aires.
El Bohemio was one of the first (if not the first) restaurants in the DoHo-area. It has been there as long as I have been living in Buenos Aires, and I have enjoyed many lunches there over the years. Check out their Instagram here for more inspiration.
Address: Donado 1802 (corner of La Pampa)
Cigaló – specialty coffee
Cigaló is a specialty coffee shop located on the corner of Echeverria and Holmberg, only a block away from the actual main area in DoHo on Donado.
It has a nicely painted flower mural and serves different kinds of… Well, specialty coffee as well as other hot and cold drinks. On their Instagram, you will find inspiration and opening hours.
Address: Holmberg 2004 (corner of Echeverria)
Modern architecture
The architecture in DoHo will quickly make you doubt if you are in Buenos Aires, or if you took the wrong subway and ended up somewhere in Europe instead.
The architectural design of the houses is more modern than what you will see most other places in Buenos Aires. It includes a great combination of clean lines, wood, and glass. It definitely reminds me of building complexes I have seen in Denmark
Street art in DoHo Villa Urquiza
Another feature that I love about DoHo is the mix of modern architecture and street art.
The street art in DoHo has a homemade touch that stands in strong contrast to the modern touch of the rest of the neighborhood.
… And well, when the street art includes a cat, so what is not to like?
You will be able to find plenty of great street art in many different places around Buenos Aires.
A piece of street art in DoHo that really stands out for its high quality is the facade of the restaurant Ache Delugo. It is made by the Argentine street art artist, Josefina Di Nucci… And I can just say: WOW – another great reason to visit DoHo!
Green parks and pet-friendly environment in Doho Villa Urquiza
DoHo provides the perfect mix of the pleasures of being in the city and green spots to relax and enjoy a quiet time.
Around the area of DoHo, you have parks such as Plaza Zapiola on Donado between the streets Echeverria and Juramento (the picture below) where you will see porteños enjoying the sun or working out during afternoons and weekends.
You also have plenty of green areas in front of the buildings in DoHo. This was part of the modernization project initiated by Marci to reassure these green spots.
Porteños love their pets, and many of the bars and shops around DoHo also provide the best conditions in case you are visiting with your pet. Don't be ashamed to ask for some extra water for your dog!
How to get to DoHo and Villa Urquiza?
Despite being located a little bit outside the original touristic areas of Buenos Aires, DoHo is super easy to access. It is located just between the neighborhoods of Villa Urquiza and Belgrano.
In Villa Urquiza, you have the B-line of the subway passing through. Simply get off at the station Echeverria and walk the five blocks to DoHo.
In Belgrano, you have the train from Retiro (passing through Palermo). Get off that the Belgrano R station and walk with the last couple of blocks to DoHo. On your way, you can enjoy the quiet neighborhood of Villa Urquiza with its beautiful old houses and streets covered in trees.
From Belgrano, you also have several local city buses passing through DoHo. The bus 113 is properly the best one since it leaves you right in the heart of DoHo (the corner of the streets Sucre and Donado). The bus 113 runs from Belgrano towards Villa Urquiza, and in Belgrano, you can easily catch the D-line on the subway to Palermo and Recoleta.
Read more about how to use the public buses in Buenos Aires here.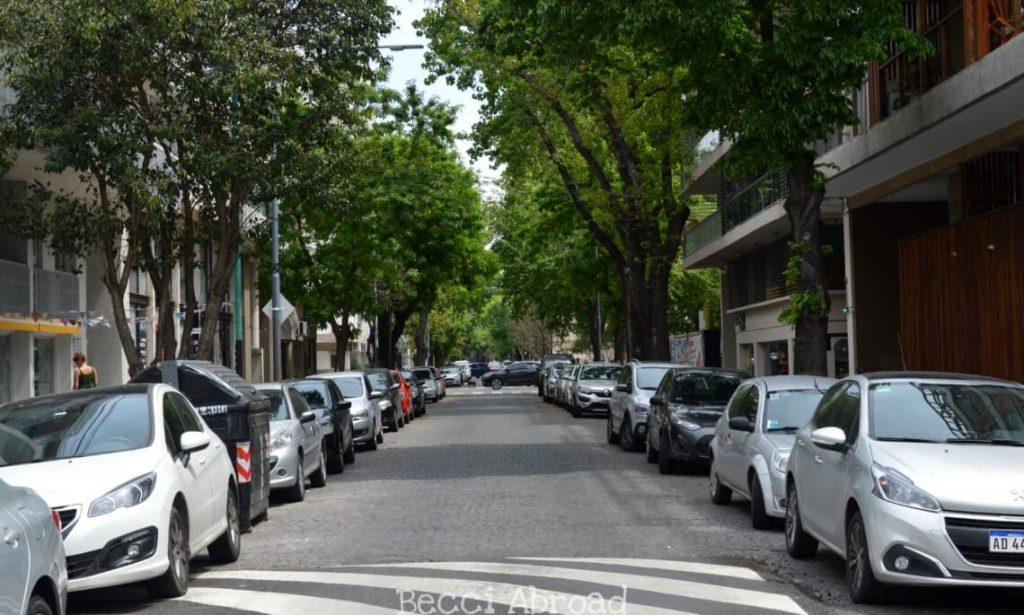 Would you add DoHo to your Buenos Aires itinerary? Do you like to visit new and less-touristic areas like DoHo when you are traveling? Share your thoughts and experiences in the comments below!
Did you enjoy the post? Share the love and pin me!