La Casa Rosada is on the must see-list of most people visiting Buenos Aires. The iconic pink-painted mansion facing Plaza de Mayo is one of the best-known building in the city. However, most people tend to just drop by Plaza de Mayo, take their pictures with the giant pink house in the background, and then move on.
But did you know that you can actually also get to see la Casa Rosada from within?
You only need a little bit of planning to get an inside view of the iconic building since la Casa Rosada is only open to the public on weekends and public holidays. The visit is only available through a guided tour which visits the main parts of the house. And well, in some way have your own little date with the president of Argentina… by visiting his office.
But hey, the tour is for free! So, what are you waiting for? Book your visit here.
Tours in English is Saturday, Sunday and public holidays at 12.30 or 2.30 pm, so it should be manageable to fit in during your visit in Buenos Aires.
The majestic pink house is the seat of the National Executive Branch of Argentina and the president's office. However, the building is properly best known for the famous pictures of Juan and Evita Peron's performance on the balcony facing Plaza de Mayo.
And yes, during the tour you get to stand on that very same balcony overlooking the square, and with a little bit of imagination you might be able to see the crowds howling for Evita in front of you.
The tour forgets the stories
La Casa Rosada is filled with juicy stories not only of Evita but also of presidents escaping riots at Plaza de Mayo in helicopters from the roof of the mansion, and many different conspiracy theories on why the color of the house ended up being baby pink. Nevertheless, when I went on the guided tour none of these stories were included.
Even though, the house in itself is impressive, it is a pity that the tour focus more on the historical details of the construction and development of the house than on some of these juicy stories are the ones we remember afterwards because they fascinate us.
Actually, the guide hardly touches on the stories about Evita which… let's face it, are the stories that most visitors come to hear. The fact is, of course, that Evita is still a tense topic in Argentine politics. However, a little be official history on the controversial presidential couple and other interesting facts from modern Argentine history could have cheered the tour up a bit.
Nevertheless, for an exclusive look inside la Casa Rosada, the tour is still worth it. And even more, because it will not cost your a penny… Or, a peso! 😉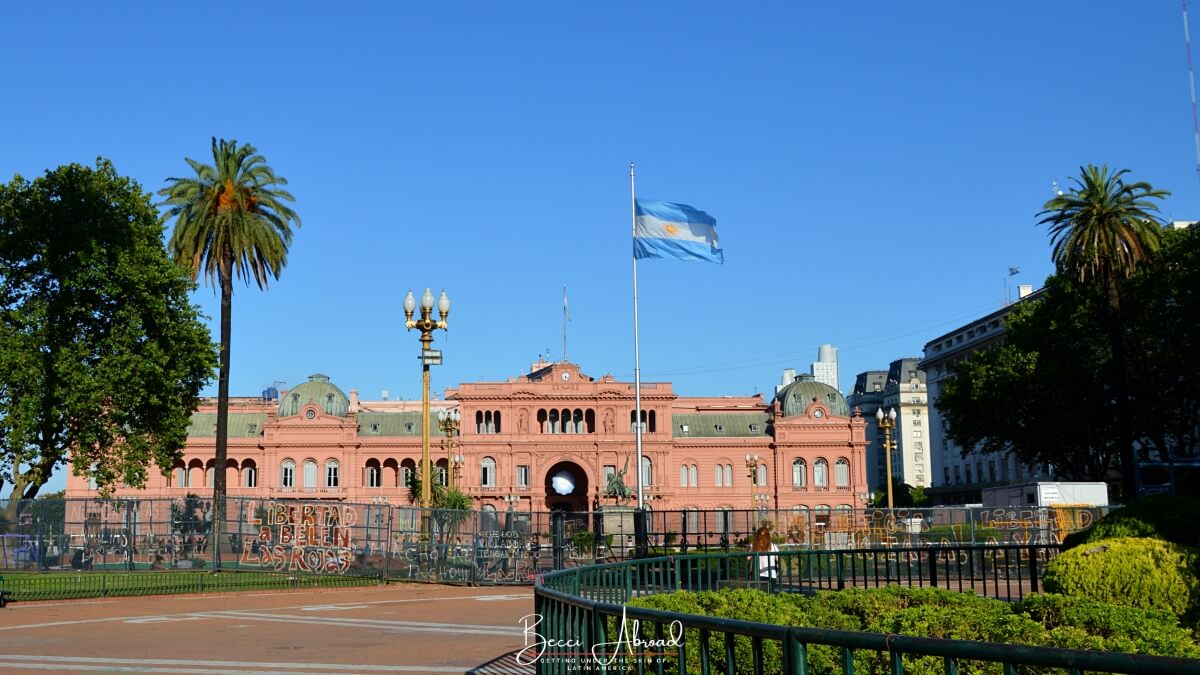 Did you enjoy the post? Share the love and pin it!